According to Accenture Technology Vision 2021, technology plays a vital role in a pandemic – supporting new ways of working and doing business, creating unusual interactions and experiences, and personal has a good impact on people's safety through online solutions that trigger a presence. As companies move from managing the crisis to rethinking their future, it is becoming increasingly felt that the boldest, most forward-thinking and technology-driven leaders will determine the future, said Accenture's 21st Annual Report, which covers companies and industries.
This year's report "Leaders Wanted: Masters of Change at a Moment of Truth" by interviewing 6,200 business and technology leaders presents how a decade of digital transformation will take place in leading large corporations in a year or two. Organizations that rely on solid digital foundations, adapt quickly, and innovate increase their revenue five times as fast as the lagging behind — a ratio of only two between 2015 and 2018. As a result, many companies are rethinking their operations and using technological innovations to be able to respond to the new kind of reality.
" The pandemic has significantly accelerated development. they are using technology more intensively, in a novel way, to support business and the community – at a pace that would have been previously unthinkable. Others face their shortcomings because they do not have the digital foundations for rapid development , "he said. Paul Daugherty, Deputy Chief Technology Officer, Accenture. " This is a once-in-a-lifetime opportunity in the field of technology, so it is worth seizing the opportunity of exponential technological change to radically rethink and rebuild the future of business and user experience. "
92% of survey respondents stated that they make innovation a priority this year. 91% of senior executives agreed that they can only seize market opportunities if they are organically involved in defining it.
To shape the future, companies must be at the forefront of change. There are three important prerequisites for this:
In order to gain a leading position, you must also be at the forefront of technology. The period of fast tracking is a thing of the past – change has become permanent. The players of the future will be the leaders who put technology at the forefront of their business strategy.
Leading organizations do not wait passively for new standards, rewrite the rules of the game,
Leading companies, as global players, take on a broader social responsibility and consciously strive to develop and apply technologies that which have a positive impact beyond the company's borders, contributing to a more sustainable and inclusive world.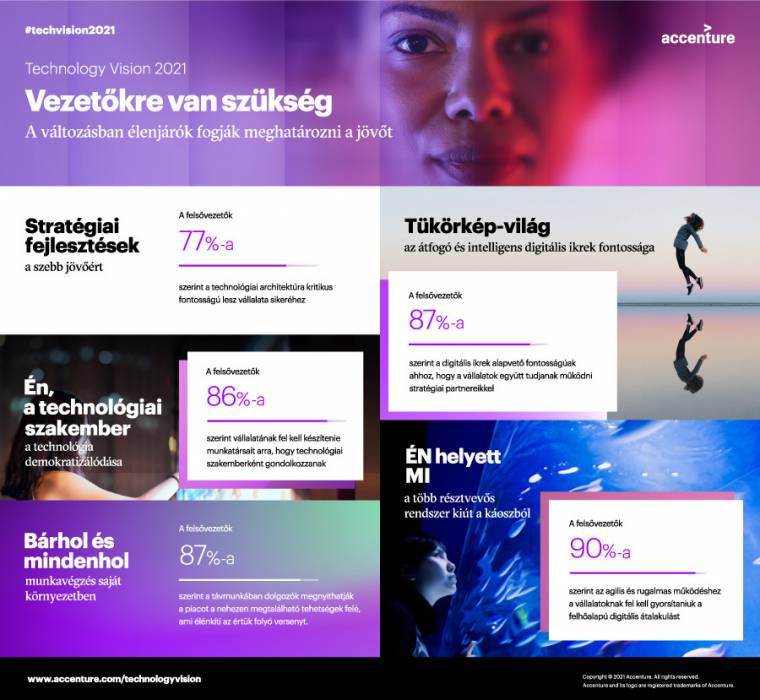 Technology Vision identifies five key trends that companies need to respond to over the next three years to accelerate their operations and keep pace with change:
Strategic Developments: For a Better Future – Companies "compete" with their own IT architecture and need to think differently about technology and collaborate to build and deploy the highest level of technology solutions in terms of competitiveness their business and technology strategies. 89% of senior executives believe that their organization's ability to create business value is increasingly dependent on the limitations and capabilities of technology architecture.
Mirror Image World: the importance of comprehensive and smart digital twins – Leading companies are building smart digital twins to create their factories, supply chains, product lifecycles, etc. live models. Using data and intelligence, they represent the physical world in the digital space, providing new opportunities for operation, collaboration and innovation. 65% of senior executives surveyed expect their organization's investment in the development of smart digital twins to increase over the next three years.
I, the technology specialist: the democratization of technology – Today, all business users have access to advanced technological capabilities that complement the innovation strategy of companies as a basic layer. This way, any employee can be an innovator, optimize their work, eliminate problem hotspots, and keep a close eye on new and changing needs in the business. 88% of senior executives say the democratization of technology is increasingly becoming a critical factor in their ability to drive innovation across the organization.
Anywhere and Everywhere: Working in Your Own Environment – Work can expand the boundaries of an organization as a result of significant, far-reaching changes. When people can work in their own environment, they can work freely and seamlessly almost anywhere: at home, in the office, at the airport, in a partner's office. With this model, managers can rethink the purpose of working in each location and redefine how their company operates in the new world. 81% of senior executives agree that industry leaders will move from a "Bring Your Owd Device" (BYOD) to a "Bring Your Own Environment" (BYOE) model.
FOR ME WHAT: A multi-participant system gets out of chaos – Tracking relationships, simplified payment solutions and new ways to build trust have highlighted what we have missed implemented with the current ecosystems of large corporations. In multi-participant systems, companies gain better resilience and adaptability, approach the market in a novel way, and adopt new ecosystem-based standards in their industry. 90% of senior executives surveyed said that multi-participant schemes help build more resilient and adaptable funds in their ecosystem to create value together with partner companies.
It has never been more important to prioritize technological innovation in response to rapid changes in the world.
Think of the hospitality industry: still "temporarily closed" in July on Yelp 60% of restaurants served went bankrupt in September. Out of the chaos, Starbucks emerged victorious by expanding its customer base and retail channels on a technology basis. By August, three million new users had downloaded the coffee chain application, and the share of mobile ordering / car pick-up had increased to 90% of total traffic. In response to growing demand, Starbucks has introduced an integrated ticket management system in which it can consolidate orders from baristas and car buyers in a single workflow. All of this illustrates the important role that technology plays in Starbucks 'agile, resilient, and successful strategy for responding to change.
Hardware, software, tests, curiosities, and colorful news from the IT world by clicking here!