More and more banks are joining Google Pay, and in the case of Apple Pay, this list seems to be ending for large domestic banks. Recently, Erste Bank and Granite Bank announced that their cardholders can now register for the search giant's payment solution. At the beginning of October, CIB did the same, and a few months ago, K&H Bank. And fintech companies are much earlier. Can tech companies' payment solutions really take the field?
In the simplest terms, Google Pay and Apple Pay are payment methods that move credit card payments to your mobile phone. However, their meaning is much more than it would be from their short definition.
With the entry of the two tech giants into our finances, an era has come in our lives in which we are doing more and more on our mobile phones. So it has already been quite obvious that sooner or later we will manage our finances through it. After many attempts, by the early 2020s, the situation that many had predicted had developed before: tech companies had moved into our wallets as well. Google and Apple are already definitely. Of course, there are a few more expectations besides them, but they are without a doubt the biggest ones. with their payment solutions, they may offer completely new payment solutions, as Facebook has done. Their goal is to make the most mundane payments possible through them so that they can generate revenue from our spending. In this bank account comparison, you can see which bank your mobile bank knows and which one offers Apple Pay and Google Pay features.
This model seems viable because it is now we do everything through our mobile phone, so it makes sense that we won't even carry our wallets with us for decades. Instead, we will solve this with our mobile. And that requires globally prevalent, trusted providers that we dare to trust our money with and that we meet on a daily basis anyway. These are mobile operating system developers and social media giants, possibly one or two major mobile device manufacturers.
However, this quiet revolution is no longer the future: it is happening today. Its future extent, however, will take on much larger proportions. It will be possible to pay in cash in the future, of course, but there will be no stopping the spread of electronic payments. Thus, sooner or later, cash will be ingested, especially if the state accelerates this process through regulation, for example by excluding certain payment methods or certain amounts from cash payments. This process is already taking place quite quietly, the most recent example being the acceptance of mandatory electronic payment in Hungary, next to all online cash registers, from 1 January 2021. Although we cannot yet talk about the exclusion of cash, electronic payment has already made its footprint in this sector.
The duel between Google Pay and Apple Pay has started
Going back to the plastics lurking in our wallets, it has become clear in recent years that globally, Apple Pay and Google Pay will increasingly become a means of everyday payments. As we get rid of our wallets more and more, these mobile-based payment solutions will fill the gap. Especially in national markets where it is not economical to maintain a domestic payment solution.
Perhaps the only question is how the mobile payment revolution will proceed in areas of the world lagging behind the banking infrastructure.
Use of Apple Pay in different countries of the world in August 2021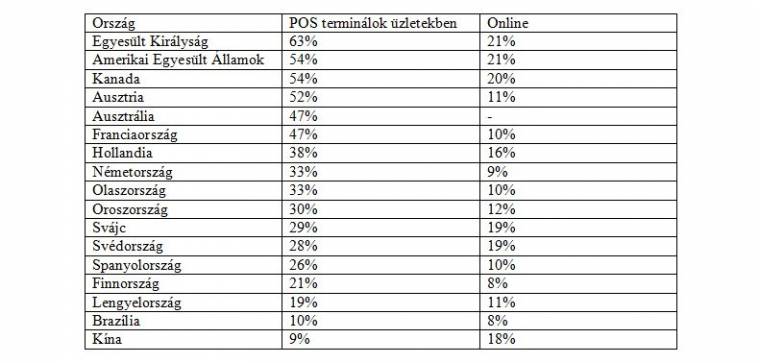 source: https://www.statista.com/statistics/1264671/global- apple-pay-adoption /
Use of Google Pay in different countries of the world in August 2021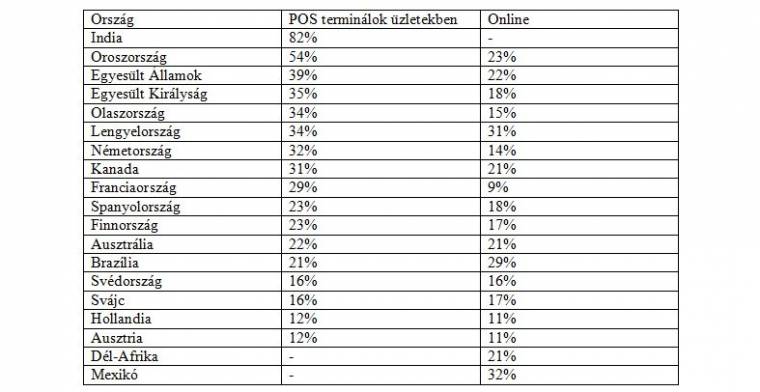 source: https://www.statista.com/statistics/1264984/global-google-pay-adoption/
As you can see, the two tech giants However, the most advanced countries in terms of financial infrastructure, such as the United States or the United Kingdom in Europe, are at the forefront of both payment solutions.
The latest aggregated – according to data 2021. II. In the third quarter of 2006, the total number of wallet purchase transactions with domestic cards was 25,138,026, with a total value of HUF 149.526 billion. Both numbers are more than double the previous, 2020. II. quarterly data, but this does not show the market share of wallets between Android and Apple, and the data should be corrected for the impact of the coronavirus epidemic
. 8.2 per cent of the credit card purchase data for the quarter and 5.8 per cent in value
So there is still room for improvement in Hungary. Even if this value continues to improve
How do Hungarian banks deal with the payment solutions of tech companies
Domestic in-store mobile payment initiatives – Building on the touch card acceptance infrastructure introduced in 2009, they were launched on Android on a test basis in 2013 and on a commercial basis in 2014. However, these were still isolated solutions, ie one of these developments could only be used by the cardholders of the given bank, and initially it also required the replacement of the SIM card of the mobile service provider. This was the case until 2016, when the first SIM independent solution appeared on the Hungarian market.
Today, all solutions are like this.
However, these isolated solutions they are still in the majority on Android systems today. Among the large banks are Budapest Bank, Erste Bank, K&H Bank, MKB Bank and Raiffeisen Bank. , where the balance of the bank card issued by it can be topped up with a bank card issued by any bank, but due to this regulation there are strong limits: the balance can be up to 45 thousand forints, as well as the monthly spending limit.
Google K&H Bank first joined Pay as a domestic bank in April 2021, in addition to the bank card solutions of foreign fintech companies available to Hungarians, such as Revolut.
Google Pay itself only later, in 2021 It became available for download to Hungarian users in September, and CIB Bank and Erste Bank joined it the following month, and in recent days also Granite Bank
three m fang bank cards can be hidden. Among them, CIB Bank only offers in-store touch-based mobile payment options to its prepaid customers in Google Pay, and this year we can also expect Takarékbank, which has already announced its development plans in this area.
Apple Pay, on the other hand ran a completely different track than Google Pay. Last but not least, the apple company has control over the NFC circuits that are essential for in-store mobile payments in their hands. This explains why the first Hungarian bank, OTP, could only join the ecosystem only in May 2019, the fifth year after the launch of Apple Pay.
Since then, Apple Pay has overtaken Google, since – together with UniCredit, which has recently joined, it is already possible to register bank cards of nine large Hungarian banks in Apple Wallet for in-store touch mobile payments.
Apple devices can be used with credit cards issued by all other major banks instead of contact credit cards
Hardware, software, tests, curiosities and colorful news from the IT world by clicking here