The ultra-compact C6015 industrial computer is designed for general-purpose automation, display and communication systems as well as EtherCAT-based applications. Equipped with uniquely affordable, compact and flexible mounting options, the PC opens up new horizons for industrial computing, especially for applications with tighter budgets or severely limited space. Designed specifically for industrial environments, the multi-core machine measures just 82 x 82 x 40 mm. This also helps to make Beckhoff's PC-based control technology available for a wide range of applications.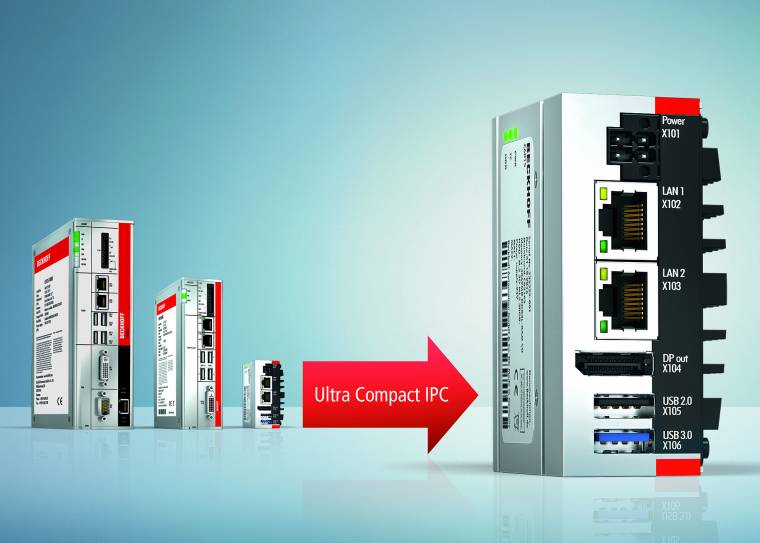 With a size of only 82 x 82 x 40 mm and an Intel® Atom ™ processor, the C6015 industrial PC ideally combines compact design with high computing power
The C6015 ultra-compact industrial PC (IPC) is only one-third the size of the C6905, which was previously the smallest industrial cabinet in Beckhoff's wide range.
Thanks to its approximately 25% lower price, the new industrial PC is significantly more cost-effective than Beckhoff's most affordable x86 series PCs to date. Thanks to all this, small and medium-sized automation, display and comprehensive communication systems can be implemented with this compact device at a very low cost and with minimal space requirements. This opens up new horizons for PC-based control technology, also gaining ground in applications where this technology has not been used before or where various motherboards have been installed as a unique, expensive unit.
"Industry compatible" solution without compromise
Despite its extremely small size and favorable price range, the C6015 ultra-compact industrial computer does not force the user to make any compromises. This is due, among other things, to the high computing power of the Intel® Atom ™ processor family, which is up to quad-core.
In addition to what has been described so far, the new industrial computer is passively cooled and , made of injection-molded aluminum-zinc alloy. It also fully meets the requirements of a standard industrial environment, including an upper operating temperature range of +55 ° C, and very good shock and vibration resistance
Type C6015 IPC for fixability also remarkably flexible. It can be mounted on the rear wall of the control cabinet in a vertical or horizontal position, but can also be attached to a DIN hat rail. As a result, it can be installed in even the most cramped places in many different ways, flexibly adapting to the conditions. Together with its small size, this is important because, for example, when connecting six different cables, it is very important that the connection points fit as precisely as possible into the cable routing resulting from the design of the controlled machine.
This small industrial PC It also meets the requirements of universal industrial computers in terms of equipment and interfaces: with its 30 GbM solid state storage (SSD) and Windows Embedded Compact 7 operating system, the basic version is already very efficient. It can be ordered with Windows 7 or Windows 10 on request. Additional peripherals include a 2 Gbyte (expandable to 4 Gbytes on request) DDR3L RAM, a DisplayPort interface, a motherboard, dual Ethernet adapter to handle 2 100 / 1000Base-T connections, and USB 3.0 and USB 2.0 standard interfaces
Webinar!
) For a detailed overview of industrial PCs and their capabilities, check out the company's previous IPC portfolio as well as the panel's webinars on PCs and control panels. Recorded recordings of previous webinar series can be viewed on Beckhoff Hungary's Youtube channel.
Beckhoff's autumn webinar series they can also join, it is still going on.