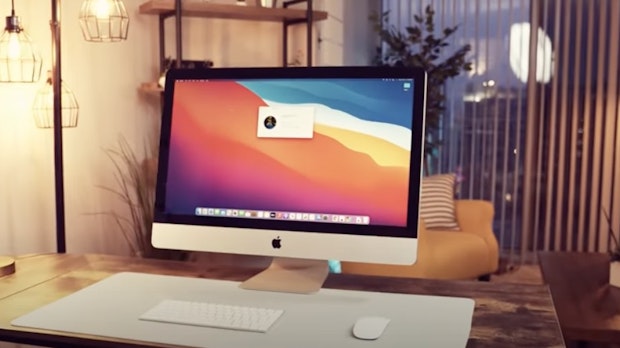 In November, Apple presented its M1 chip at its "One more Thing" event. The chip designed for Macbook Air and Mac Mini is supposed to provide more battery power and acceleration in conjunction with MacOS Big Sur. With the M1X, the launch of an M1 variant for Apple's Pro Macbooks and iMacs is also imminent. Youtuber Luke Miani obviously didn't want to wait that long – and without further ado he screwed together an iMac with an M1 chip himself.
In the video sponsored by iFixit, Miani relies on the tools and instructions of the hobbyists and transforms his 27-inch iMac (2011) into an HDMI display using a converter board, which he connects to as an Apple cinema display Mac Mini with M1 chip can connect. Of course, it's not a real M1 iMac. So Miani then completely hollowed out the iMac and built in the Mac mini parts.
iMac with M1 chip: problems with the antenna
That might not sound too complicated for the real computer hobbyist. However, Miani encountered a number of problems after the remodeling process. The keyboard and mouse were difficult to connect after the first start, and the WLAN was not particularly fast either. The reason for this: One of the three antennas built into the Mac Mini is located on a small metal base plate that could not be built into the iMac.
So, according to Miani, there are only two antennas in the iMac, which leads to connection problems in the metal case of the iMac. Miani tried to work around the problem by using a metal antenna strip. That brought a better WiFi and Bluetooth connection. On the other hand, the problem that the M1-Chip-iMac has no USB-C or Thunderbolt ports is likely to be less easy to circumnavigate.
New iMacs 2021 probably in a new design

Accordingly, the project is probably going ahead under the motto proof-of-concept, as 9to5mac thinks. For Miani, by the way, the most surprising thing was to see how much space the iMac offers if you only built in the Mac mini parts. And that although the M1 chip should be faster than the currently installed Intel i7 processor. It is questionable whether future iMacs with an M1 chip will even come in the previously known design. After all, industry insiders expect completely overhauled devices that are based on the design of the Pro-XDR display.

Read more: Apple Silicon M1 – We can count on these Macs and Macbooks this year

Most read