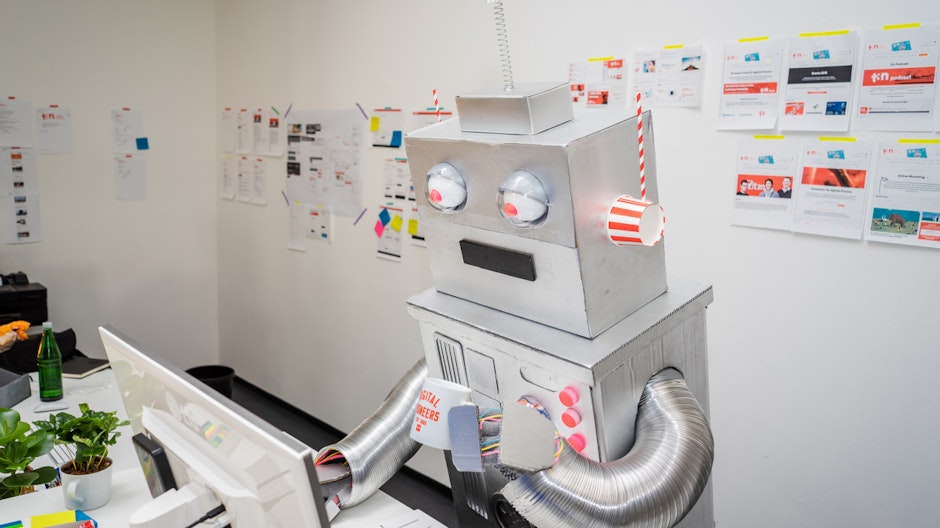 Your job
In the Daily, you discuss with your team what you are currently working on and which ticket you will grab next.
To continuously develop t3n.de, you will work with the team on both prototyping new API-driven templates and integrating new services into our stack.
The programming language that is best for the task is also the one you would prefer.
You also get involved in the conception of new features and products.
You are visiting relevant events that you Want to find out about the new hot shit in the industry with the aim of replacing our older systems with new ones.
You use your R&D days to test new technologies that further improve our technical stack.
Together with the team, you will make decisions about which technology stack we want to use t3n.de in the future.
Your profile
You already have experience in the implementation of larger projects and you know what you can do and what you want.
You feel safe working with Node.JS / TypeScript and PHP.
You are familiar with GitHub and CI and CD pipelines not new.
You want to develop continuously, enjoy new challenges and have a strong team spirit.
Experience with TYPO3, WordPress and / or Flow Framework is an advantage.
You are interested in using or at least trying out other programming languages ​​or frameworks such as React, Next.js.
Our benefits
You get a contemporary one and a fast Macbook that you can also use privately.

As soon as possible, we will provide you with fruit, muesli, bread, fine coffee and all kinds of drinks in our modern office in Hanover.

You need a break? Then challenge your colleagues to crook, table tennis or a Fifa match!

Whether internal bar camps, wine Thursdays, our annual BBQ or the legendary Christmas party – you are cordially invited to all t3n events!

We promote your development and enable you to attend suitable training courses.

That's not all – we still offer our employees many other benefits !

Click here for the application

You can find yourself in our job advertisement and want to add to our development team? Just click on the button below and convince us with your application! Your contact person is Johannes Steu.

"> Apply now