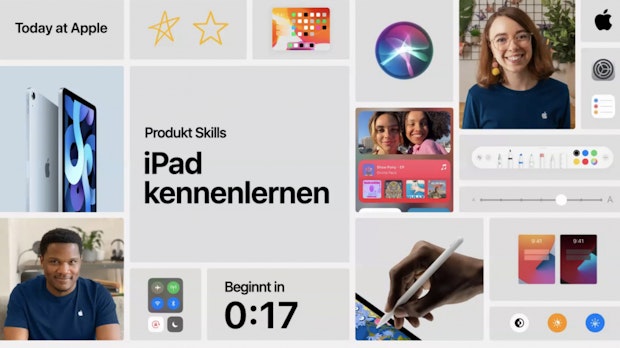 A few years ago, my grandpa got an iPad for Christmas, which he still lovingly calls "Teibel" to this day. The phase of getting to know each other between modern technology and a critical view of pensioners was much more sluggish and less intuitive than expected. The impatience creeping in on the grandchildren's side and the geographical distance meant that on public holidays we basically had to reassemble ourselves to set up the iPad from scratch.
For people like my grandpa, Apple offers many free online sessions during Corona times, which also serve to stay in contact with customers despite the closure of the local stores. For beginners who are new to the Apple universe, the US group offers seminars under the name "Product Skills". Apple employees guide the newbies through the system settings, for example, and bring them closer to what can actually be done with the iPad, iPhone and Macbook.
Tips and tricks from Apple employees
In detail, in the 60-minute video session, an "Apple Creative" will structure the product explains, while the seminar participants can ask questions at any time via the chat. In addition, the listeners are provided with further links via the chat window, which show the things discussed again in writing. Basic things like unlocking the device, Siri, notifications or moving apps are discussed.
If you want to go one step further, the it also explains how apps that belong together can be stored in their own folders, what widgets are or how several apps can be used at the same time. Care is taken not to use too much technical language in order to pick up all seminar participants. At the end of the seminar, the "Apple Creatives" are available to answer questions and give users further tips and tricks along the way.
In addition to these virtual sessions, Apple's next product presentations will probably take place exclusively online again. On March 23rd, it is said to be ready. It is expected that there will be some new products.
Most read