The development of a well-functioning, cost-effective and most customer-friendly eGovernment is now a worldwide requirement. It is no coincidence that more and more people have become open to electronic services in recent years. This trend has accelerated since the outbreak of the Covid-19 epidemic, as the emergency situation has shown that digitization and increasing the proportion of official cases that can be handled online, in addition to helping to preserve our health, significantly reduce the administrative burden on citizens and businesses
. )
The growing interest in Magyarország.hu is also a growing interest in e-government: in 2020, almost 51 million visitors visited the website annually, five times as many as in 2019. In addition, more and more people are using the services available on the interface: while in 2019 a total of about 4 million cases were initiated on the site, in 2020 this number has already reached 13 million.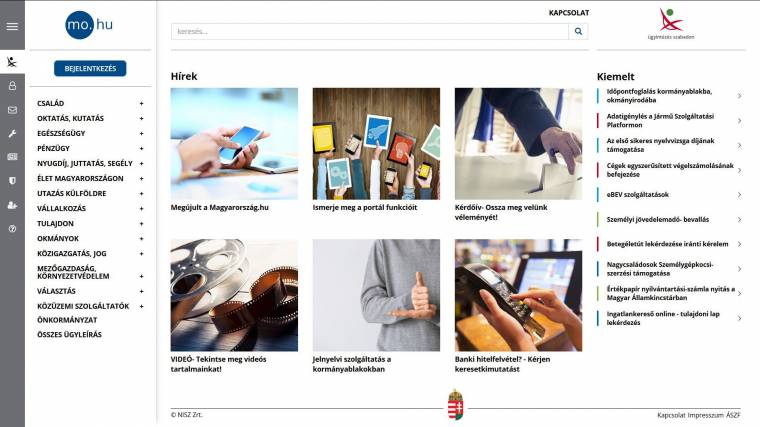 We have favorites
In 2018, the Ministry of the Interior and NISZ Zrt. Launched a project aimed at renewing the Magyarország.hu portal with the aim of creating a unified interface. provide for electronic administration and provide comprehensible and comprehensive information on the use of the services found on the interface. Since its launch, 132 organizations have joined the central electronic administration portal, including the offices of 12 public service providers in addition to several offices. The Magyarország.hu, which was renewed in February 2020 and now has an average of 5 million visitors a month, currently has almost 1,900 different cases waiting for users, of which more than 1,500 can be settled electronically. Of these latter cases, 289 have a directly fill-in form, the so-called iFORM form, and 9 have a small application that also allows for immediate case initiation from the interface.
In recent years, NISZ Zrt. In addition to the continuous expansion of the content of the website, the company also placed great emphasis on improving the functionality and appearance in order for citizens and businesses to be able to access the services they are looking for in a single, clean and easy-to-use interface. As a result, innovative e-government solutions such as iFORM form technology and useful applications available on the portal (eg Vehicle Service Platform; Appointment booking; Electronic home registration; Electronic return notification, Identity card replacement) provide even more practical administration options. users can manage their affairs anywhere, anytime, in addition to a desktop computer, laptop and other mobile devices. For example, the online address registration service launched in the second half of 2020 was used by an average of 6,000 people in November 2020, more than 20,000 people in December, and more than 27,000 people in January 2021.
The new Magyarország.hu portal provides a good basis for providing customer-friendly services. According to the experience of NISZ Zrt., Visitors to the site now, for the second and third time, manage their previous affairs electronically, because once they have succeeded, they only return to personal administration in very justified cases.
The most popular electronic administration services in 2020:
Data request on the Vehicle Service Platform
eBEV services;
Appointment to a government window, document office
Electronic Health Service Space (EHIC)

Real estate search online land registry service – query of ownership page.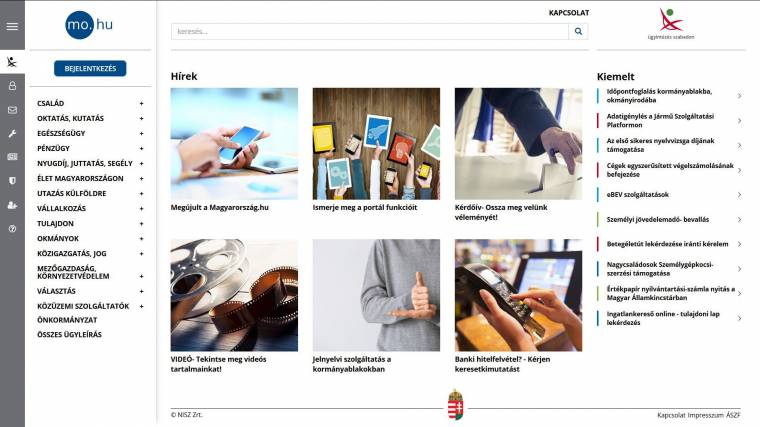 Anonymous questionnaire
However, many people are still reluctant to commit to electronic services until they experience this. advantages. Among other things, NISZ Zrt. Launched a survey in order to get to know the expectations of the citizens and the preferences related to electronic administration in connection with the Magyarország.hu portal and the services available on the interface. An important goal is to provide users with an easy-to-use, up-to-date administration interface that meets the changing needs at all times through the continuous development of the central e-administration portal.
The questionnaire is available HERE and takes a few minutes to complete. and it happens anonymously. Data and information are only analyzed in aggregate, they are not linked to a specific person.
Hardware, software, tests, curiosities and colorful news from the IT world by clicking here