Researchers at the University of Vermont announced last year that they had created the world's first living, self-healing robot. The creature, which was made up of frog stem cells, is only 1 millimeter wide, and scientists have dubbed it the xenobot after the African claw frog (Xenopus laevis), from whose embryo the stem cells are derived.
The xenobot is so small that it also fits comfortably in the human body: it can travel, swim or walk in the bloodstream. It takes weeks without any food and can form groups with other xenobots. It is a completely new way of life, according to University of Vermont staff who conducted the research with Tufts University.
Scientists allowed stem cells extracted from the claw frog embryo to incubate and then into a "supercomputer-designed" body shape "they have been transformed. The cells then began to function: the skin cells connected to form the structure of the robot, and the pulsating heart muscle cells took care of moving the robot. Xenobots even have self-healing abilities: when one of them was cut, he corrected himself and continued to move.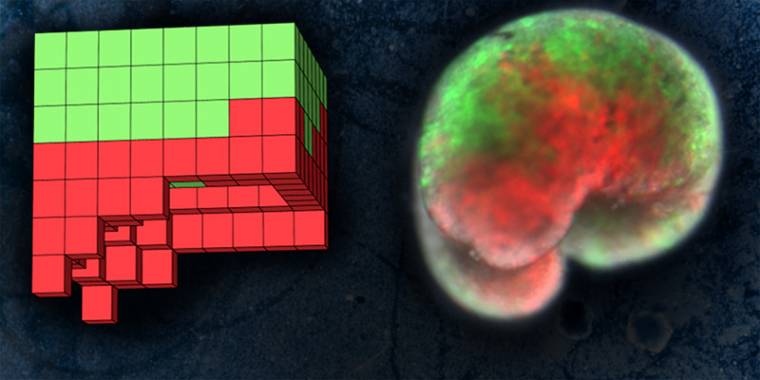 To the left is a computer plan of the xenobot, and to the right is the organism itself (source: University of Vermont)
Xenobots are a brand new type of living system. They are not traditional robots, but they do not resemble known animal species either. They form a new category: living, programmable organisms.
Research has now gained momentum again as traditional robots wear out and continue to burden the environment as waste. According to their developers, they can be used for many purposes, of which the military can no longer be ruled out – it is no coincidence that the research was funded by the US Government Agency for Defense Advanced Research Projects (DARPA).
Competition is intensifying as the Gulf Arab states seek to become militarized artificial intelligence powers after oil. The UAE is a leader in the development of MI. It was the first country to appoint a Minister of Artificial Intelligence and found the Mohamed bin Zayed University of Artificial Intelligence.
Hardware, software, tests, curiosities and colorful news from the IT world by clicking here!