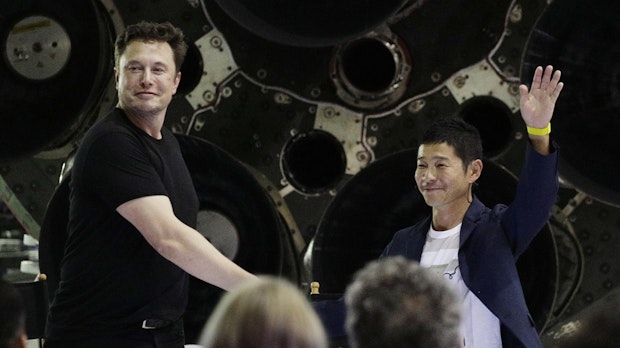 SpaceX boss Elon Musk had the Japanese e-commerce billionaire Yusaku Maezawa as the first three years ago presented to paying space tourists of his company. At that time, Maezawa announced that painters, sculptors, photographers, musicians, writers and other artists would accompany him on the flight around the moon planned for 2023. In the meantime, however, the billionaire has changed his plans: Instead of selected artists, everyone should now have the chance to take part in the multi-day trip around the moon and back.
"Perhaps every single person who does something creative can be called an artist," the 45-year-old explains the change of plan in a YouTube video. The prerequisite for each of the eight participants, however, is that they "can push their limits" and "help society in some way". Maezawa also requires that his fellow passengers are ready to assist the other passengers.
Private space flight to the moon: application process has started
Anyone interested in the round trip to the moon and a few days off in 2023 who can apply to participate on the website of the Dearmoon project. When registering, initially only the name, the email address and the country of origin are requested. A photo is also stored. A more detailed examination will only take place in a second phase from March 23rd. However, it is unclear what it will look like.
The flight to the moon is to be carried out in the SpaceX Starship rocket become. However, it is not yet ready for use. However, company boss Musk is confident that the spacecraft has been in space several times by then and can be classified as safe for the transport of people. The passengers are supposed to fly around the moon and back to earth in the Starship.
Maezawa: e-commerce billionaire had previously looked specifically for a female flight attendant
2020 Maezawa had in one somewhat bizarre campaign looking for a "partner" for his flight to the moon. The whole thing was apparently to be filmed as a kind of dating show under the title "Full Moon Lovers" for a Japanese streaming service. According to the official website, the candidates should be over 20 years old, intelligent and "want world peace". However, Maezawa later canceled the project and apologized on Twitter to the streaming broadcaster and what, according to him, more than 27,000 women had applied to participate in the show.
Maezawa is the founder of Zozotown, Japan's largest Online clothing shipping. Maezawa withdrew from the business in 2019. In the past, the art collector has repeatedly paid record amounts for works by modern artists. Forbes currently estimates his private fortune at around two billion US dollars. This puts Maezawa in 23rd place on the list of the richest Japanese.
Most read