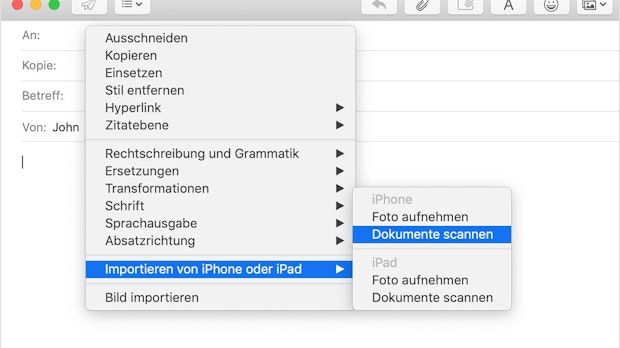 Apple's ecosystem has some nice tricks up its sleeve that you may not be familiar with. We recently reported on the practical function of the convenient cross-device copy-paste function, with which you can use content from one Apple device on another as if by magic.
Similarly practical and not completely new is the so-called camera transfer function, with which you can initiate the camera of an iOS device from the Mac and either take a photo or scan a document. The recorded content will then be pasted into a compatible application of your choice on the Mac. How does this work? We'll explain it to you.
Use the iPhone as a scanner for the Mac – the requirements
In advance you have to make sure that all software and technical requirements are met. Both devices must be close to each other and ideally connected to the same WiFi network. An active Bluetooth connection is also required. In addition, your Mac and your iOS device must be logged into Apple's iCloud with the same Apple ID and two-factor authentication must be used. The latter has been mandatory since iOS 11 and MacOS High Sierra anyway.
On the software side, MacOS Mojave must be used on the Mac and at least MacOS Mojave on the iPhone or iPad iOS 12 must be installed. On the Mac, in addition to the Finder, Keynote (from version 8.2 or newer), Mail, the Messages app, Numbers (from version 5.2 or newer), Pages (from version 7.2 or newer) and Textedit are supported.
Use the iPhone as a scanner for the Mac – this is how it works
If all the requirements are met, you can start scanning: Open one of the supported Apps – at the Finder you have to open a new window -, Now click the right mouse button or the right trackpad to display the context menu. Here you will find the setting "Import from iPhone or iPad" and select "Scan documents" there.
If you have carried out this function, you now have to pick up the iPhone or iPad, on which the camera of the notes function has opened as if by magic. Now all you have to do is select the appropriate camera section to scan the desired document and, after a successful scan, tap on "Save". The documents then end up in the app of your choice. It is saved as a PDF in the Finder.
We became aware of the not new, but from our point of view, underestimated function via the Tiktok-Kanal keyboard shortcuts (via The Verge).
More on the topic: iOS 15 and iPadOS 15: These iPhones and iPads should receive the next big update
Most read