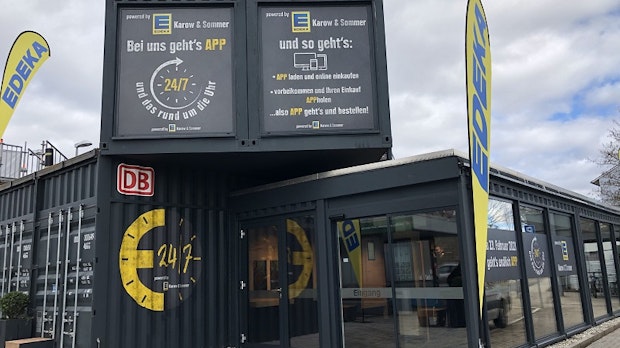 In Renningen, Baden-Wuerttemberg, an Edeka store opens on February 23, 2021, at which some things work differently. Goods are not taken from the shelf by the buyers themselves, but must be ordered in advance using a smartphone app or on site using a touchscreen. In the background, robots compile the purchases.
The grocery store at Renningen train station is a cooperation between Deutsche Bahn and Edeka Südwest. The Stuttgart startup Smark, which specializes in automated sales outlets, is responsible for the technology.
Automated mini supermarket to offer 800 products
The mini-supermarket, baptized E 24/7, is to carry up to 800 products in the future. According to the railway, the assortment should range from food to drugstore goods. A bakery is also attached. The shop is open around the clock.
The automated pick-up supermarket in Renningen should not be the only one. According to Edeka Südwest managing director Jürgen Mäder, further supermarkets of this type are already being planned. According to the manager, they should arise at "different high-frequency locations in the southwest".
Smark: Startup already has experience with automated sales outlets
The Stuttgart startup Smark had already worked with Real from 2019. The retail chain had tried a similar concept under the name Emmas Enkel. After the takeover of Real by the Russian financial investor SCP, however, it ended after only one year.
Smark also has experience with sales at train stations. For about two years, the startup operated an automated sales point under the name Kesselkiste at Stuttgart Central Station. In 2020, Smark was able to secure 3.1 million euros in a seed financing round.
Also interesting: Food from the machine: These founders want to replace the supermarket
Most read