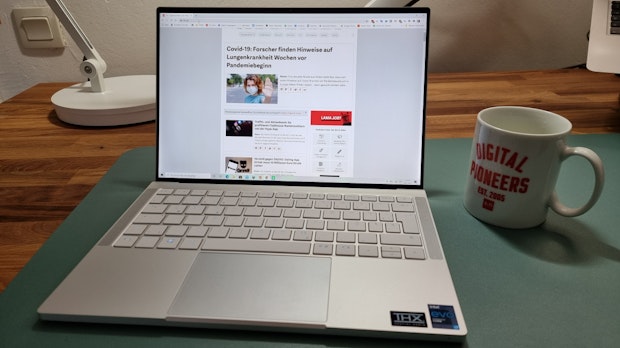 Razer is first and foremost for its gaming Products known, but the US manufacturer has also been poaching in office waters for a few months. Starting with the keyboard-mouse combo Pro Click and Pro Type, the manufacturer followed up with the Razer Book 13 in November. The 13.4-inch notebook is roughly based on Razer's Blade Stealth, which came along without a dedicated graphics unit and in a simple matt black. The aluminum case of the Book 13, which is just as simple in silver, should fit even more into business life, although Razer couldn't completely do without little gimmicks in its pure business notebook either.
Razer Book 13: top processed – more connections than announced
Razer Book 13: Bright IPS display, narrow bezels
Keyboard and trackpad of the Razer Book 13
Razer Book 13 : Service and duration
Conclusion: Good entry into the office segment
Razer Book 13: great workmanship – more connections than announced
Razer's first business notebook is excellently processed and with its dimensions of 295, 6 x 198.5 x 15.15 millimeters extremely compact. For comparison: Dell's equally compact XPS 13 measures 295.7 x 198.7 x 14.8 millimeters and weighs only 100 grams less than the Book 13 at 1.3 kilograms.
Razer was able to achieve the narrow design mainly through the narrow display bezels to all four sides. Nevertheless, the 720p webcam sits above the screen and not, as with Huawei's Matebook X Pro, in the keyboard, which creates a higher degree of privacy, but also an unsightly frog's-eye perspective.
Visually, the Razer 13 is reminiscent of its slightly angular frame, the speakers attached to the left and right of the white keyboard Openings, which are protected by finely perforated metal rails, look a little like a modernized version of Apple's Powerbook G4 from 2003. On the back of the display lid, however, there is no apple logo, but a subtle, shiny silver Razer logo: the three-headed one Snake.
For current ultrabooks, the Razer Book 13 has a relatively large number of connections compared to models from the competition: Apart from two USB-C ports with Thunderbolt 4, which can be found on the left and right of the case the notebook also has a full-size HDMI 2.0 port on the right and a USB type A port (USB 3.1 Gen 1) on the left. Another welcome feature is the micro SD card reader. Thanks to the numerous ports, the owner of the laptop does not necessarily have to carry around a dongle.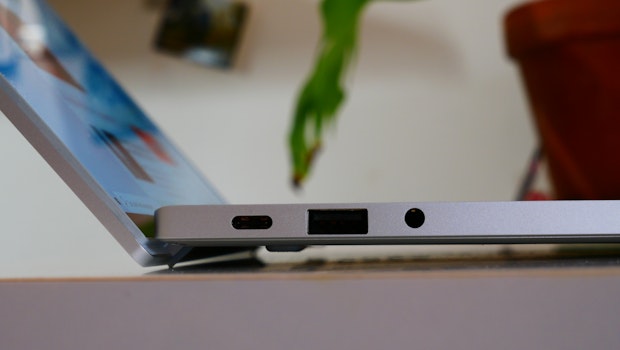 Razer Book 13: Bright IPS Display, narrow bezels
In addition to the compact design and the relatively large number of connections, the Razer Book 13 also scores with its excellent bright display. It has a diagonal of 13.4 inches and a 16:10 aspect ratio, which is ideal for office use. Razer offers its Book 13 optionally with full HD resolution with or without a touch screen or with a UHD touch screen. We were given the model with UHD resolution of 3,840 x 2,400 pixels, which thanks to a high maximum brightness can be read quite well in sunlight despite its slightly shiny screen.
The screen is also viewing angle stable and supports viewing angles up to 178 degrees. Furthermore, the screen is connected to the housing with a hinge, which, like Asus' Ergolift, lifts it into a slightly ergonomic position and at the same time ensures better ventilation from below.
Keyboard and trackpad of the Razer Book 13
The fact that Razer has its origins in the gaming world is evident from the Book 13 especially on the keyboard, the individual keys of which have RGB backlighting. Especially when you turn it on for the first time, the keys waft in many bright colors. Using the pre-installed Razer Synapse application, you can adjust the keyboard key animation as you wish using the Chroma Studio settings and, if necessary, simply add classic white backlighting. However, the RGB buttons are not evenly illuminated, that's better.
The keyboard itself has large keys with a soft pressure point and a relatively short stroke. After a short period of getting used to it, you get along well with it, although a slightly better defined pressure point would be desirable. After all, it is extremely quiet, and prolonged writing is no problem either. We like the keyboard of the Surface Laptop 3 (test) better in terms of typing comfort.
Razer has done everything right with the trackpad: It is extremely large for a Windows notebook and thanks to Microsoft's Precision drivers it works exactly on every input.
Razer Book 13: performance and runtime
The Razer Book 13 is offered in three different versions: The entry-level model with Full HD without a touch screen has an Intel Tiger Lake Core i5-1135G7 (max. 3.8 gigahertz) with eight gigabytes of RAM and 256 gigabytes of SSD storage; it costs 1,299 euros. The middle model at a price of almost 1,700 euros has a full HD touch display, Intel Core i7-1165G7 (max. 4.7 gigahertz), 16 gigabytes of RAM and a 256 gigabyte SSD. The most expensive Razer Book 13 has a 4K touch display, the same Intel chip as the middle Book and 512 gigabytes of SSD storage – the main memory is 16 gigabytes. In terms of price, it is just under 2,000 euros.
Equipment options of the Razer Book 13:
Intel Core i5 (1135G7); FHD non-touch; 8 GB of RAM; 256 GB SSD; Windows 10 Home –

1,299 euros

Intel Core i7 (1165G7); FHD touch; 16 GB RAM; 256 GB SSD; Windows 10 Home –

1,699 euros

Intel Core i7 (1165G7); 4K touch; 16 GB RAM; 512 GB SSD; Windows 10 Home –

1.999 euros

Our test device is the most expensive version that we would not necessarily use if we were to buy it. From our point of view, the medium version offers the better price-performance ratio, although we would prefer the model with a 512 gigabyte SSD. The available capacities are also sufficient for the office.

In terms of performance, the Razer Books 13 delivers well with its new 11th generation Intel processors in combination with 16 gigabytes of RAM. Working with Office applications is also possible without any problems with larger files. Even older games run without complaints thanks to the Intel Xe graphics unit with medium graphics resolution. The built-in SSD is not a bottleneck either and delivers good rates. If the SSD is not enough, it can be exchanged; The RAM is firmly soldered and not expandable, which is why you should consider whether you need 8 or 16 gigabytes before buying.

As with other notebooks, the battery life of the Book 13 with its 55 watt hour battery depends on the usage scenario. The battery is sufficient for an eight-hour day in medium brightness and usual office applications. The more intensively you use the computer, the faster the notebook calls for a power supply. The runtime should be better with the Full HD version – a 4K screen simply consumes more energy. Nevertheless, the runtime of the 4K model is okay. The notebook is charged via a 65 watt power supply unit via a USB-C socket.

The notebook also features WLAN according to the current Wi-Fi 6 standard, Bluetooth 5.1 and a 720p webcam. Unfortunately, the latter corresponds to the usual webcam standard, which does not correspond to a particularly high image quality. Manufacturers – not only Razer, but also Dell, Lenovo or Apple – should install better cameras, especially in times of regular video conferences. The sound of the stereo speakers is excellent.

On one Razer has dispensed with a fingerprint sensor; for biometric authentication, the manufacturer, like Microsoft, uses an IR sensor and Windows Hello for the Surface Laptop. Windows 10 Home is pre-installed on all models.

Conclusion: Good entry into the office segment

Razer has made a very good start in the world of office notebooks with its Book 13. With its predominantly minimalist exterior, excellent workmanship and thin screen bezels, it not only looks good, but also offers good performance thanks to the current Intel chips. The bright 4K touch display also made a positive impression, as did the good battery life for the high screen resolution. Nevertheless, we advise you to use the Full HD version, with which you can get more runtime on the go – at least as soon as circumstances allow.

In terms of input devices, the touchpad convinced us more than the keyboard. The latter is not bad, but it can be done better. A nice gimmick with the possibility to set individual accents is the RGB lighting, so that you can let the keyboard glow in different colors and patterns depending on your mood and preference. Hardly any other office notebook has that to offer!

In addition, the variety of connections should be positively emphasized, which is a plus point compared to Dell's excellent bestseller XPS 13 in view of the trend to only integrate USB-C ports in notebooks.

Most read