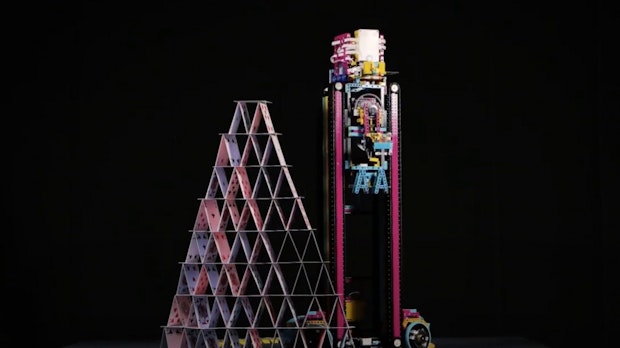 The Brazilian product designer Arthur Sacek has made a name for himself in the Lego fan community for a long time. His Lego projects include various 3D printer variants, a device that can fold a paper airplane and then shoot it down, or a dance robot that uses hand movements for orientation. Now, after five years, Sacek has published another project on his YouTube channel with 20,000 subscribers.
Lego robot based on Education Spike Prime Set
This time the tinkerer brings a robot to build a perfect house of cards. Most of the parts come from the Lego Education Spike Prime sets and an associated expansion set. This Lego series enables the programming of controllable components using drag & drop software, which is based on the Scratch programming language. Python can also be used to help robots perform certain tasks.
Building a house of cards is definitive one of the more difficult tasks. Because here it comes down to the fact that the Lego robot has to pull out the thin cards one by one and handle them. This is difficult even for inexperienced human card players. In addition – everyone who has ever built a house of cards knows this – this sensitive structure threatens to collapse at the slightest vibration.
Project costs developers 200 hours
Accordingly, Sacek claims to have spent around 200 hours designing the robot and assemble – including some prototypes. Overall, the project took almost half a year, as the developer could only work on it in the evening and on weekends. The result is a machine that one likes to just watch when it is calmly assembling the house of cards – perfect for slowing down after a stressful day.
If you want to recreate the house of cards building robot, you have to do the design and development work yourself. In the description of the YouTube video, Sacek emphasizes that there will be no instructions. He is glad that he has finished the robot and in any case is not planning a new version of a robot that can assemble a house of cards.
Also interesting: Lego Mindstorms in the test – learn to program while playing
You might also be interested in