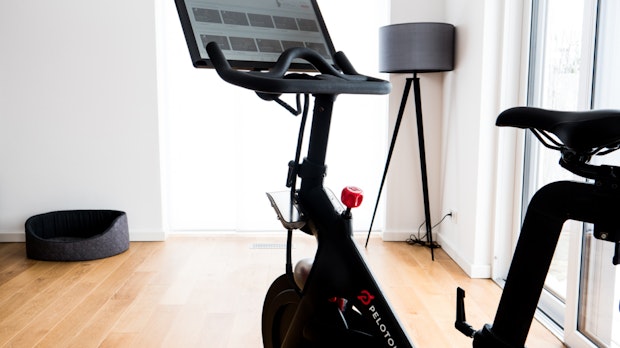 I was never a particularly sporty person. I was always aware that a certain physical fitness is definitely worth striving for, but in the end most attempts simply failed due to the lack of motivation.
In the past 18 years I have tried different fitness studios – from inexpensive to premium. The cheap studios were too crowded for me and the atmosphere wasn't really inviting. With the more expensive ones, I got the impression that it's less about training and more about having a chat with others at the counter with a protein shake or in the sauna. And then there was the personal trainer. Drive to his studio three times a week? I simply didn't have enough time for that because I had to plan around two hours for 45 minutes of training. In the long run, I lacked motivation with the individual training plan for at home. The same applied to activities like jogging.
And so the years went by until I said to myself in early 2020: You finally have to do more exercise. At almost the same time, YouTube played me a Peloton commercial for the first time. In fact, I had never heard of it before. I took a closer look at the Peloton concept and was convinced of it relatively quickly. However, the 2,230 euros for the bike plus 39 euros per month for membership represented a certain hurdle.
But then Corona came. The planned vacation fell through, I just sat at home – and finally decided in July to give Peloton a chance. After all, I still had the opportunity to return the bike at the end of the 30-day test phase.
Peloton: Motivation from day one
At the beginning of August – almost exactly half a year ago – the Peloton bike was then delivered. Since the shipping company sets everything up (even the saddle height), you just have to log in and you can start your first ride straight away. Here Peloton follows the Apple principle: The user experience is kept as simple and comfortable as possible. Hardware and software are perfectly coordinated.
For my part, I had no experience at all up to this point made with the topic of indoor cycling. So I started with some so-called beginner rides. It explains exactly what to look out for, how to sit properly on the bike and how to make progress. This is followed by advanced beginner rides. For beginners in particular, it is important to get a feel for training on the bike before jumping into the much more strenuous fitness rides.
Also interesting: This is how you stay fit at your desk at home
This live and on-demand course system is critical to the success of Peloton. The trainers accompany the users every day with new workouts – and thus ensure that you make progress. This is a huge difference to the many home fitness apps in which 40 videos of 30 seconds are recorded once and then simply put together again and again by the algorithm. At Peloton, if you don't want to, you don't do a workout twice. This guarantees variety and motivation.
Within a year, the number of German trainers has grown to four, so that there are now German-language courses almost every day – in addition to the countless offers in English. This diversity is important because every trainer has a different style. Regardless of whether you want it a little more cranked, a little more reserved or a little more demanding – here is the right training partner for everyone.
And then there are also monthly challenges and the leaderboard. Both contribute to not only measuring yourself against others, but also against yourself again and again. This makes progress visible – and you are motivated to stay on the ball and to grow beyond yourself again and again.
Peloton can replace the gym
The success proves Peloton right: Worldwide, Peloton now has 4.4 million users, 2.3 million of whom use the training Subscription In the past few months, over 20 people in my immediate vicinity have bought a peloton bike. And yet I notice again and again in conversations that Peloton has not yet managed to break away from the image of a pure indoor cycling provider.
I did over 350 workouts within six months, but "only" 170 of them were cycling units. The other half was strength workouts, stretching, or yoga. The courses are designed in such a way that you only need three pairs of dumbbells in addition to a training mat and can thus replace a full workout in the gym. The movement sequences are explained in detail and during the training you will always receive information about the correct execution of the respective exercise. Just like the cycling classes, these courses can be completed live or on demand. Of course, we're talking about functional strength training here. If you want to do squats or bench presses with a weight of 100 kilos, you are out of place. But let's not kid ourselves: 90 percent of people who have contracts in fitness studios would do more in a strength workout at Peloton than in the gym.
Also interesting: 10 apps and services for fitness at home
This also puts the price into perspective. Membership at Peloton costs 39 euros a month – for the whole family. In good fitness studios you can easily pay 50 euros or more a month – and that per person. And then you don't have individual courses and training units around the clock.
Who does not like indoor cycling , can wait for the treadmill (Peloton Tread), which will soon be available in Germany. Similar to the bike, the price will be somewhere between 2,200 and 2,600 euros. This means that Peloton is only in the mid-range in terms of price. With manufacturers like Technogym or Nohrd, high-quality treadmills easily cost 5,000 euros and more. The same applies to spinning bikes.
Peloton is not just a hype
In media reports, Peloton is often portrayed as hype. There is then – almost disparagingly – the talk of the "expensive home trainer" or the "luxury spinning bike". Something similar was reported about the iPod or the iPhone in the early days. Even through Amazon. Everything that is new is played down first.
Certainly not everything is perfect at Peloton. In particular, the long delivery times and the sometimes overwhelmed support repeatedly cause displeasure among members. But that's not something that cannot be dealt with. Especially since the Peloton itself can only do something to a limited extent if the bikes are stuck in the US ports due to the corona. And then there is Brexit. But Peloton has already reacted and announced that it will invest 100 million US dollars in future to transport the bikes by plane and no longer by ship.
All in all, Peloton is well on the way to making lasting changes to the fitness industry. The corona crisis has of course contributed a large part to this, because it was only through contact restrictions, curfews and home offices that many people began to deal with the topic of home fitness. Some of them are sure to return to the gym. By then, however, many will have learned to appreciate the advantages of offers like Peloton so much that they no longer see any reason to go to the gym extra.
At the end of the day everyone has to decide for themselves how to keep fit. There are people who only need a pair of running shoes and their own body weight. Many others, like me, need motivation, varied courses and a bit of gamification to stay on the ball during training. And that's exactly what Peloton creates – and makes the concept so successful.
Most read