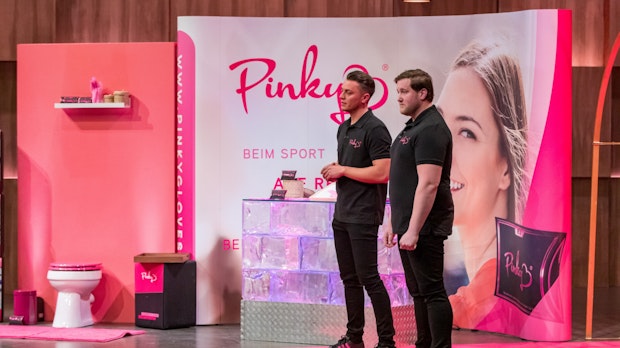 "Sexist" or "misogynist" were probably still rather harmless terms that the founder of the startup Pinky used after their initially successful appearance on the Vox foundershow DHDL last Monday evening. The tampon gloves Pinky Gloves, which Eugen Raimkulow and André Ritterwürden want to have developed out of disgust at the discarded tampons of their flatmates, initially caught the interest of the donors. A week and a mega-shit storm later they are history again.
Tampon glove startup: We stop with #Pinky
"We'll stop with #Pinky", write the Pinky founders Raimkulow and Ritterwürden on their Instagram channel. At no point in time had it been intended to "discredit someone or make a natural process taboo". Together with Dümmel they decided to take the Pinky Gloves off the market. "We are stopping all purchasing and sales activities." In addition, the Pinky founders apologized to everyone "whose feelings and emotions were hurt".
Criticism and hateful comments in the social networks were not the only reason for the decision to end Pinky Gloves. Raimkulow and Ritterwürden reported that they were exposed to "a violent wave of hatred, bullying and threats of violence, including death threats", and that they were now at the end of their strength. Both appealed via Instagram to those who went too far in their criticism of the product and its creators: "Please stop attacking and threatening us, our families and supporters".
DHDL investor Dümmel promised 30,000 euros
On Monday before one Week the startup had reason to celebrate. DHDL investor Dümmel promised to pay 30,000 euros for 20 percent of the company's shares. Investor colleague Nils Glagau was also interested. The fact that in this case supposed women's issues were addressed exclusively by men – while startup ideas are often ridiculed by women – was also one of the reasons for the anger that has erupted at Pinky in the past few days.
In November 2019, Kati Ernst and Kristine Zeller, founders of ooia (formerly ooshi), had her Project pitched at DHDL – period underwear. "A women's product," said investor Carsten Maschmeyer at the time. "Not an easy topic," said Dümmel. There was no deal for it. For the founder Tijen Onaran #pinkygate is actually a #investorengate, as she writes in her comment for t3n.de.
You might also be interested in