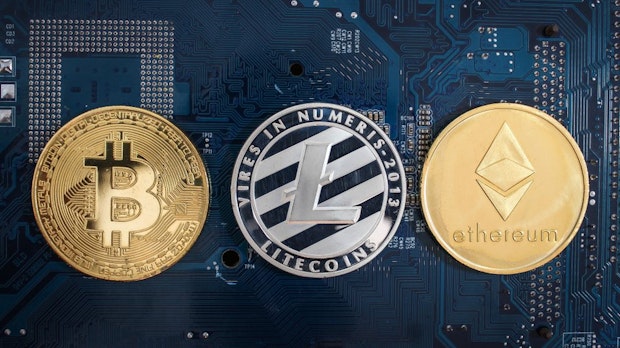 The IPO of the Coinbase crypto exchange caused a real crypto party last week. Several of the major digital currencies such as Bitcoin (BTC), Ethereum (Ether) or Ripple (XRP) reached new all-time highs. At the weekend, however, the prices collapsed massively. In addition to profit-taking after the current rally, concerns about possible stricter regulations in the USA and the EU as well as the partial ban in Turkey may have played a role.
Bitcoin exchange rate collapses by 15 percent
Violent fluctuations are not necessarily unusual in cryptocurrencies that are considered volatile. In the night from Saturday to Sunday it was that time again. The Bitcoin price collapsed by around 15 percent within a few hours. According to Coinmarketcap, Bitcoin went from around $ 61,500 to less than $ 53,000. The whole thing looked similar with Ethereum / Ether, where the price fell from a good 2,400 to around 2,000 dollars. Binance-Coin and Ripple / XRP also fell sharply.
Among the most important cryptocurrencies, it almost passed the bank away double-digit losses. The only exception was the fun currency Dogecoin, which, against the general downward trend, rose by around 17 percent to $ 0.31 in the past 24 hours. In just one week, the Dogecoin rate has more than quadrupled. Within just one year – driven by influential supporters like Elon Musk – the price increased seventy-fold.
Crypto market: $ 300 billion burned
In total, around 300 billion dollars have been burned on the crypto market in the past few hours. According to Coinmarketcap, the market capitalization is currently around two trillion dollars. Prices initially recovered slightly over the course of Sunday. Bitcoin, for example, is currently worth over $ 55,000 again. Ethereum / Ether stands at just under $ 2,200. For comparison: On Wednesday, Bitcoin had reached its all-time high of $ 64,863. Ethereum did it ($ 2,547) on Friday.
The background to the downturn could be the reports on the possible stronger crackdown by the US Treasury Department against the use of cryptocurrencies for money laundering. In addition, the – at least partially – crypto ban in Turkey should also depress the mood. The country wants to ban payments with crypto currencies such as Bitcoin or Ether due to "significant risks" from the end of April.
You might also be interested in