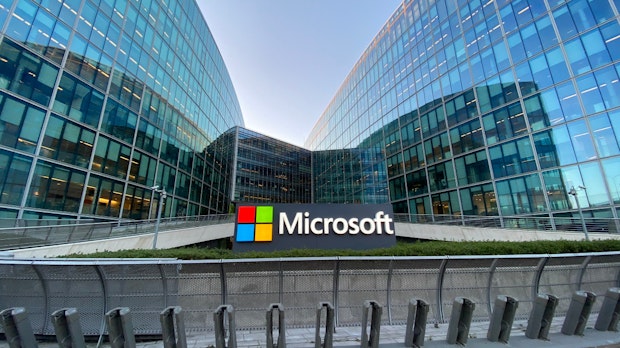 In 2016 Microsoft had the The biggest takeover in its corporate history to date was wrapped up and Linkedin was bought for a good $ 26 billion. The current deal is not that big, but it ranks as the second largest takeover behind LinkedIn. Because Microsoft is buying the company Nuance Communications, which specializes in AI and speech recognition software. Microsoft deal values ​​Nuance at 20 billion
As Microsoft announces, the Group offer $ 56 per share for the AI ​​professional. That values ​​Nuance at around 16 billion dollars and means a premium on Friday's share price of 23 percent. Including the assumption of liabilities, Microsoft pays 19.7 billion dollars – in cash, as they say.
Nuance is a pioneer with its Dragon software and Big player in the field of speech recognition and laid the foundation for technologies such as those used by Apple in Siri. The company has also been working with Microsoft since 2019 on a solution in the healthcare sector that enables conversation notes from doctor's visits to be converted into text and imported directly into the corresponding digital patient files.
Microsoft wants with nuance in the health sector
For Bloomberg analyst Anurag Rana, the digitization of the healthcare sector has great potential for corresponding products – and thus for Microsoft. According to Rana, Microsoft can currently benefit from the Nuance takeover in the telehealth sector. Nuance software is already used by Microsoft Teams in this sector. Microsoft, on the other hand, has been involved in speech recognition for years. But there is great competition with Google and Amazon.
Nuance had sales of 1.48 billion dollars in its 2019/20 financial year, which ended in September earned. The bottom line was a profit of $ 91 million, after the company suffered losses of $ 217 million in the previous year. The company, based in Burlington, Massachusetts, still employs around 6,000 people after the Nuance Document Imaging division was sold to the US company Kofax in 2019.
As part of the takeover, Nuance CEO Mark Benjamin will remain on board and head of the company. The deal is expected to be completed by the end of this calendar year. Requires approval from Nuance shareholders and regulatory authorities.
You might also be interested in