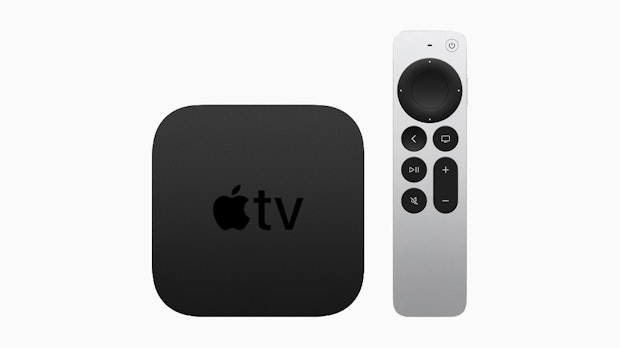 The new Apple TV 4K comes with the power of the A12 Bionic Chip, a new Siri Remote and automatic color control via iPhone. At the first event of the year, Apple presented the new Apple TV 4K, which replaces the three and a half year old predecessor model.
The A12 Bionic Chip provides more graphics performance, video coding and audio processing. The new generation of Apple TV 4K supports HDR in high frame rate and Dolby Vision.
Up to 60 images per seconds should ensure particularly lifelike images. This also works via AirPlay via the iPhone 12 Pro.
The TV uses the iPhone's light sensor to capture the color world of the surroundings live and automatically adjust the image. The Apple TV 4K works with other Apple devices in the room via the tvOS TV operating system. "You will see more accurate colors without having to adjust your TV", it said in the product presentation.
Siri Remote with new design
Apple has also redesigned the Siri Remote. The innovative remote control, which enables TV control by voice command, has been equipped with a clickpad control – similar to what we knew from iPods. This allows you to navigate in five directions.
The highlight of the clickpad is probably the outer ring: a circular gesture makes it easier to fast forward, for example. This should make navigation more intuitive. The power and mute buttons are also new. The Siri button has moved to the side.
Thanks to the light aluminum housing, made from 100 percent recycled material Material, the Siri Remote should be easy to hold.
The new Apple TV 4K is priced at $ 179 for the 32GB version and $ 199 for the 64GB version. Pre-orders are possible from April 30th, it should be available in the second half of May in over 30 regions.
The new Siri Remote is available separately and is said to cost $ 59. The remote control is also compatible with the previous model and the Apple TV HD.
What Apple also introduced:
It's getting colorful: iMac presented with a 24-inch display with a completely new design and an M1 chip
Apple: New iPad Pro comes with M1 chip, XDR display, Thunderbolt and 5G
Airtags: Apple officially introduces gadget trackers
You might also be interested in