Interested in Logitech Professional Video Conferencing
Ask the experts at our event
Sign up for our webinar on May 6 here
Everyone's life has changed a lot in the last period, be it work, study or fun. However, despite the segregation, discussions, online distance learning, larger meetings were equally needed, so many were forced to use long-unused webcams and laptops built into laptops.
As smartphones take better and better pictures, videos, until then, in many cases, these prehistoric webcams give a lousy, 640 × 480, blurry picture, and the microphones are noisy and, most importantly, the speech sound is barely intelligible. Logitech wants to radically change this, with a completely unique and new set of tools and even a complete ecosystem.

For remote metering!
The world of meetings is no unfamiliar terrain for Logitech: it has already offered webcams, microphones, headsets, conference equipment, but it is raising the stakes with the latest Rally product line. This means even all-in-one devices designed specifically for video conferencing, one of the important novelties being that
In other words, the right Logitech Rally device is not just a simple webcam, or just a microphone, but a complete package of services that provides all the hardware and software background needed for video conferencing – all in a user-friendly way. Whether it's a meeting with a few players or a larger meeting room with many people, the ideal Rally system can be built from various components, which can be used comfortably in the given environment and with the number of participants. To ensure flexibility, Logitech has developed a range of Rally sets that share superb image and sound quality and user-friendliness.
The 4K Rally Bar Mini is an ideal choice for smaller meeting rooms with smart camera features. offers and all other Rally services are already available here. For medium meeting rooms and meetings with a larger number of participants, the Rally Bar, which is also capable of optical zoom, is perfect, while the Rally Plus system can be used in special, multi-camera, large meeting rooms with many microphones. Whatever the set, there are plenty of accessories available for each one, with which you can build a professional system absolutely tailored to your individual needs. In particular, this time we present a universal set that can be used in medium-sized meeting rooms and consists of the Rally Barb and the Tap controller.
The smart meeting
Up to one a soundbar that can be hidden under the TV, it looks like the all-in-one, that is, the all-in-one Logitech Rally Bar, which, of course, reveals its knowledge in the huge, central lens system. Not only does it provide 4K resolution video, but it is also capable of 5 × optical and 3 × digital zoom, as well as four-way motion (PT – pan and tilt). Hidden in the front of the housing, which houses two high-performance speakers and six (!) Microphones, there is also a second camera called AI Viewfinder .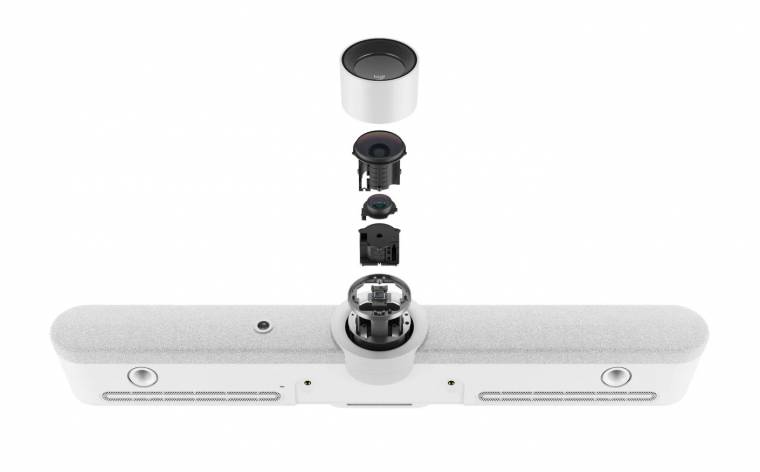 This allows the Rally Bar camera system to be intelligent Capable of RightSense features like no other in such an elegant and user-friendly format. Artificial intelligence determines the position and number of those present in the meeting room and then adjusts the ideal viewing angle accordingly. It also monitors the lighting conditions and automatically sets the most ideal image so that the negotiating parties are always clearly visible, even in backlight. The smart RightSight camera zooms in on the presenter, or when someone is just entering the room, it widens the angle of view so that everyone on the other side can see it. All this with a delay of a few seconds to make camera movement easy to follow and pleasant.
The built-in control can even tell you the exact number of people using the meeting room, which can be an ideal control in the event of an epidemic. in the free Logitech Sync network. Here you can track the schedule, utilization, and possible overcrowding of all meeting rooms, and of course any upcoming updates can be installed remotely.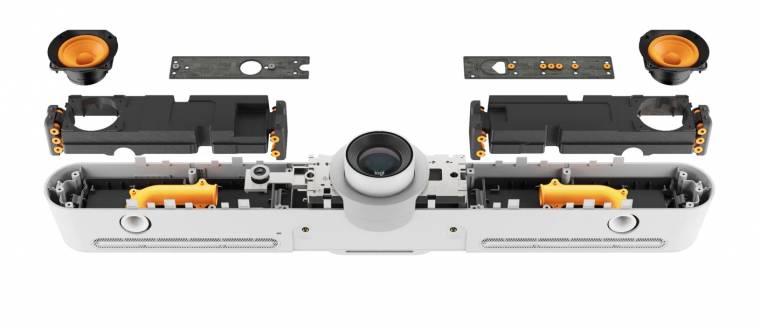 Artificial intelligence is a great help not only in improving the picture but also in the sound. MI-based RightSound technology recognizes who is speaking in the meeting room and receives and transmits this human speech sound clearly and intelligibly thanks to beamforming technology. At the same time, it also filters out annoying noises such as typing or pushing. Needless to say, it can do so in parallel, so our speech stays clear and understandable even when they are talking on the other side. For larger meeting rooms, it's a good idea to add Rally Mic Pods to this system, which can be easily connected to the system – up to three for the Rally Bar.
flexible, as it can be used not only in USB peripheral mode, but also as a stand-alone conferencing device. Complete with the Tap touch-screen control module and 1-2 projectors or monitors, you can instantly experience what the Rally Bar is all about. The cable outlet is very elegant, with easy-to-remove ports that are reasonably grouped under the back cover, and each cable has a drain channel.
Tap is a special target hardware that makes the Rally Barba's hidden complete Android-based mini-machine easy to use. It provides a unique interface and is completely clear to operate, so you don't even need an additional PC to manage the Rally Bar. The strength of the Rally product family is that with the help of a suitable control center, video conferencing can take place on almost any platform: it can be Zoom, Microsoft Teams, Google Meet, Webex – almost anything. The built-in mini machine is also very useful, so you can hold Zoom (and Zoom Rooms) and soon Microsoft Teams conferences with infinite ease.
It is also possible within the system to add invitations from several platforms to the calendar belonging to the conference room. the Rally Bar will automatically activate the conference platform on which the meeting will take place. All of this can be easily tracked on the Logitech Sync interface, as well as checking configuration or utilization of meeting rooms, for example.
Security and privacy rights have also been taken into account by the designers. The Rally Bar camera comes with a physical lens cover and does not transmit participants' portraits, names, or audio recordings to Logitech Sync or any central recording system.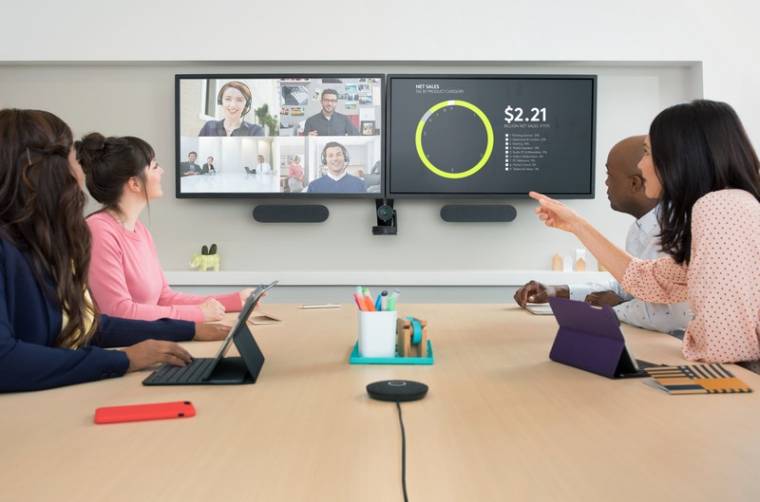 Not just for the selected
The Rally family is something completely new, which – in our experience also – it brings the qualitative leap in the world of video conferencing that is sorely needed in the current situation. With bad webcams and weak microphones, the Rally is a time of efficient and professional meetings for a few or many participants. Compared to other systems currently available, the Logitech Rally Bar may not be the cheapest, but in return it has tremendous knowledge, can even be used as a standalone device, has excellent compatibility, high-quality audio-video performance, and last but not least, is user-friendly. There is a lot of uncertainty about the future, but the fact that there will be a huge need for much better, user-friendly video conferencing than at present can be assured – the Logitech Rally is making spectacular progress.
Interested in Logitech Professional Video Conferencing
Ask the experts at our event
Sign up for our webinar on May 6th here!
Hardware, software, tests, curiosities and colorful news from the IT world by clicking here