Next year, three-quarters of the data generated by companies will be generated outside the traditional data center, according to Gartner. For a few years now, the rate was only 10 percent, so the rapidly accelerating migration of data poses serious challenges to organizations that are becoming increasingly distributed in terms of security, compliance, latency, bandwidth, and availability.
Lenovo Data Center Group's next-generation infrastructure solutions, including the ThinkSystem SE350 edge server and ThinkAgile MX and HX integrated with Microsoft and Nutanix cloud software, make it easier for users to create peripheral network environments for the Internet of Things (IoT) applications and the modernization of data centers, the operation of hybrid and multi-cloud environments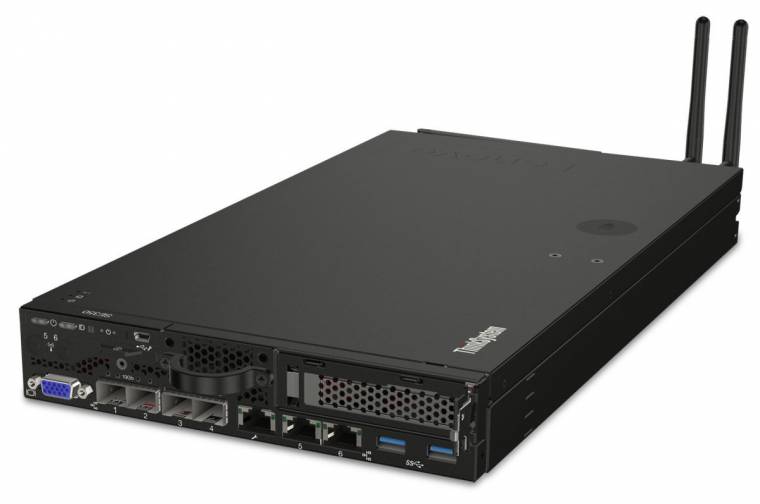 Durable power machine at the edge of the network
ThinkSystem SE350 e is slightly larger than a ThinkPad notebook dge server, which, due to its rugged design, allows companies to deploy in a variety of ways in the often ruthless environmental conditions of perimeter networks. Built on an Intel Xeon D processor with up to 16 cores, the server is just 1U high, half-wide and even shorter in depth, so it can be placed anywhere. Whether mounted on a wall, placed on a shelf, or placed in a rack cabinet, the server also defies temperature, dust, and vibration between 0 and 55 degrees Celsius. In all circumstances, it provides high performance for on-site processing, storage and transmission of data, so companies can analyze it more quickly and the results can be used immediately in automated, intelligent applications, decision-making or other measures.
The availability of information is a particularly important requirement on the perimeter network, as companies need to have constant access to data on process operation, equipment status and changes in other circumstances. The ThinkSystem SE350 also provides a variety of wired and wireless, Wi-Fi and LTE network connections. Because edge servers are installed by users outside the data center, they must be more protected not only from environmental influences but also from unauthorized access, so Lenovo's perimeter network server encrypts all data stored on the device.
Low footprint infrastructure with cloud agility
Teleworking, which has become commonplace in the epidemic, will remain with us in the long run, the new becomes part of normalcy, so organizations need to adapt to changing business needs by refining their hybrid cloud strategies and modernizing their data centers. Lenovo makes this easier with an open platform of ThinkAgile hyperconverged infrastructure (HCI) solutions developed with software vendor partners.
Companies can take their end-user environment to a new level of performance and efficiency with ThinkAgile HX integrated with Nutanix cloud software. ThinkAgile MX and Microsoft Azure Stack pair simplify scaling from perimeter to cloud
Built on AMD EPYC processors, the ThinkAgile HX is a small pepper but with a powerful HCI solution for organizations With a 1U format and unchanged performance – they can run their virtual desktop environment with half as many servers as on a traditional infrastructure. With factory-installed Nutanix software, ThinkAgile HX provides higher performance density, simpler operation, stronger data protection, and applications that seamlessly span the cloud to create a truly hybrid architecture. And with the ThinkAgile MX, companies can get the Microsoft Azure Stack software package from a single source, making it easy to deploy, manage, and scale Azure cloud services from the perimeter network through the data center to the cloud. For example, ThinkAgile MX provides a unified and user-friendly, modern management console for service lifecycle management.
Both ThinkSystem servers and ThinkAgile HCI solutions come with Lenovo's intuitive XClarity system management software, which enables companies to they can adapt their infrastructure even more easily and quickly to the evolving expectations of the business.
Hardware, software, tests, curiosities and colorful news from the IT world by clicking here!