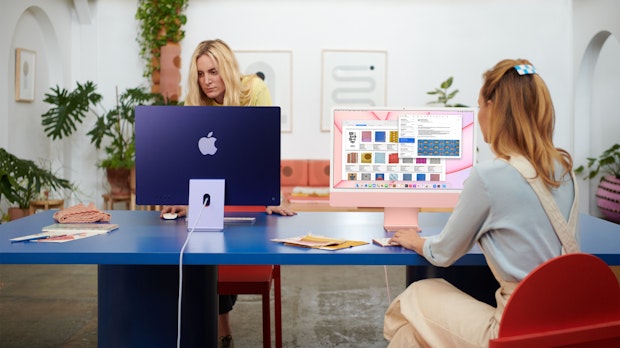 As previously speculated, Apple has unveiled a new iMac. The 24-inch model replaces the 21.5 iMac. The only 11.5 millimeter thin all-in-one computer was developed around the M1 chip, according to Apple.
iMac with 24 inches with 4.5K display and whisper-quiet
The 24-inch display has a resolution of 4.5K (4,480 x 2,520 pixels at 218 ppi) and has narrower bezels around most of the edges. The chin below the screen is still quite large, but thanks to the more compact design it should only be slightly larger than the 21.5-inch model. The back of the iMac is now flat instead of curved – according to Apple, the volume has been reduced by over 50 percent. The screen also has Apple's True Tone technology for automatic adjustment of the color temperature, is 500 nits bright and supports the P3 color space.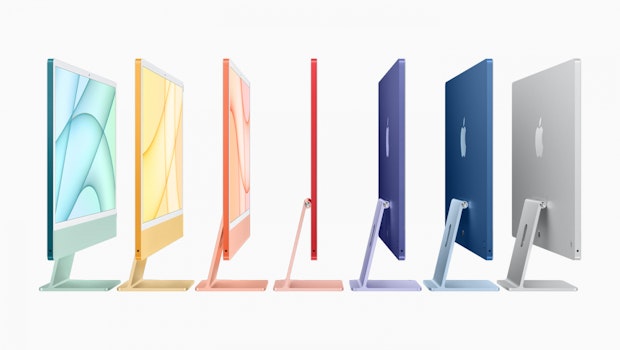 Above of the display, Apple has integrated a new camera that is supposed to deliver better image quality. It no longer resolves with 720p as before, but with 1080p, so that you can be seen in video calls in higher resolution. The sound quality has also been improved: three microphones are integrated for recording, while Apple has integrated six loudspeakers for sound output, which, thanks to Dolby Atmos support, are supposed to create a spatial sound. Despite the thin design, Apple promises that the two small fans will be barely audible and that the device will still be cooler than its predecessors with their large cooling.
iMac 24 with Magsafe and M1- Chip
For the power supply, Apple has integrated a new magnetic connector that is based on the Magsafe connector on the Macbook . Additional connections on the higher-end model include four USB-C ports, two of which offer Thunderbolt support.