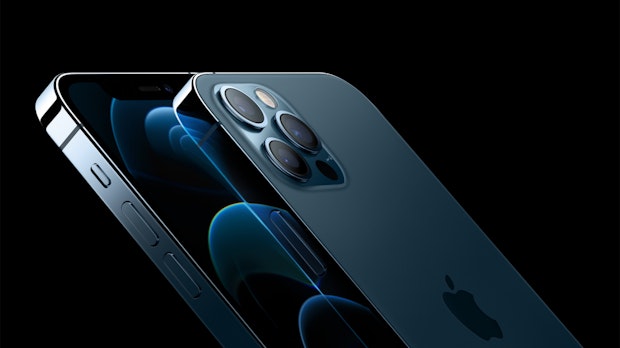 With the four iPhone 12 models, Apple published a major redesign in 2020. The devices, the appearance of which with their angular housings is based on classics such as the iPhone 5, came up trumps with a better camera, partly larger batteries and different display diagonals. In addition, Apple has introduced the new Magsafe feature with them, which can be used not only for inductive charging, but also for attaching accessories. For the 2021 model generation, according to recent reports, less revision of the design is in demand, instead it seems to be a new S-Class again, which should shine through improvements in detail. The next generation of iPhone can be categorized as an upgraded iPhone 12.
iPhone 13 again in 4 sizes – with Touch-ID as Highlight?
iPhone 13 with 120 Hertz and always-on display not excluded
iPhone 13: Improved camera even for non-Pro models
iPhone 13 : A model without any connections?
As the reason for the minor upgrade, which was about a According to Bloomberg's insiders, the step from iPhone X to iPhone Xs corresponds to the Covid-19 pandemic, which had slowed down Apple's work. Nevertheless, the upcoming iPhones seem to have some exciting features.
iPhone 13 again in 4 sizes – with Touch-ID as a highlight?
In 2021, Apple is likely to use four different iPhone variants again, as was the case for the first time last year. Accordingly, we can rely on a model with 5.4 inches, two with 6.1 and another with 6.7 inches, whereby two of them should be located in the Pro series. If one believes Mark Gurman from Bloomberg, who is known for his excellent connection to Apple informants, the new iPhone models will correspond to a gentle facelift. His statements coincide with those of the speaker Max Weinbach, whose sources assume that the matted back of the Pro models in particular will be revised and made more grippy.
One of the highlights that Apple's developers are working on is the return of the Touch-ID fingerprint sensor, which has been successively replaced in almost all models with the iPhone X (test) against the 3D face recognition Face-ID. Only the cheap iPhone SE (2020) can do without it. In contrast to the iPhone SE, which has its fingerprint sensor installed below the screen, the new Touch ID generation should be integrated into the display, as is now the case with many Android smartphones with OLED screens. This allows Apple to keep the narrow frame around the display. In addition, iPhones with Touch ID can also be conveniently unlocked with a mouth and nose protection.
Apple has integrated a new unlocking function for its iPhones with iOS 14.5, with the the device can be unlocked via Apple Watch – this makes perfect sense in many places, especially in Covid-19 times when mouth and nose protection is mandatory – but the return of the fingerprint sensor should be a welcome addition to 3D face recognition for many.
Despite the alleged return of Touch ID, Apple has no plans to crush facial recognition. The front sensor phalanx could, however, be made a little smaller, they say. In the long term, Apple plans to completely abolish the notch in order to fill the entire front with the screen. As an interim solution for the 2022 or 2023 model series, a punchhole camera on the screen can be expected, they say.
pic.twitter.com/p622bYO2RN

— Ice universe (@UniverseIce) October 7, 2020
iPhone 13 with 120 -Hertz and always-on display not excluded
The fingerprint sensor might not be the only new, exciting feature. Because after Apple had apparently canceled the 120 Hertz display planned for the iPhone 12 after clear indications, it should at least move into the Pro versions of the 2021 generation.
As the portal The Elec reports, Apple could use Samsung's new LTPO screens, which are already installed in the Galaxy S21 and have a 16 percent improvement in energy efficiency than previous solutions. It is believed that Apple did without a 120 Hertz display for the iPhone 12 in favor of a better battery life. Weinbach and Kuo also assume a 120 Hertz display.
In the Android world, displays with 90 to 144 Hertz belong primarily to the Upper class as standard. Apple would be lagging behind in the iPhone segment with the technology; The iPad Pro models have had this technology, which Apple calls Promotion, on board for a while.
Weinbach also wants to know that Apple is introducing its upcoming iPhone series could miss an always-on display. This function has been around on Android smartphones for years and, in standby mode, it shows the time, date and new messages, among other things. According to the leaker, the display should only be minimally customizable and look like a reduced lock screen. The time and battery charge are always visible. New notifications would be shown in the form of icons. When receiving a notification, a notification is displayed normally, but the screen does not light up completely but only dimmed.
iPhone 13: Improved camera also for non-Pro models
Apple had upgraded the cameras in its iPhone 12 series, but the biggest update received the Pro Max version with its sensor shift image stabilization. If you believe a report from South Korea by ET-News, this stabilization, borrowed from DSLR photography, will find its way into other models, at least the smaller iPhone 13 Pro, with some industry insiders even assuming that the function will be extended to the entire lineup could.
With sensor shift stabilization, the sensor is stabilized and not, as is the case with smartphones usual, only the lens. Low-light recordings should be free of blurring even with a two-second exposure.
It is also expected that the Pro models will continue to have three camera sensors the rear, while the cheaper models could again have two main cameras plus the lidar sensor previously reserved for the Pro models. The aim is to make augmented reality functions available to a wider audience. We remember: Tim Cook considers this technology to be the next big thing.
The ultra-wide-angle camera is also to be improved: The five- Lens element with f / 2.4 aperture is to be exchanged for a seven-P lens element with f / 1.8 aperture, the analysts Ming-Chi Kuo and Weinbach report almost congruently. The larger aperture should lead to a significantly better performance in adverse lighting conditions. Apart from small optimizations, the analyst does not expect any significant upgrades of the iPhone cameras until at least 2022. Nevertheless, Apple could increase the camera quality through software improvements. For an even better performance, there will be a new processor from our own development, which will probably be named A15 Bionic.
Apple could use the improved computing power for this to introduce a portrait mode for videos. Apple has been working on this feature for "quite a while," says Weinbach. With the function it is possible to record a portrait video and change the depth of field afterwards. In addition, Apple is planning to introduce an astrophotography function with which the stars or the moon can be recorded using long-term photography. Google has been offering this feature in its Pixel models for years.
iPhone 13: A model without any connections?
Rumors have been circulating for years that Apple wants to get rid of all connections on its iPhones. After the audio jack, de Believe in the Lightning port. In addition to Mark Gurman, this is also reported by the leaker John Prosser. Prosser said in 2020 that Apple would rather cut all ports completely instead of switching from Lightning to USB-C. The iPhone X from 2018 would almost have been connected without a connection. But since wireless charging was even slower than cable charging at the time, one of the reasons why one would have decided against it. At least one of the upcoming iPhone models could be completely connector-free, it is said. Corresponding patents for a type of Magsafe or Pogo-Pin charging connection on iPhones have recently been awarded to Apple, reports Patently Apple.
With the magnetic charging solution Magsafe, Apple has already made sure that the iPhone 12 also can be charged reliably wirelessly, although the charging power of a maximum of 15 watts is not particularly fast with compatible charging pads. But that can still change, especially since the competitors are already implementing wireless charging with up to 50 watts. According to Kuo, Apple could also increase the battery capacity this year, which could possibly put the iPhone 13 models on a little bit.
Not only We can assume pure wireless charging for the iPhone in 2021, and data transfer between devices could also be faster. At least there are indications that Apple will integrate the latency-free WLAN standard 802.11ay into future smartphones. With the iPhone 11, Apple had already introduced a U1 ultra-broadband chip, which is described as a GPS for the living room and which should bring new uses over time.
Apple's next iPhone generation should be presented – if not slowed down again by the corona pandemic – possibly again in accordance with the tradition in September. In 2020, Apple only presented its iPhone 12 models in mid-October because of the corona pandemic. Before that happens, Apple still has a full first half of the year ahead of them, which, in addition to new Macs, could perhaps even produce a larger iPhone SE. Apple's tracking gadget Airtags should finally make it onto the market.
More about this: Macbooks, iMacs with redesign and more: What Apple could imagine in the first half of 2021
Most read