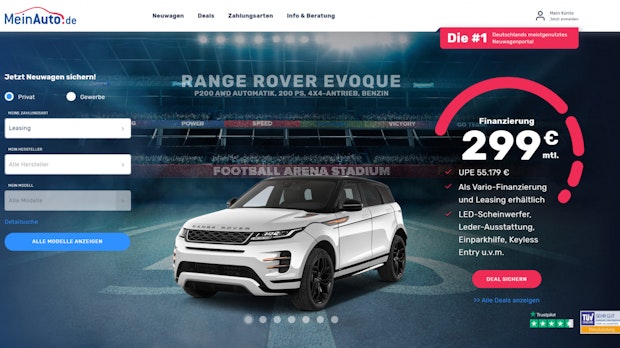 The time surprises the inexperienced observer. The online car dealer Auto1 has barely made a brilliant stock market debut than the online car dealer MeinAuto.de becomes a stock corporation. However, this does not mean that one is aiming for an IPO, the company lets the media know. Rather, it is said that no resolutions have yet been taken. A denial looks different. And nobody will want to deny the company's potential.
This is MeinAuto and Mobility Holding
From the inside, MeinAuto.de sees itself as the German number 1 in the online new car trade with around 25 million visits last year. The online new car platform is only the part of the former Mobility Holding GmbH that is best known to end customers.
Besides MeinAuto.de, the company owned by the British financial investor Hg and managed by ex-Sixt Leasing boss Rudolf Rizzoli, still operates the online platform ass-team.net (Athletic Sport Sponsoring), a provider of car subscriptions in particular for athletes and the B2B full-service leasing provider Mobility Concept. Mobility Concept is the former fleet subsidiary of Hypo-Vereinsbank and has been part of the MeinAuto operator founded in 2007 since 2018.
Rumors about IPO not new
As early as January 20, 2021, Reuters reported about an imminent IPO at MeinAuto. Based on well-informed sources, an IPO should be planned for the first half of 2021. The targeted valuation should be between 1.3 and 1.4 billion euros.
As Bloomberg reports, should MeinAuto owner Hg, who bought the company from Unicredit Leasing in 2018, is working with Bank of America and the investment bankers of the Jefferies Group for the proposed listing on the Frankfurt Stock Exchange.
Most important difference between Auto1 and MeinAuto: MeinAuto only offers new cars, while Auto1 focuses on used cars.
Most read