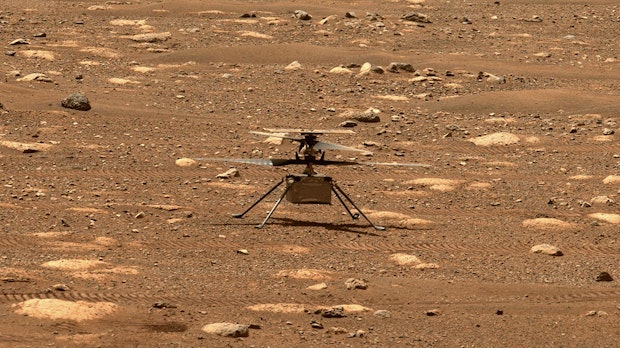 The Mars helicopter Ingenuity is supposed to be the first motorized flying object from Earth to orbit over an alien planet. The main challenge here is to make the rotors of the Mars helicopter rotate so fast that Ingenuity can take off despite the low density of the Martian atmosphere. A corresponding high-speed test failed on Friday. The premiere flight, which was eagerly awaited by many space fans and scheduled for April 11th, had to be postponed.
Ingenuity: Fixing software problem
Now the NASA scientists have found the solution to the problem with the start test. Specifically, the control command sequence was terminated prematurely on Friday when trying to put the helicopter into flight mode. According to its own statements, NASA developed and tested various potential solutions over the weekend. Correcting and reinstalling the flight control software turned out to be the most effective, as reported by heise.de.
The modified boot process, with which a safe change to flight mode is to be guaranteed, is currently being implemented still checked. That can take a few days, as reported by NASA. April 14th, which was initially brought into play as a possible new start date, or the following days can now apparently no longer be kept. According to NASA, a new date for the premiere of Ingenuity will not be discussed until next week.
Time window for Mars missions in the air
During the planned first flight, the drone should rise about three meters in height and hover there for about ten seconds and take photos. The problem with the delay: the time window for planned flight missions of the Mars helicopter is shortened. Originally, NASA had only estimated 30 days for this partial mission. Ingenuity is currently on hold on the surface of Mars. According to NASA, the critical functions are stable. Meanwhile, Mars rover Perseverance is continuing its research work as planned.
You might also be interested in