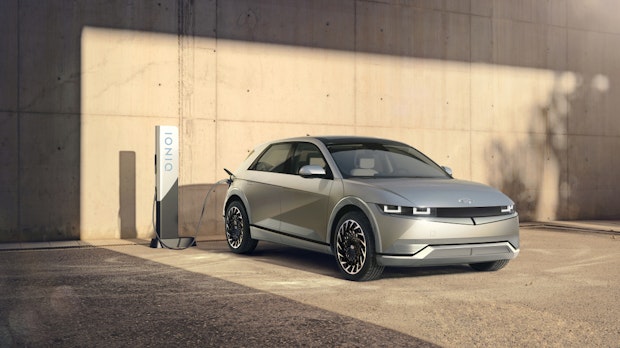 There is a combined Tesla and Ionity charging station on the A7 between Hanover and Frankfurt near Kassel. There, the operator of an e-mobility channel met two test drivers with the newcomers to the e-car market: Hyundai officially presented the Ioniq 5 just last week. The fourth largest automobile manufacturer in the world plans to deliver it this summer. In the video, a candidate of the limited edition and a prototype are on the loading area.
Witnesses want to have read 220-kilowatt charging current
The data from the charging station, which can be seen, caused a big surprise in the scene: According to this, it took the station 16 minutes to charge 42 kilowatt hours into the car. This corresponds to an average charge rate of 157 kilowatts. The maximum rate the observers claim was 220 kilowatts. Theoretically, it should be 350 kilowatts, but the charging unit also has to play a role. The observers were impressed that the speed decreases from 80 percent charge, but on average still remains at such a high level.
Ioniq 5 fuels around 4 kilometers more per minute than the Model 3
Hyundai states that it can go from 20 to 80 percent battery charge in 18 minutes – this is roughly in line with real experiences at the charging station. With this, Hyundai beats the Tesla Model 3, which was previously considered the fastest charging electric car – with around 20 minutes for charging 20 to 80 percent battery capacity. The Tesla charges around 17.13 kilometers per minute, the Ioiniq 21.33.
For comparison: VW's world electric car ID 4 the entry-level version can be charged with a maximum of 50 kilowatts, with an additional charge of 100 kilowatts. The "large models" manage 125 kilowatts. The information comes from VW.
236,000 interested customers – limited edition three times oversubscribed
Hyundai claims to have been overwhelmed by expressions of interest after the world premiere. 236,000 people from Europe have shown interest in buying. Three times more people than there are vehicles would have requested a reservation for one of the 3,000 special "Project 45" models. Hyundai closed the list. The manufacturer writes that you have never received so much traffic and social media response. Andreas-Christoph Hofmann, Vice President Marketing & Product at Hyundai Motor Europe, is quoted as saying: "With its ultra-fast charging, its long range and the adaptable interior, the Ioniq 5 is a pioneer that sets standards in its class – and these outstanding properties immediately proved to be attractive to a large number of European customers. "Hyundai first has to show how the group intends to meet demand – especially in view of the shortage of chips and batteries.
The # Ioniq5 raises the question of who actually chooses whom. We'll show you the multi-stage selection process.

Have a nice weekend and enjoy the weather! #Emobility #Elektromobilitaet #Elektroauto #Hyundai pic.twitter.com/4Z9CZy1Arm

— nextmove (@nextmove_de) February 27, 2021
Most read