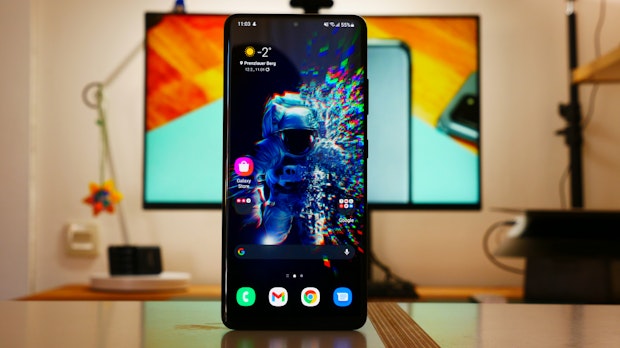 All good things come in threes: Samsung's Galaxy S21 Ultra is the one consistent further development of the first two Ultra models. The new generation is the best high-end device from the industry leader to date – and even cheaper than its predecessor.
With the Ultra models, Samsung offers high- End smartphones that only have the ultimate in features. The third generation after the Galaxy S20 Ultra (test) and the Note 20 Ultra (test) leaves little to be desired. Many teething troubles, especially of the S20 Ultra, have been resolved, some have been improved and there is hardly anything to complain about, especially since it costs less .
Samsung Galaxy S21 Ultra: design and workmanship
Samsung Galaxy S21 Ultra with excellent display

Ultra-fast: The ultrasonic fingerprint reader of the Galaxy S21 Ultra

The camera of the Galaxy S21 Ultra: Better than in the S20 Ultra
Samsung Galaxy S21 Ultra: performance and battery life
Software of the Samsung Galaxy S21 Ultra: Current Android with One UI 3.1
Conclusion: Samsung can do Ultra
Samsung Galaxy S21 Ultra: Design and workmanship
The further development of Samsung's Ultra series can already be seen in the design and workmanship: The S21 Ultra is excellently processed and consists of Corning's currently most robust Gorilla Glass 7 "Victus" at the back and front. At the front, the large 6.8-inch screen takes up almost the entire front – there is no longer too much frame. On the sides, the screen nestles only minimally around the edge, which we welcome.
Like the first Ultra generations, the S21 Ultra is a relatively huge smartphone. At 227 grams, it weighs more than the previous models from Samsung's premium range. The S20 Ultra weighs 220 grams and the Note 20 Ultra 208 grams, even though both have a 0.1 inch larger display. It is therefore in the weight class of the iPhone 12 Pro Max, which is a shade lighter at 226 grams. Due to its narrow design in the elongated 20: 9 format with a width of 75.6 millimeters, it should be easier to use than Apple's giant iPhone, which is 78.1 millimeters wide but shorter and thinner. The dimensions in comparison:
Model
Samsung Galaxy S21 Ultra
Samsung Galaxy S20 Ultra 5G
Samsung Galaxy Note 20 Ultra
iPhone 12 Pro Max
Display
6, 8 inch adaptive 120 Hertz Infinity-O-Display – WQHD + (3,200 x 1,440 pixels, 20: 9, 515 ppi)
6.9 inch 120 Hertz Infinity-O-Display – WQHD + (3,200 x 1,440 pixels, HDR10 + 20: 9, 511 ppi)
6.9 inch Dynamic AMOLED Infinity Display, 120 Hz, aspect ratio 19.3: 9, Gorilla Glass 7, WQHD with 320 0 x 1440 pixels, 496 ppi
6.7-inch OLED Super Retina XDR display and 10-bit color depth; 2,778 x 1,284 pixels, 19.5: 9, 458 ppi
Dimensions
165.1 x 75.6 x 8.9 mm
166.9 x 76 x 8.8 mm
164.8 x 77.2 x 8.1 mm
160.8 x 78.1 x 7.4 mm
Weight
227 grams
220 g
208 g
226 g
Design highlight of the S21 Ultra is without a doubt the new frame that hugs the back at the level of the camera element. From our point of view, it is the best solution so far to capture the now huge camera optics consisting of several sensors and lenses. The device is certainly bulky at this point, but thanks to the new design it looks more like a single piece. Particularly in direct comparison to the S20 Ultra, in which the camera element is built relatively uncreatively on the back, you can see clear progress. Other manufacturers can cut a slice here.
In addition to the large camera element with five CNC-milled openings for lenses and sensors, the matt surface is an eye-catcher. Even with intensive use, no fat fingerprints can be seen, not even on the sc black variant that was made available to us by Samsung for testing. With the S20 Ultra with its glossy glass surface it looked different, every single finger left a trace.
Apart from the excellent workmanship, the chic finish and its distinctive design, the S21 Ultra is still a large and heavy smartphone that is not easy to use with one hand. But if you are used to an S20 Ultra or other current high-end devices with a large screen, you shouldn't be bothered by it.
Samsung Galaxy S21, S21 Plus and S21 Ultra in comparison: These are the differences