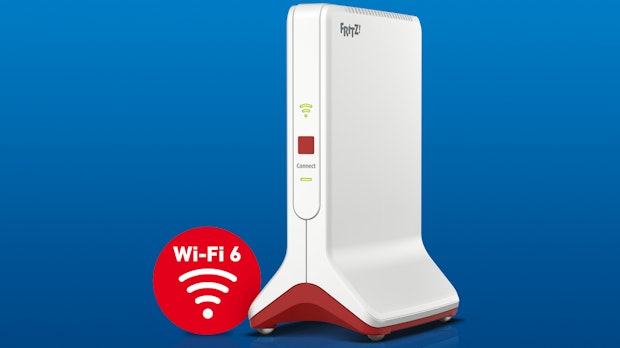 The new Fritz Repeater 6000 is a product worth considering for all those who value a high range and the best possible integration of their wireless devices into the WiFi mesh. The new top model from AVM transmits via Wi-Fi 6 and integrates three radio units and 12 antennas. They should make connections particularly stable.
Intelligent distribution of bandwidth
Users in the home office could particularly the circumstance convince that AVM promises intelligent allocation of radio power. This should ensure that the WLAN functions smoothly even with many applications running at the same time – for example, when a video conference in the home office runs parallel to a 4K video stream while the kids are currently using their homeschooling apps. Then of course the external bandwidth – i.e. the external connection to the Internet – has to play along.
AVM promises up to six in terms of internal bandwidth Gigabits per second. Two of the three integrated radio modules work on the 5 gigahertz frequency band, one on the 2.4 GHz band. Four streams are possible per radio unit. Either wired devices or the repeater can be connected as a bridge to a central Fritzbox via a LAN connection with one or 2.5 gigabits.
Compatible with third-party hardware, in stores from May
Unlike other Fritz repeaters, the new top model is designed as a floor-standing device, so that it can be placed more variably than the variants that have to be plugged directly into the socket. The Fritz repeater should also cooperate with network products from other manufacturers, but of course it is most likely to develop its advantages in a homogeneous network of Fritz components. Here it is also integrated very easily at the push of a button.
As with its other products, AVM also uses repeaters 6000 uses his Fritz-OS, which is regularly equipped with small and large updates. The Fritz-Repeater 6000 should be available in stores from May for a recommended retail price of 219 euros.
You might also be interested in