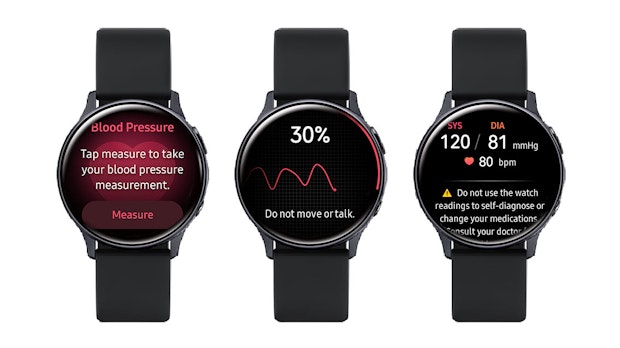 With the Samsung Health Monitor app, users of the Samsung Galaxy Watch 3 and Active 2 now also measure their blood pressure and perform an EKG. The manufacturer is now rolling out the required update in Germany as well.
Not everyone likes: Health features only run on Galaxy smartphones
The announcement that a paired Samsung smartphone is required to use the functions caused a certain annoyance. The manufacturer has not changed anything about that. The health monitor app required on the smartphone does the actual evaluation of the measurement. That was not communicated in advance. A lawyer should clarify whether the Samsung smartphone obligation is a product defect that entitles it to reverse the transaction.
The fact that the introduction of the health functions took so long is at least partly to do with the fact that a smartphone app was called out. However, the process of certification as a medical product also took time. Samsung has permission for the entire European Union in its pocket.
Blood pressure measurement via watch and smartphone
With the Samsung Health Monitor app, users can measure their blood pressure in order to detect high blood pressure at an early stage. To do this, the smartwatch uses various LED sensors to determine the blood pressure from the changes in the reflected light. For this purpose, the measurement includes individual reference values ​​of the user.
The Samsung Health Monitor app analyzes the change in the Blood pressure in reference to a calibration value. Therefore, before the first measurement and then at least every 28 days, users must compare the smartwatch with a measurement with a conventional blood pressure cuff. The value measured with the cuff then becomes the new reference value.
EKG measurement: Long promised, finally here
Like Apple with the Watch Series 5 and 6, Samsung has an EKG sensor in its new Smartwatches installed. It can now record electrocardiograms in combination with the health monitor app. This is a single-channel EKG that is only able to detect signs of atrial fibrillation. The doctor usually creates a 12-lead ECG, which obviously offers significantly more diagnostic information.
With the new wearable update, Samsung brings a beta version of the Samsung Pay app. From March 4th, 2021, cashless payments will also be possible with the Galaxy Watches Active 2 and Watch 3. The function has been available on Galaxy smartphones since last October.
Most read