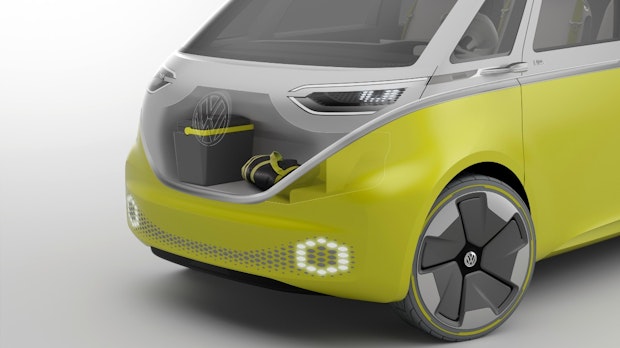 A few months ago, Volkswagen (VW) started production at its plant in Hanover on the previous four Years to prepare E-Bulli ID Buzz. VW wants to start manufacturing ID-Buzz in 2022, when the vehicle should also go on sale. Industry observers expect a price of around 40,000 euros. Now VW has announced that the E-Bulli will be the first vehicle in the Volkswagen Group to also be able to drive autonomously.
Autonomous systems at VW – starting shot 2025
According to Christian Senger, Head of Autonomous Driving at VW, the Volkswagen Commercial Vehicles division is currently preparing the introduction of autonomous vehicles Systems for traffic use. The starting shot should be given in 2025. This year field trials are to start in Germany for the first time. VW wants to use the self-driving system from Argo AI in a version of the future ID Buzz.
The aim, according to Senger, is the development of a ride-hailing and pooling concept that corresponds roughly to the offer of the VW service Moia. From 2025, the planned VW service is to bring users in selected cities to their respective destinations with autonomous vehicles. In addition to the ID Buzz, VW Commercial Vehicles plans to develop and build other vehicles specializing in autonomous driving, such as taxis and vans, in the coming years.
VW puts on autonomous, electric driving
"With the confirmation of the Supervisory Board for our development program, we are now The course for the future of mobility. Autonomous, electric driving will make an important contribution to mobility and road safety in cities. Our vehicles are the logical first place to use such systems, "explains Carsten Intra, CEO of Volkswagen Commercial Vehicles, on Friday.
Together with Ford Motor Company, Volkswagen Commercial Vehicles has invested in Argo AI, a company specializing in software platforms for autonomous driving. The initial $ 1 billion investment also included VW bringing its subsidiary AID (Autonomous Intelligent Driving) into Argo AI. In addition, the VW Group also invested in projects for the car software organization. There, assisted and automated driving functions up to level 4 are developed for VW.
Most read