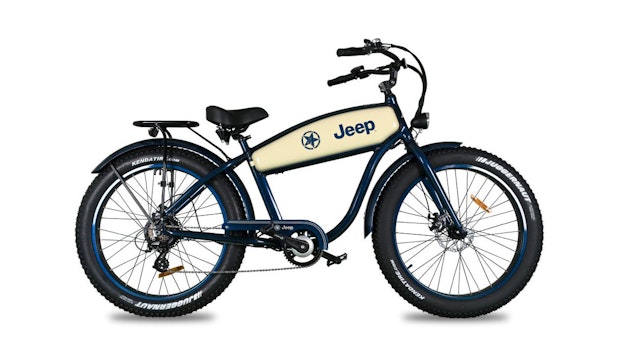 The new pedelec from the US brand Jeep is an E- Bike in the look of the fifties. It looks more like a motorcycle than a bicycle. Those who like classic cars could enjoy them.
The manufacturer of the legendary Jeep Wrangler is now only Another brand in the Fiat-Chrysler concern, which will soon be called Stellantis. In addition to off-road vehicles, Jeep has also been producing e-bikes for some time.
Jeep is now launching the latest model, the Cruiser CR 7005. The cruiser is intended for relaxed tours on paved paths.
These are the technical data
Jeep installs the battery in the form of a petrol tank, which can be removed between the top and center tube. The battery has an energy content of around 374 watt hours. This means that the cruiser should achieve a range of up to 50 kilometers.
Normally, from 374 watt hours, we would expect 70 kilometers of pedaling assistance. The relatively short range could be due to the relatively high weight of 30 kilograms. The driver may add a maximum of 120 kilograms of his own weight.