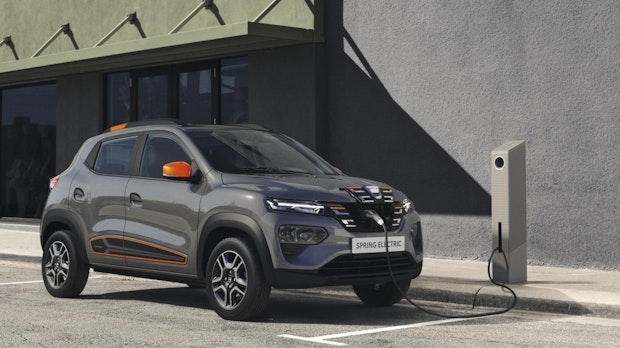 In autumn 2019 Renault had announced for the first time a modified version of the electric runabout City K- Prepare ZE for the European market. Almost exactly a year ago it was said that the vehicle would come to Germany as the Dacia Spring Electric, and the technical details were submitted later. Renault has now announced the specific start date for pre-orders and prices – but initially for the French market.
Dacia Spring: base model starts at 16,990 euros
Accordingly, the pre-order lists open on March 20th. The first deliveries are scheduled for autumn 2021. When it comes to prices, Renault gives a list price of 16,990 euros for the basic Dacia Spring Confort model. After deducting the premiums in France, 12,403 euros should remain for private buyers. For comparison: In China, the City K-ZE is offered at a price equivalent to just under 8,000 euros. In the run-up to the European market there was speculation about prices for the Dacia Spring of around 10,000 euros after deduction of subsidies.
In addition to the Dacia Spring Confort, there will be a slightly better equipped plus version (with 7-inch display) as well as a business model for car sharing and business customers and a cargo version. The latter should come without a back seat instead of four seats. The cargo space of 1,100 liters and the payload of 325 kilograms should make the Cargo particularly interesting for tradesmen. The Dacia Spring Cargo will not be available until 2022, Renault has not yet announced any prices.
Dacia Spring: additional options for an extra charge
The Dacia Spring has a range of 230 kilometers (according to WLTP). The 33 kilowatt motor drives the e-car up to 125 kilometers per hour. The battery capacity is 26.8 kilowatt hours. The vehicle can be charged using a mode 2 charging cable at a socket. A mode 3 cable is available at an additional cost. The basic Confort model has manual air conditioning and a Bluetooth radio on board. With the Plus model, in addition to the Mode 3 cable (for 250 euros), a CCS option (30 kilowatts) can also be purchased for 600 euros.
Most read