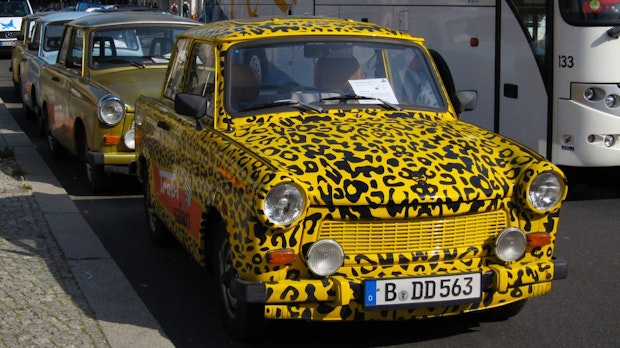 In April 1991 the last Trabant, also called Trabi or "racing cardboard", rolled in the factory of the manufacturer Sachsenring off the production line in Zwickau / Meerane. But the two-stroke engine, which was coveted before 1989 – with waiting times of several years – and then all the more despised afterwards, cannot be killed. 30 years after the end of production, there are still more than 38,000 Trabis on Germany's roads – and thus more than Tesla electric cars.
Registered cars: Trabi beats Tesla
This is the result of Ferdinand Dudenhöffer's CAR Institute (Center Automotive Research) after an evaluation of the current one Registration statistics from the Federal Motor Transport Authority. Accordingly, there were exactly 38,173 Trabis registered in January 2021. The number of Tesla electric cars registered was 34,000. The lead of the Trabis over Tesla of around 4,000 registered vehicles is likely to be used up in the course of this year in view of the current electric car boom.
It is surprising, however, that according to statistics, the number of registered Trabis has increased by a few thousand in recent years. As of January 1, 2017, the Federal Motor Transport Authority had reported 34,449 registered Trabis. In the past twelve months alone, more than 1,000 Trabis are said to have been newly registered. In this context, Dudenhöffer spoke of the fact that "some of the old two-stroke engines had been given a little new life in recent years," as N-TV reports.
3.7 million Trabis built
In total, around 3.1 million Trabis were manufactured in the 30-year production phase between 1957/58 and 1991. Only the last model, the Trabant 1.1 following the Trabant 601, which was built in 1990 and 1991, had a water-cooled four-stroke engine under Volkswagen license.
In its evaluation, the CAR Institute also found that the number of cars currently registered in Germany is around 48.2 million. That is 6.5 million more than in 2010. VW remains the most strongly represented car in Germany – with a share of a good 20 percent. Behind them are Mercedes and Opel by a large margin. The latter, however, has had to give up in recent years. The number of Opel models has decreased by around 1.1 million since 2010, according to T-Online.
Most read