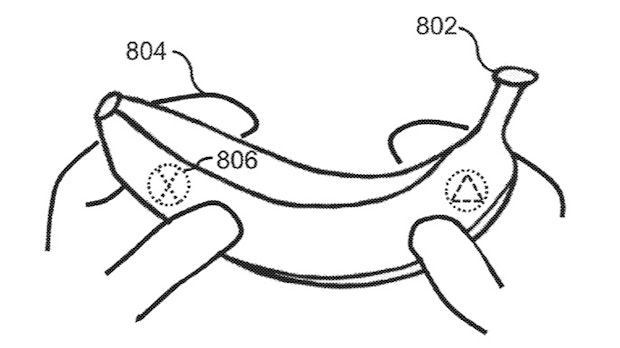 In the past few weeks, many PS-5 players have complained about defects in the dualsense controllers of the new Console complained. In the USA, a class action lawsuit is already pending against Sony because of the drifting criticized by the players. The handicraft professionals at iFixit had recently identified the reason for the controller problems, which apparently also occur with the controllers of Xbox One, Nintendo Switch and the PS4. Sony now wants to turn bananas into controllers.
Everyday objects as PS controller
According to a patent that has just surfaced, the banana is just one example of the objects designed by Sony for future control of the Playstation. According to the description, it concerns a system for generating inputs for video games. Passive and non-luminous objects should be used. At another point you can read that it should (also) be simple, cheap and non-electronic devices, as Gamesindustry writes.
In addition to fruit, this could be a cup or a pen, maybe a pillow or a wooden spoon. These are recognized and scanned by the patented system via a camera. Then an artificial intelligence in the background calculates possible areas for the Playstation buttons and allocates these positions with the corresponding functions.
In addition to being used as a controller, the input system should also be able to be used for other purposes, for example if special objects are to be explored in a certain game. The aim is to make the game experience even more immersive. It should also be possible to use two objects, such as bananas, together. A steering wheel is given as an example.
Sony has Playstation VR users in mind
Sony could primarily target users of its virtual reality headsets with the system described in the patent. The Japanese group is currently working on a new version of the Playstation VR launched four years ago, despite statements made by the head of the video game division. The current Playstation VR, which was actually developed for the PS4, can also be used on the PS5 via an adapter.
Whether and when the above-described Sony patent will be implemented and bananas can become PS controllers is in the stars.
Most read