Although many technical products, such as the webcam, were in short supply on the Hungarian market at that time, Alza.hu was always able to immediately deliver the equipment needed for teleworkers. – Our great advantage is that since we are present in several countries, our warehouses can react very quickly with each other, the movement of goods between warehouses works well. Last spring, our logistics could have been endangered in one fell swoop due to the border closures, but due to experience and flexibility we were able to master this situation as well, Csaba Takács, Director of Alza.hu, lists the factors that facilitate customer service.
The coronavirus epidemic has clearly taken the target audience of the online store towards the home office. At the same time, it has become more urgent for companies to be able to carry out their work professionally from home overnight, with the right technology, in the same way as they used to work in the office.
Although Alza's b2b program, launched last year, has so far mainly operated with smaller and larger companies, this year it is already available to public institutions and municipalities. – Among other things, we focus on special lines that include hospitals, schools, law firms and foreign missions, says Csaba Takács.
The most important advantages of the b2b program:
VIP prices and individual price offers;
Buy now, pay even later;
Possibility of personal contact and individual solutions
Fast and flexible delivery
Possibility to return the goods within 14 days;
Customizable vouchers.
– We decided to develop the b2b program in Hungary when it was proved that it had proved its worth in countries with similar capabilities and internet penetration, such as the Czech Republic and Slovakia. works. In the Czech Republic, for example, in a few years we have managed to make Alza the largest supplier to companies, schools, municipalities and public institutions. We would like to see the same result in Hungary within a year or two.
One of the most interesting options of our program is to rent goods for testing purposes. Our most popular product right now is the 3D printer, which schools can borrow for free for up to half a year. Pupils and students can get acquainted with the trends of 3D printing. Only their imagination limits what they print, and it also helps teachers to stimulate creativity.
Innovation, technology, robotics
Founding Alza has been committed to innovation, robotics, cybernetics and artificial intelligence since. The development of Boston Dynamics, the robot dog, was introduced in Hungary recently. Spot 1 meter long, lying 19, standing up to 84 inches tall and 30 pounds. It has a top speed of 6 km / h, but can also walk, shuffle and climb stairs. It can carry 14 pounds and with average usage, its one-touch battery lasts 90 minutes. It monitors its surroundings 360 degrees thanks to the stereo cameras placed on its body. It prefers temperatures between -10 and +40 degrees Celsius, but remains functional in radioactive radiation in torrential rain or air contaminated with toxic gases.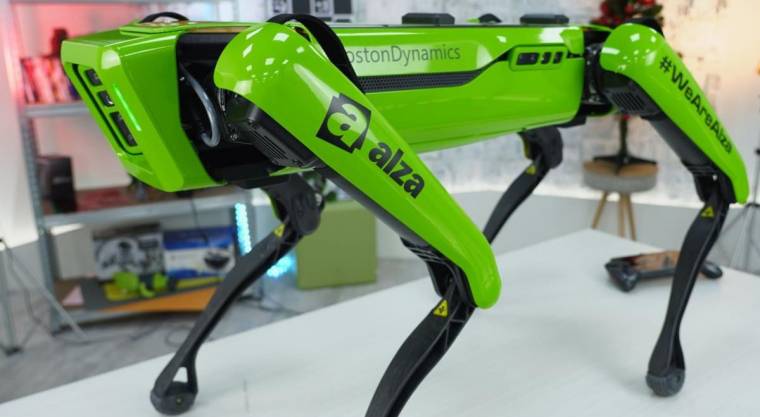 – At Alza, we are all passionate about innovative solutions and are constantly looking for ways to incorporate as many of these products and solutions into our offerings. We believe that robotics will significantly transform the world in the near future and put widely used solutions in our hands. As the robotic vacuum cleaner has become a part of many households and the robotic lawnmower will soon appear in the gardens, countless new technologies will spread in the households that we hardly notice, says the director of Alza.hu
Contact
If you are interested in the b2b program and would like to use the latest technological tools, write to the e-mail address [email protected] or call + 36-70-366- 0055 phone number! Following an agreement with the b2b contact person, your company will have the opportunity to enter the program. https://www.alza.hu/cegek-es-intezmenyek
Our article appeared in the issue of Computerworld magazine on March 10, 2021 (Volume LII, Issue 5)
Hardware, software, tests, curiosities and color news for IT by clicking here!