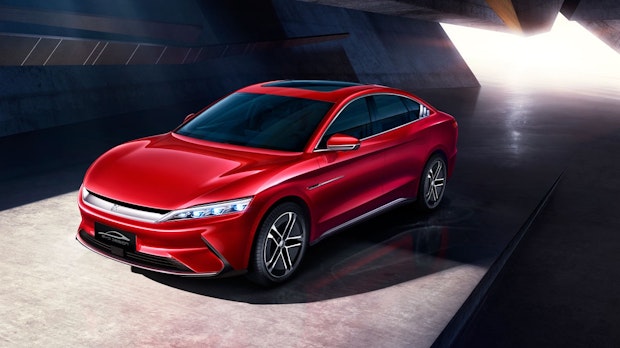 Chosun, the oldest and highest circulation newspaper in South Korea, picks up on a rumor that is spreading in China through various online publications. They want to have found out from a source in the BYD environment that Elon Musk's Tesla is interested in a share in China's largest electric car manufacturer BYD (Build Your Dream).
Tesla will take over 20 percent on Battery giant BYD?
In the conversation, 20 percent of the company shares for a rumored amount of 36 billion US dollars his. According to the current market valuation, however, the amount would correspond to a little more than a third of the shares.
BYD is Tesla in the ranking of EV sales in China . The manufacturer sold around 190,000 electric vehicles in the People's Republic last year. Tesla came to around 135,000. Both manufacturers are well ahead of other EV producers who like to see themselves in the Tesla environment, such as Nio with its around 43,000 and Xpeng with its around 27,000 cars sold in 2020.
In the model ranking, Tesla and its Model 3 were ahead of BYD's Han. The Model 3 landed at number 2 on the sales charts in China, just behind the GM joint venture Wuling with the Hongguang Mini EV. The Han landed in 4th place in the ranking.
BYD could permanently secure Tesla's battery supplies
BYD is likely to be even more interesting for Tesla as a battery manufacturer than as a car manufacturer. If you summarize the production divisions for cars and smartphones and other devices, BYD is the world's largest manufacturer of rechargeable batteries.
Referring to electric cars is found BYD is currently in the top 4 of the largest battery suppliers worldwide. Tesla has not yet been one of the manufacturer's customers. The US carmaker is currently only working with LG Chem, CATL and Panasonic.
BYD has been receiving special attention since it introduced the new blade batteries to have. They have a higher energy density than conventional lithium-ion packs and, above all, should be safer. Electric vehicles with blade batteries should therefore be far less susceptible to fires or even explosions, even in serious accidents.
Neither Tesla nor BYD have yet to agree the participation rumor expressed.
Most read