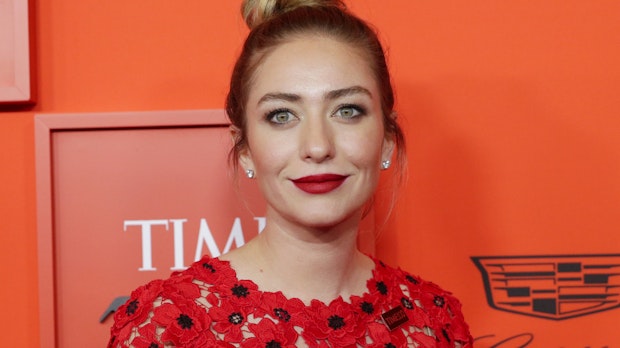 In her first interview as a billionaire, 31-year-old Whitney Wolfe Herd wears a yellow jacket, behind her is a shelf in the form of a honeycomb , similar to the logo of their dating platform Bumble.
Their app is about bees and flowers. But at Bumble, women are the bees and have to find a flower. Men cannot take the first step on Bumble.
Whitney Wolfe Herd has a knack for names. According to her own statements, it was she who came up with the name "Tinder" when she was still working at Tinder's parent company, Match Group. Wolf Herd was head of marketing there at a time when Tinder's user numbers were skyrocketing.
In 2014, Wolfe Herd sued the Match Group for sexual harassment and left the company. In the indictment, she said that other bosses had insulted her and deprived her of the title of "co-founder". Wolfe Herd and the Match Group reportedly reached an out-of-court settlement for a little over a million US dollars.
Out of frustration over the experience with Tinder and the Match Group, Wolfe Herd founded Bumble shortly afterwards : a dating app women take the first step on. And 70 percent of the boardroom is occupied by women. Wolfe Herds made around eleven percent of the company after the IPO into a billionaire.
There are two big ideas in the billionaire company Bumble: First, build a company that addresses the needs of women. That sounds banal, but so far, male bodies, lifestyles and data have been the measure for almost all products that are not specifically marketed for women: from the size of the cell phone screen to protective vests for the police.
Second: The idea of ​​building a company that is run by women and in which women feel comfortable. That doesn't sound like rocket science either. But women are still an exception in the executive floors of Silicon Valley. In the "Women Who Tech" survey, 44 percent of female founders said they had been harassed at work before. Bumble should be a company "by women, for women", says CEO Whitney Wolfe Herd.
The German startup scene also disproportionately supports men. But there are also female founders in the German startup scene who develop products for women – and thus discover a large but underserved niche. What are your challenges?
Business by women, for women
Julia Rittereiser is the founder and boss of Kora Mikino. Before founding the period underwear company, Rittereiser worked for Google for five years in Dublin, San Francisco and Germany.
With Kora Mikino, Rittereiser is currently developing a cream against period pain. "Period pain has a huge impact on the lives of menstruating people. And all you get is ibuprofen, "she explains in a phone call. Her cream is a mixture of organic chili oil and lemon. The application mechanism leads to micro-irritation of the skin and the combination creates heat. The cream should act like a hot water bottle, just to take away. "It has more bangs than a chemical cream. You can have it in your handbag, apply it on the toilet and you have four to five hours of warmth, "says Rittereiser.
" When I did that Having pitched the idea for a loan from the bank, the men said: 'Period pain? Better do something for hemorrhoids or incontinence underwear for men! ' Period pain was an absurd topic for them, despite the numbers and an innovative product, "says Rittereiser.
"How often does the period come?"
"Female business models are not necessarily the forerunners when it comes to the size of the investments, "says Ann-Sophie Claus in a telephone conversation. Claus is the founder of The Female Company – a period and pregnancy products company – and a competitor of Rittereiser. "I understand that because I am building a solution for a need that many investors cannot relate to." In some fundraising rounds, says Claus, "you first have to do a biology lesson. The questions then 'How often does the period come?' "
Investors – and more ROI
Bettine Schmitz is an angel investor at Auxxo Investments, an investment pool that tries to be special Promote business run by women. Studies by the Boston Consulting Group, the Kauffmann Foundation or MassChallange have shown that startups from female founders receive significantly less money on average, but have a return on investment that is more than twice as high.
"If someone had made something like period underwear for men, it would be for them Money was thrown afterwards, "says Schmitz in a phone call. According to Schmitz, the fact that female founders find it more difficult to get money, although studies show that they use it better than founders on average, has a lot to do with the fact that investors are mostly men. "Investing is a bit of analysis, but especially at the beginning, it is the fantasy that decides how big something can be," says Schmitz. "If you don't know a problem, you can't understand it. And if the investors are all men, women's issues are difficult to understand. "
8 million for a mini-laboratory
A fem-tech founder who Eirini Rapti from Inne is already behind the fundraising. Rapti collected eight million euros for their product: a laboratory the size of a tennis ball, in which women can use test sticks and saliva to measure their hormonal balance and determine their fertile days.
"Hormones and how they change over the cycle are the reason why we ovulate, why we menstruate or not, whether a pregnancy remains or we miscarry, and also determine when we enter menopause walk. The better we understand how hormones change at different ages, the better we can take care of women, "said Rapti on the phone. Previously, according to Rapti, hormones could only be measured in urine or blood, or saliva had to be sent to a clinic. Inne is the only certified medical device that women can use to measure hormones in saliva at home.
But Rapti didn't have it easy with investors either. Some came to their pitches unprepared and didn't understand the problem, says Rapti. "Why would a woman want to use this every day?" They would have asked – asking for examples of other products women buy every month. (The test sticks for the mini-laboratory can be ordered monthly.)
"Can we also use this for men's health?" – A man after a pitch for the hormone laboratory Inne.
"After a pitch, a guy asked me, 'I love the way the product looks. Can we use this for men's health too? Measure testosterone, tell people when they need to exercise more. ' (…) Then you have to laugh, otherwise you will go crazy, "says Rapti.
" The investment world is generally unequal, "says Rapti . "But, as Eirini, I don't think anything is impossible until I have done my best to try. It's already tough psychologically. If I allow myself to believe, even for a minute, that I am a victim, that it is too hard, it won't work. "
Also interesting: Why Tinder is just worse for me and my friends
Most read