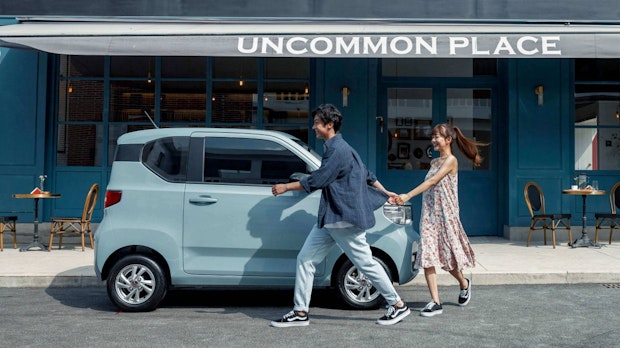 In 2019 and 2020, Tesla's Model 3 was by far the best-selling electric car in the world. In the important electric car market of China, the Californian electric car pioneer will have to be content with second place for the time being in the first few weeks of this year. Because last year's second in the broad sales ranking, the Mini-E-Car Wuling Hongguang (Mini-EV), was sold twice as often in China in 2021 as the Model 3. Every fifth electric car sold is currently one of these mini-electricity companies.
Every 5th electric car sold is a Wuling Hongguang
Specifically In the 2021 ranking in China, EV Sales attributes 56,929 e-cars sold and a 20 percent market share to Wuling Hongguang. Tesla and the Model 3 are in second place. There are 27,531 e-cars sold and a ten percent market share. The BYD Han is in third place with 13,398 units sold. Meanwhile, Tesla's Model Y catapulted itself from 20th to 9th place with 6,271 cars sold.
It is interesting that the e-car startup Nio was able to place three electric cars in the top 20 with the ES6, the EC6 and the ES8. According to EV-Sales, a total of eight Chinese startup models were among the first 22 best-selling electric cars. In addition to the Nio vehicles, the Xpeng G3 achieved this in 21st place.
The US-Chinese joint venture SGMW ( Saic GM Wuling), thanks to the success of his mini-stream, took first place (22 percent market share). The Wuling Hongguang costs the equivalent of only 3,700 euros. Tesla was able to overtake BYD and add three percentage points to a twelve percent market share. BYD holds at eleven percent.
E-car brand ranking: BMW overtakes VW
Interesting from a German point of view: The title for the most successful foreign brand – with the exception of Tesla – now bears BMW. In the February ranking, the Bavarian car manufacturer was able to place its iX3 in 20th place. VW, the leader in the entire car market in China, has slipped back to 13th place in the e-car manufacturer ranking – and is therefore not only behind BMW, but also behind startups like Xpeng and Li Xiang.
You might also be interested in