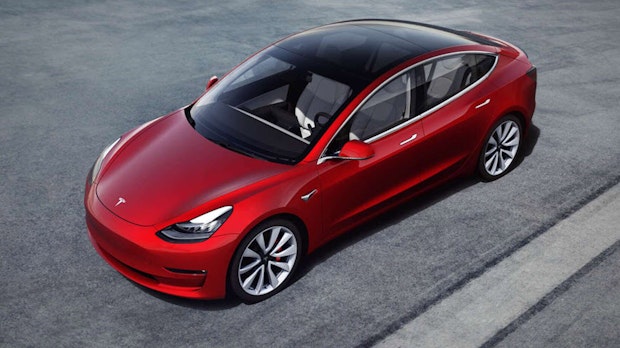 In the past first quarter, Tesla was able to announce several new records. The electric car manufacturer posted the highest profit in a three-month period with 438 million US dollars. The total of 184,877 electric cars delivered in the first quarter also set a new high. The high demand in China was primarily responsible for the doubling compared to the same period of the previous year. This surge in demand also provided another milestone. For the first time, the Model 3 is said to have been the best-selling sedan in the world.
Model 3 stands out from 3-series BMW and E-Class
Three and a half years after the start of production and still without a factory in Europe, the Model 3 has become the best-selling vehicle in the premium sedan class (sedan), Tesla announced. This enabled the group to outperform established and leading competitors such as the 3-series BMW or the E-Class from Mercedes and Audi's A6 and Q5. "This shows that an electric vehicle can be the leader in this category and outperform the petrol-powered competition." Tesla had previously achieved this with the Model 3 on the US market, in Great Britain or Norway – but never worldwide.
To prepare this calculation, Tesla had loud Electrek published the sales figures of Model 3 and Model Y separately for a quarter for the first time. Accordingly, around 120,000 Model 3s were sold in Q1. Tesla sold around 60,000 Model Y vehicles. The e-automaker posted fewer than 3,000 sales of its Model S and X. Tesla did not produce a single new one in the first quarter. The vehicles sold are from 2020 production. After testing updated Model S and X vehicles, production should only start again now.
Tesla CEO Musk: Model Y soon to be the best-selling car
After the success with the Model 3, Tesla boss Elon Musk has once again set a new big goal. The Model Y should not only be the world leader in its category, but also become the best-selling car in the world. According to Musk, it is realistic that Tesla could produce around a million Model Ys per year. Of course, this will only be possible after the new gigafactory in Brandenburg and Texas has been completed. For comparison: The best-selling car last year was the Toyota Corolla with 1.13 million models sold. The Model 3 was the best-selling electric car with 365,000 sales in 2020.
You might also be interested in