Plants vs. Zombies: Battle for Neighborville – Complete Edition for Nintendo Switch
Electronic Arts launched in 2014 a shooter from the popular saga Plants vs. Zombies , original of mobile devices , which came to consoles under the name of Plants vs. Zombies: Garden Warfare . Following the success of this title, the company released its sequel in 2016 , Plants vs. Zombies: Garden Warfare 2 , exclusive for the last generation consoles (Xbox One and PS4) and PC, which introduced great improvements compared to the first one.
Three years later, in 2019 , EA returned to launch a new installment of this fun saga, although with a name change, renamed Plants vs. Zombies: Battle for Neighborville , video game that reached Nintendo Switch year and a half later, last Friday March 19 . Therefore, this time I bring you the analysis of this video game, which you can see below: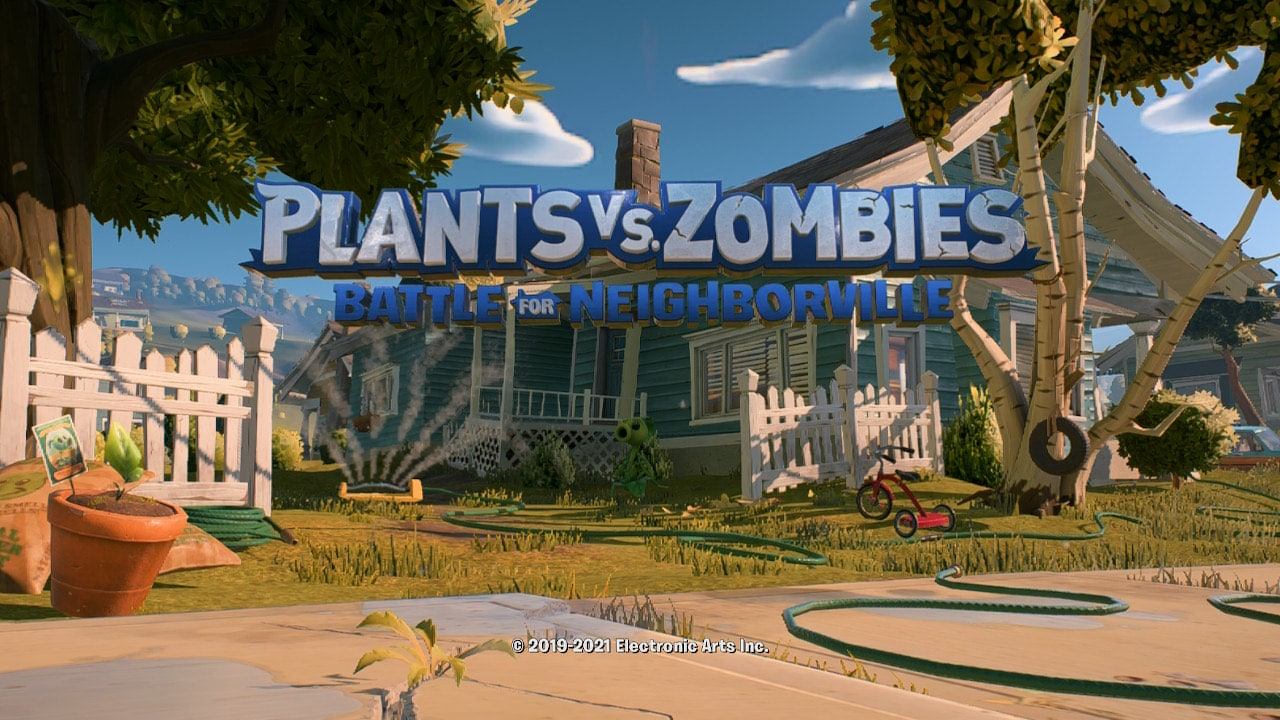 Single Player Mode (5 / 10)
Plants vs. Zombies: Battle for Neighborville presents a single player mode in the that we can travel a map, talk with other silvers or zombies (depending on the side with which we are playing) and thus complete missions, for which they will give us certain rewards , such as coins or cosmetics to customize our characters.
From my point of view, always it is positive that a video game focused on multiplayer, as is the case, has the option of a single player mode or campaign (as is also the case in Splatoon ), although in this installment it does not stand out especially, and its usefulness is mainly in obtaining certain exclusive rewards , although it is still an extra mode without much depth .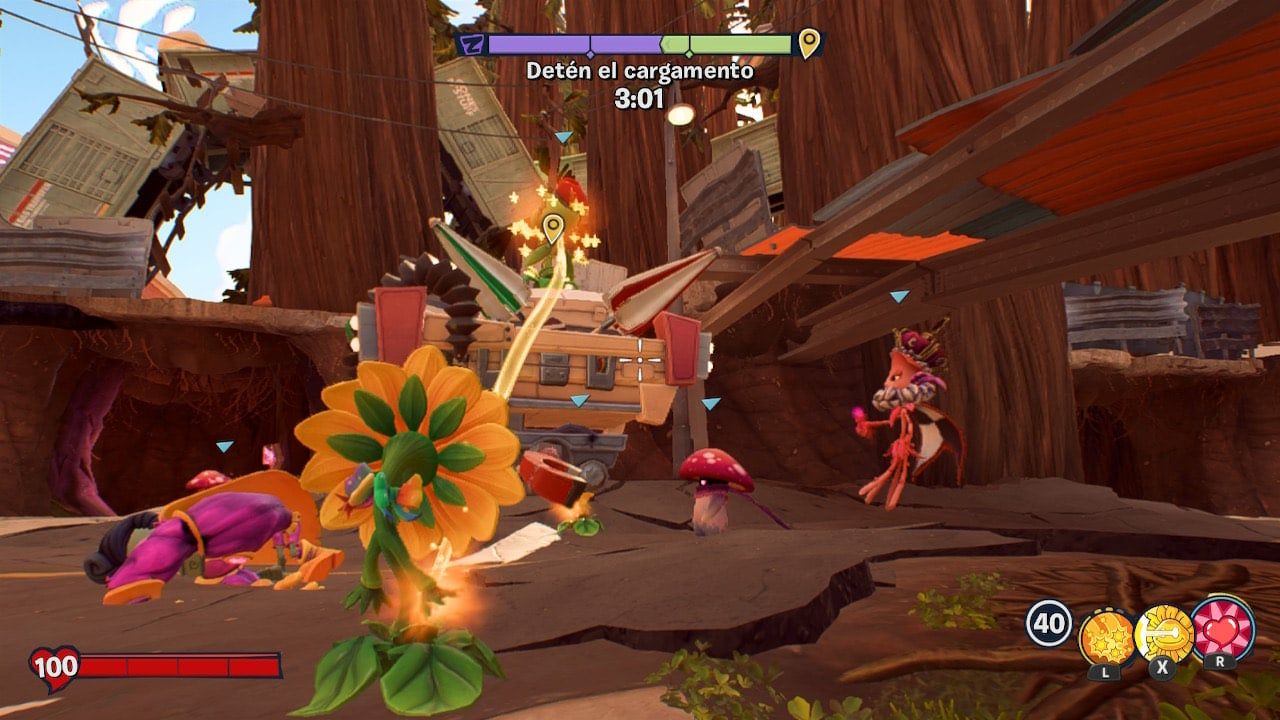 Gameplay (10/10)
No doubt in than the aspect in which it stands out the most Plants vs. Zombies: Battle for Neighborville is in its gameplay, which is very reminiscent of others shooters with heroes (in this case plants and zombies) such as Overwatch , similarity that also extends to its game modes .
At the beginning we find ourselves in a kind of lobby that varies depending on the side in which we are playing, being able to alternate between both whenever we want, from which we can access everything the game offers, either cosmetic stores , single player mode , multiplayer mode , etc.
The side of the zombies has 12 heroes (10 unlocked at the beginning and another 2 that require to be purchased with game coins) , and that of the plants, with 11 heroes (1 in need of being unlocked), and they are divided into four different roles: attack, defense, support and swarm .
Heroes of the plants:
Attack: Peashooter, Carnivorous Plant , Cob, Night cap and Snack.

Defense: Cactus, Grapefruit, and Acorn. Support: Sunflower and Rose.

Swarm: Wild flower.
Zombie Heroes:
Attack: Zombie Soldier, Zombie, Super Brainz, Eighties Hero and Electric Skater.

Defense: Captain Mostacho, All-Star and Zombie Space Cadeete.

Support: Zombie Scientist, Zombie Engineer and Wizard.
Swarm: Caratele.
As with all titles of the style, each role must fulfill its function, and each hero has his own abilities and the ability to equip upgrades , which are acquired as levels up and rises character of rank , that is, every time level 10 with a character you can promote it, obtaining improvements as a reward , which creates a feeling of progress enormous and that, in addition, encourages us to play more and more.
Without a doubt, if you like games in the style of Overwatch or Splatoon, it is very likely that you will love this one too, so much for its addictive gameplay as per the sense of progression that you feel as you go evolving and improving the characters .
Graphics and Performance (6/10)
Plants vs. Zombies: Battle for Neighborville has been the first video game for Nintendo Switch in power reach the console under the graphics engine Frostbite , an achievement by the developers that has led them to have to perform an important optimization task , graphically limiting the title mainly due to its scarce 4 gigabytes of RAM . This fact may mean that we will see better titles from Electronic Arts in the future for Nintendo hardware.
This optimization has led this film to move to 30 frames per second both in portable mode and in dock mode , which are quite stable despite having falls at very specific moments , but not they make the game unenjoyable. Speaking of the resolution we find a dynamic whose maximum is 1280 × 720 pixels in portable mode and 1440 × 900 pixels as maximum resolution when we watch the console on television.
This dynamic resolution is quite noticeable, since there are certain situations in which is significantly reduced , and a Nintendo Switch "Pro" or with improved hardware would do Plants vs. Zombies: Battle for Neighborville would look much better with a higher resolution, the most annoying for me in the graphic section, still being understandable due to the current limitations of the console. Therefore, if you have no problem playing 30 frames and a very fair resolution (sometimes quite low), you should not to worry about this aspect.
For the rest, the textures, effects and shadows look good enough, although regarding the lighting leaves a lot to be desired; and other things that are sometimes observed with notoriety are the teeth de sierra , although only in certain situations. For this reason, the graphics and performance section meets the expectations , in my view, of Nintendo Switch users , although the cuts that have been forced to make to be able to run the game on the console are very noticeable.
Sound (8/10)
To be clear, sound is not an aspect by the that you are going to acquire this title, although very much fulfills its objective , counting on effects for each character and ability , which allows us to identify them instantly, and melodies that set each of the available maps.
In this section there is not much more to comment on, it just works very well with what must be the sound section of a game of the style, although it does not stand out especially for a very elaborate soundtrack a, which was expected from the beginning.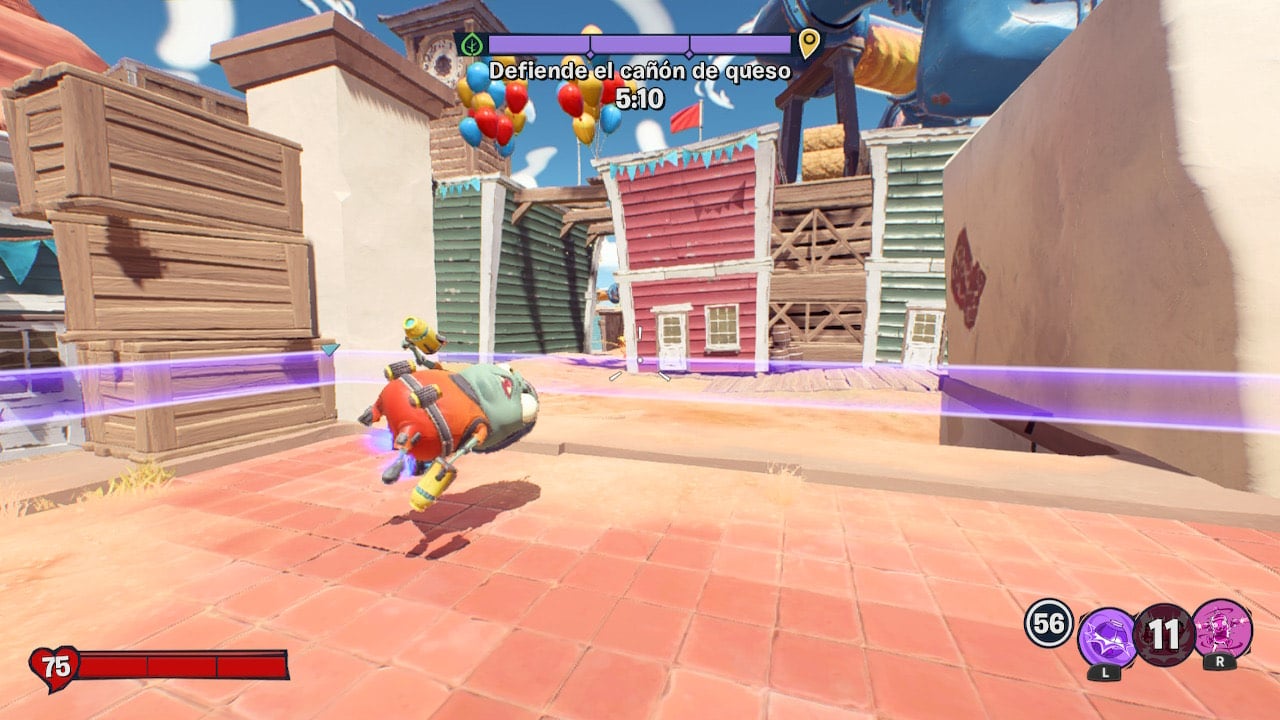 Duration (10/10)
As in all video games focused on online mode, the duration is practically infinite, since it offers many options for progression, character evolution and a collection of cosmetics; an aspect to highlight and that is always appreciated in a game, ideal both to play a game from time to time and for long days of play.
On the other hand, there is the single player mode, which is very secondary and whose duration is limited to completing all the missions (both zombies and plants) and thus obtain the rewards, although there is also the possibility to repeat those missions.
Online multiplayer mode (10/10)
As already I mentioned earlier, Plants vs. Zombies: Battle for Neighborville is focused entirely on the online multiplayer mode , in the one that faces plants against zombies (as the name of the game says). To access the multiplayer mode we must select it in the lobby and enter a portal to search for a game, in which we will be assigned a team randomly but that we can change at any time .
When selecting a game we can choose between a private game or three different modes of public games , which are Absorption of territories , Garden and Graveyard Operations and a weekly event , which can be for example that of Defeat by teams . In addition, we can also choose the region in which we want to play, although it is advisable to always choose the one in which you are living in order to have the best possible connection.
The online multiplayer mode is undoubtedly excessively fun and enjoyable , in addition to the main reason to acquire this title, either because you are going to play alone or with friends.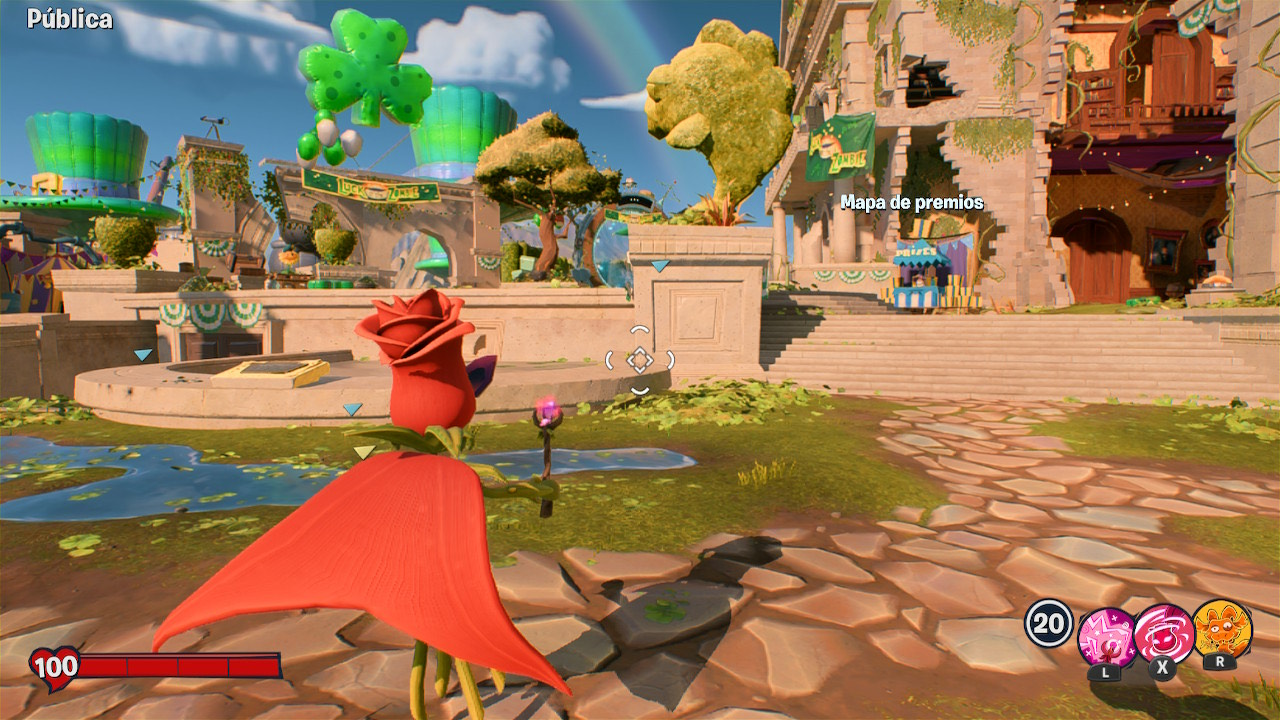 Plants vs. Zombies: Battle for Neighborville is now available on Nintendo Switch , and you can purchase it both in physical format and in the eShop of the console for 39.99 euros in its Complete Edition . In addition, to have it digitally on the console you need at least 6.5 free gigabytes in memory. Finally, you can take a look at more details from the official Nintendo website , and we leave you the trailer m shown during the past Nintendo Direct to continuation:
Q what do you think? Have you already bought it? What grade would you and you give it? Leave us your opinion in the comments!