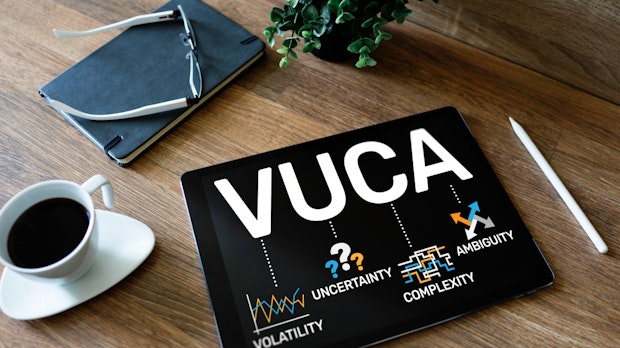 The past year in particular has shown how unpredictable changes are not only in working life, but also in private and social areas in times of the corona pandemic. These signs point to the often cited VUCA world (Volatility, Uncertainty, Complexity and Ambiguity). Here, however, there are serious disadvantages and risks associated with it, as many of the consequences of decisions are not or only insufficiently considered.
The new, volatile and complex world is a dynamic environment that requires a new mindset and logic of action. Effectuation is understood as such a logic. According to Wikipedia, Effectuation is "a corporate decision-making logic that can be used in situations of uncertainty. It is not based on historical data and predictions of the future based on it ". Instead, Effectuation is "mainly used in the development of business opportunities and business models in situations in which reliable forecasts are not possible due to high uncertainty."
Independent action and decision logic
The effectuation approach was founded by Saras D. Sarasvathy, professor at the University of Virginia, and builds on findings from the Entrepreneurship research. In her doctorate, Sarasvathy examined the decisions of successful multiple founders. From these results it became clear what connects the numerous founders with one another and what has been empirically proven. Effectuation is not a uniform approach or a closed theoretical construct. Rather, it sees itself as an independent logic of action and decision-making.
The effectuation principles can best be explained in contrast to the principles of causal logic:
| Causal logic | Effectuation |
| --- | --- |
| Stable environment: low risk, known future | Dynamic environment: uncertain, unpredictable future |
| Goal orientation: First set the goal and then find ways and means to achieve the goals as best as possible | Means orientation: Effectuation, however, begins with the means available: own skills, competencies, soft skills and the network determine what is feasible |
| Defined action corridor: Intensive forecasting and planning, avoiding coincidences, surprises jeopardize the achievement of goals | Flexible design: transforming surprises into opportunities and taking advantage of the unplanned |
| Expected return: Causal logic is based on the expected return. One chooses goals that promise the best return. | Affordable loss: Since no earnings can be predicted in an uncertain future of the VUCA world, one should only risk that what one is ready to lose. |
| Competition: differentiation between "the right partners" and differentiation from potential competition | Partnerships: Enter into partnerships early on from within your own network that select themselves and take part in a still uncertain project at an early stage |
Effectuation supports actors in introducing new things to the We lt to bring. The logic makes it possible to actively shape a future when the environment is uncertain and exact prediction or planning are not possible. Effectuation can contribute to the development of new products, services and problem solving from vague ideas. A culture in which co-creation is lived can also produce new partnerships. These agreements are made between those who are ready to start and help shape the new.
Spend the night in ice and snow
The world-famous ice hotel in Jukkasjärvi, Sweden, began with a vague idea which arose out of an ice and snow sculpture course in 1980. Yngve Bergqvist, founder of the hotel, builds accommodation out of ice every winter, which is now fully booked every year. In order to continue shaping its own future, even in times of advancing climate change, Bergqvist built another hotel in the ice and opened it in 2016. The special feature: On the 2,100 square meters of the Ice Hotel 365, guests can stay overnight in ice and snow even in summer. During the summer months, solar panels on the roof provide electricity for cooling. Between mid-April and mid-August it is practically not dark, so that the corresponding energy surplus can be passed on to other buildings.
Bergqvist started with the resources available and his skills and created an attraction out of snow and ice. His thinking and acting were shaped by effectuation. In this context, it is important to distinguish between the key terms that are of central importance for effectuation:
A known risk is an optimal condition for causal, goal-oriented thinking and acting. A calculable risk can only be determined, however, if there is a limitable assessment basis and a linear development in the foreseeable scope of possibilities. If this area cannot be narrowed down, the risk value does not provide any useful orientation.
From There is uncertainty when there are different variables, parameters and scenarios for the course. In such situations, depending on the risk, the probability of occurrence of results or environmental conditions can be specified. Whether these can be predicted approximately or precisely depends on whether empirical data is available for the alternative courses of action.
A decision under uncertainty exists if no probability of occurrence can be calculated. This can be the case if, in relation to the complexity of the decision, insufficient data is available.
This is the connection to the "agile world". Here, too, there is an environment of uncertainty. The correct answer is an iterative-incremental approach with experiments in order to arrive at the best possible decisions with the least possible degree of uncertainty. Organizational consultant and coach Michael Faschingbauer emphasizes the contribution that Effectuation can make even in modern change processes, such as agile transformations:
Agile teams are supported in order to find their way around better in an environment of uncertainty or uncertainty.
At all levels of the organization, not just in the agile teams, creative actors act locally and capable of acting – especially in phases of high complexity.
The means orientation in the effectuation approach supports the management in iterative procedures beyond established procedural models. They were mostly developed in stable times. In change processes, they often contribute to failure.
Agile coaches can, for example, in the Role of the conflict navigator Defuse conflict dynamics and support internal networks.
Effectuation can change the Reinforce paradigm shift in organizations: If there are no clear goals, the alignment to multivalent goals can be accompanied by suitable control concepts.
The VUCA world requires new ways of thinking and acting in order to better deal with the different degrees of uncertainty and uncertainty. The effectuation approach has developed from entrepreneur research. Many parallels to the agile mindset and to iterative approaches can be seen. Together they can help to ensure that new thinking and planning in the VUCA world can always be better.
Most read