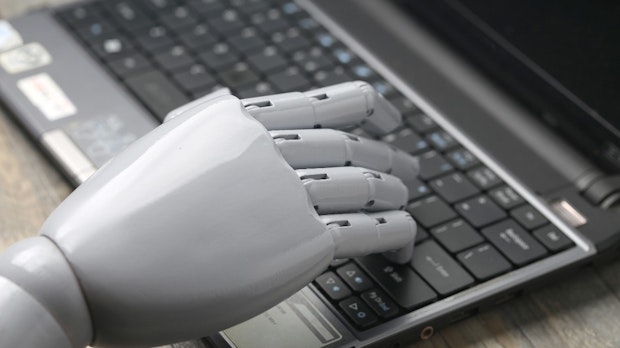 The use of artificial intelligence in small and medium-sized enterprises is still an absolute exception in Germany. Only four percent of SMEs made use of the technology's growth potential in recent years. This is what the respondents to the KfW SME Panel said in 2019. For comparison: an estimated one third of large companies already use AI.
SMEs that use AI stated in the KfW study that they participate intensively dealing with digitization, having formulated a strategy or investing a lot in your own research and development. Most German medium-sized companies lack the know-how to use AI, according to the study authors.
Applications without prior knowledge
This is the expertise of the employees not a requirement to benefit from artificial intelligence. Many production processes can be optimized with the help of data analysis. Whether for tables, texts, images or time series data: Many medium-sized companies do not know how to analyze and use the collected data. Cloud providers solve this problem and help to make the large amounts of data usable with digital tools and AI solutions. "Machine-Learning-as-a-Service" platforms from major providers make the technology tangible for SMEs.
The Stuttgart Fraunhofer Institute has approaches large providers compared and four possible use cases:
Which guests tend to cancel their room booking? A hotel's booking data can be used to calculate how likely a cancellation is. An AI can examine the tabular booking data and develop a corresponding algorithm.
Case 2: Text categorization
What's this text about? An AI can assign texts to different areas such as culture, sport and business and store them in an archive for a press agency, for example.
Case 3: Image recognition
Which product is defective? Camera systems are often used in production to track down defective pieces using image analysis. The scrutiny of an artificial intelligence can automate this: the AI ​​learns to recognize defects based on a lot of metadata from annotated images.
When is the right time to exchange tools? Milling heads or other materials in production wear out. In order not to risk downtime, but also not to replace material unnecessarily often, an AI can process time series data of vibrations and power consumption in order to estimate the condition of the milling head.
How reliable the prediction of an AI solution is always depends on the data: the more and of higher quality, the better.
Cloud Application for medium-sized companies
Even apart from artificial intelligence, SMEs can gain advantages by using modern cloud tools. Providers such as Intercom, Zendesk Chat or Front App enable medium-sized companies to communicate more efficiently with customers. Cloud applications can make work easier, especially in marketing, sales or support.
Some cloud applications are "Made in Germany": for example the internationally known, cloud-based one Application Weclapp. It is a customer relationship management tool and also serves as an ERP system for planning business resources. The Meistertask is ideal for working better together in a team. The project management tool from Germany also uses the cloud.
You might also be interested in