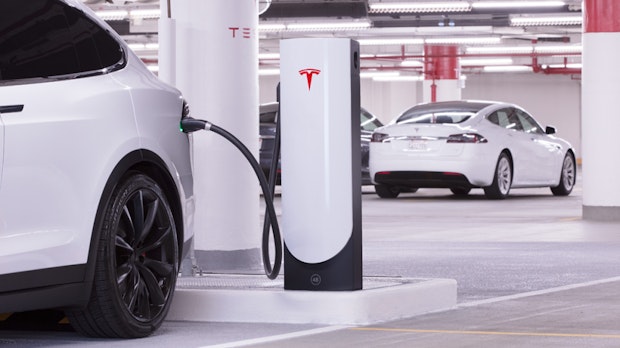 With the arrival of the Model S in Europe in 2013, Tesla installed the first of its superchargers in Norway. Three years later, with the launch of the Model X in 2016, there were already almost 1,300 superchargers across Europe. In 2019, when the Model 3 was launched, Tesla launched 3,700 Superchargers in Europe. Now it should be over 6,000.
Tesla has 6,039 superchargers on the network
A total of 6,039 Superchargers at 601 locations – according to Tesla, this milestone has now been reached with its Supercharger network. In the past two years alone, electric cars are said to have charged around 2.4 billion kilometers of electric range on Tesla superchargers. That corresponds to about 22 round trips to Mars since the market launch of the Model 3.
The Supercharger Tesla's network has now been expanded to 27 countries in Europe. Most recently, the Greek capital Athens was added. In Germany alone, Elon Musk's company says it operates more than 850 superchargers at 84 locations. Incidentally, the largest location in Europe in Nebbenes, Norway, has 44 superchargers, compared to seven at the first location. In Oberhonnefeld, near the Cologne-Bonn region, Tesla customers have 40 fast charging stations at their disposal. The world's largest supercharger location with 56 charging stations was opened in California in November.
Supercharger: improved efficiency and charging time
There have also been improvements in the efficiency and loading times of the Supercharger in recent years. The V2 supercharger is the most common in Europe. Its peak output has risen to 150 kilowatts. Tesla can reduce charging times by around 25 percent by ideally preconditioning the Tesla's battery and system using a corresponding function on long journeys.
According to the electric car manufacturer, the charging speed is on the V3 superchargers (up to 250 kilowatts) has been increased up to 1,600 kilometers per hour. Calculation example: A Model 3 with the large battery (long range, performance) charges in the optimal case with the equivalent of 120 kilometers range in just 5 minutes. V3 superchargers are currently already available at some locations in Europe, including in Weiterstadt, Germany. Many other corresponding locations, also in Germany, are under construction, as can be seen on the supercharge.info page.
You might also be interested in