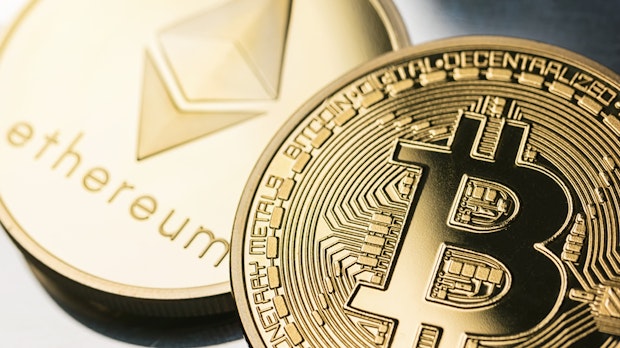 Leaving purchased cryptocurrencies in the wallet of a marketplace is not a good idea. In the past, larger crypto trading venues have repeatedly been the target of hacking attacks, sometimes losing millions in Bitcoin and other digital currencies. Anyone who is serious about cryptocurrencies should therefore keep them in their own wallet.
Hot or Cold: These wallet types are available
There are basically two options for storing cryptocurrencies such as Bitcoin. The first is to store your cryptocurrencies in a hot wallet. This means crypto storage that is connected to the internet. The advantage of this variant: You have quick access to your crypto reserves. However, security suffers. In the past, there was always malware for desktop computers and smartphones that targeted crypto stocks stored there.
However, it is more secure a cold wallet, because it is not connected to the internet. A paper wallet, for example, can be used as a cold wallet for bitcoins. If you keep the document and any copies in a safe place, you no longer need to worry about hacking attacks. As soon as you want to carry out a transaction, however, it gets complicated. In addition, a sheet of paper can be lost or damaged quickly.
Hardware wallets are an alternative. These are small devices on which you can keep your digital treasures safe. Only when you want to carry out transactions do you connect them to your computer. For the rest of the time, they remain safe from unauthorized access.
Software wallets, on the other hand, are available from a large number of companies with a more or less good reputation. However, many of the wallet providers do not let you see the source code of the programs. That doesn't have to be bad. The provider Exodus, for example, has a very good reputation, although it only publishes the source code of selected program parts.
But if you really want to make sure that you are using it Wallet software does not contain backdoors, you should take a look at one of the many open source programs in this area. The programs can sometimes also be used on otherwise unused computers or smartphones that are not permanently connected to the Internet. In addition, many of them also support the common hardware wallets to easily transfer Bitcoin or Ether from your own computer to the secure offline device.
Bitcoin and Store ether: 6 open source wallets at a glance
Wasabi Wallet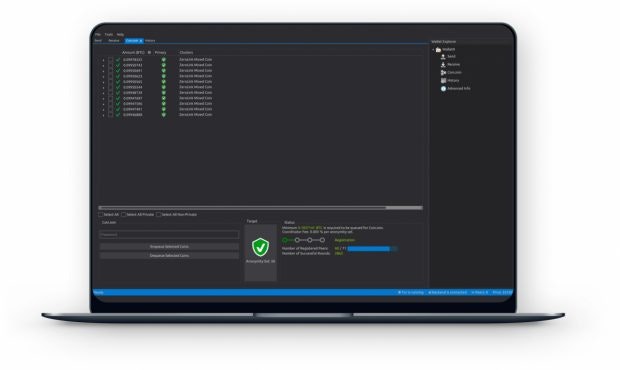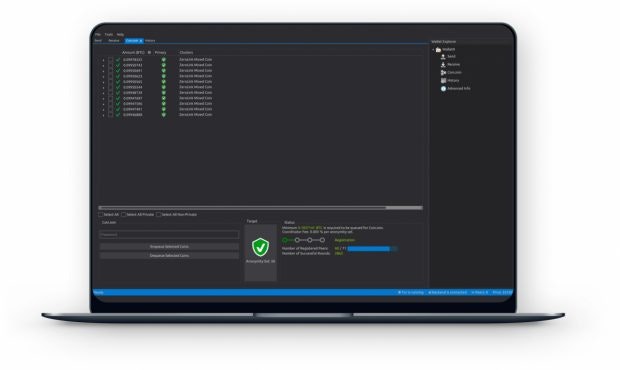 Wasabi is a Bitcoin wallet for desktop PCs . (Graphic: Wasabi Wallet)
Wasabi is an open source wallet for desktop PCs. The software is available for MacOS, Windows 10 and Linux. Wasabi only supports Bitcoin, but has a few interesting additional features on board. On the one hand, the wallet with Coinjoin supports a mechanism to disguise the origin of Bitcoin transactions. To do this, Coinjoin combines transactions from several parties into a single transaction. Wasabi also automatically routes all traffic through the Tor network for a higher level of anonymity.
Blockstream Green
The open source Bitcoin wallet Blockstream Green is available for mobile devices and desktop PCs. However, the desktop version is still missing a few features of the iOS and Android apps. The wallet can be protected from unauthorized access using two-factor authentication and can also work with hardware wallets. The devices are supported by Ledger and Trezor. In addition, with Blockstream Jade, the manufacturer also offers its own, completely open source hardware wallet.
Samourai
Samourai is an open source Bitcoin wallet for iOS and Android. In combination with an unused smartphone, you can also use the software as a cold wallet, i.e. as Bitcoin storage that is not connected to the Internet. With Whirlpool, Samourai also supports a coinjoin variant for disguising transactions.
Mycelium
Mycelium is an open source Bitcoin wallet from Austria. The software works with hardware wallets from Trezor and Ledgor. You can also display the value of your Bitcoin inventory in the app at any time in different currencies.
Metamask
Metamask is a wallet for Ether and Ethereum-based crypto tokens such as ERC20 or ERC721 . The software is available on the desktop as browser extensions for Chrome, Firefox, Edge and Brave. Metamask is also available as apps for iOS and Android. Metamask also supports the hardware wallets from Trezor and Ledger.
My Ether Wallet
My Ether Wallet is a web-based wallet for Ether and Ethereum-based tokens. The software supports hardware wallets and there is an official browser extension. There is also a marketplace for DApps in My Ether Wallet, i.e. decentralized Ethereum-based applications. For a while, the manufacturer also offered open-source mobile applications under the name MEWconnect. But they were discontinued in favor of the iOS and Android app MEWwallet, which in turn is apparently not open source.
Also interesting: How to: Invest in Ethereum, Bitcoin and other cryptocurrencies
Most read