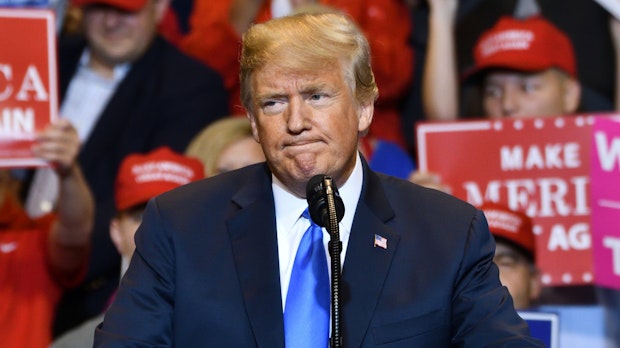 Once it was perhaps the greatest love story of the 21st century: Donald Trump and the Internet or Twitter. But after the violent assault of his supporters on the US Capitol on January 6, 2021 and the subsequent deplatforming of Trump, the relationship now seems to have cracked clear.
Donald Trump pleads for more paperwork
In an interview with the business news channel Fox Business, Donald Trump made an unusual proposal for a solution to prevent cyberattacks. You have to "go back to a different form of accounting, the compilation of information," said Trump. Computers are all well and good, but you don't see "a sheet of paper", you have to "go back and work much more reliably", the ex-president continued.
Young people like his 15-year-old son are "geniuses" in dealing with computers, but at the same time they could "not run without a computer" – whatever that means. Trump told his interlocutor Stuart Varney how hackers are paid for ransomware attacks. In response to receiving Bitcoin, Trump stated, "The currency of this world should be the dollar. There shouldn't be all of these Bitcoin. I think they should regulate them very, very high . "
The fight against insignificance
Since social media platforms like Facebook and especially Twitter blocked his accounts, the former president of the USA has been fighting hard not to slip into insignificance. He had already announced in March that he wanted to set up his own social network – but nothing has come of it so far. And his excursion into the blogosphere did not last long either.
Only CNN and the Washington Post – Trump's popular targets – should be his broadcast needs and his Verbal attacks might be missed. After the end of his presidency, you had to record massive drops in traffic.
You might also be interested in