Trump officials 'cooperated' with meat industry to downplay the threat of Covid to plant workers and lockdown public health measures that could save lives, new investigation found.
Internal Documents Reviewed by Congressional Subcommittee on Selections on identifying the coronavirus crisis how industry representatives lobbied government officials to stop "prying" health departments from imposing safety measures to contain the spread of the virus – and tried to hide the deaths of workers from these authorities.
At least 59,000 workers on five of the largest meat processing companies are Tyson Foods, JBS USA Holdings, Smithfield Foods, Cargill and National Beef Packing Company, which of congressional investigation – contracted Covid in in first year of pandemic, of of which at least 269 people died.
According to internal reports, the companies were warned about the illness of workers and their families for several weeks. of the virus hit the United States. Despite this, company representatives enlisted the support of industry representatives appointed by Trump in the USDA to fight them battles against Covid rules and supervision.
In addition, the company's management deliberately fomented fears about the lack of meat. in to justify the continued operation of plants under hazardous conditions.
Fears were unfounded – there was no shortage of meat in USA, and export to China hit record maximums.
Yet in In April 2020, Trump issued an executive order enforcing the Defense Production Act to keep meat plants open after the storm. of communication of the head of the White House of staff, Mark Meadows, vice president of the office of USDA allies and company executives.
The order proposed by Smithfield and Tyson (whose legal department also wrote a draft), was an open attempt to circumvent the ministries of health and force meat processing workers who mostly immigrants, refugees and people of color – continue to work without proper protection, protecting the industry from lawsuits.
James Clyburn, Chairman of the subcommittee condemned the behavior of industry leaders and their government allies as "shameful".
"Trump's USDA political appointees cooperated with large meat processing enterprises lead the efforts of the entire administration to force workers to remain on work during the coronavirus crisis, despite dangerous conditions, and even to prevent the imposition of of reasonable mitigating measures. It's coordinated campaign priority industry production over Health of workers and communities, and contributed to dozens of thousands of sick, hundreds of workers are dying and the virus is spreading to nearby areas."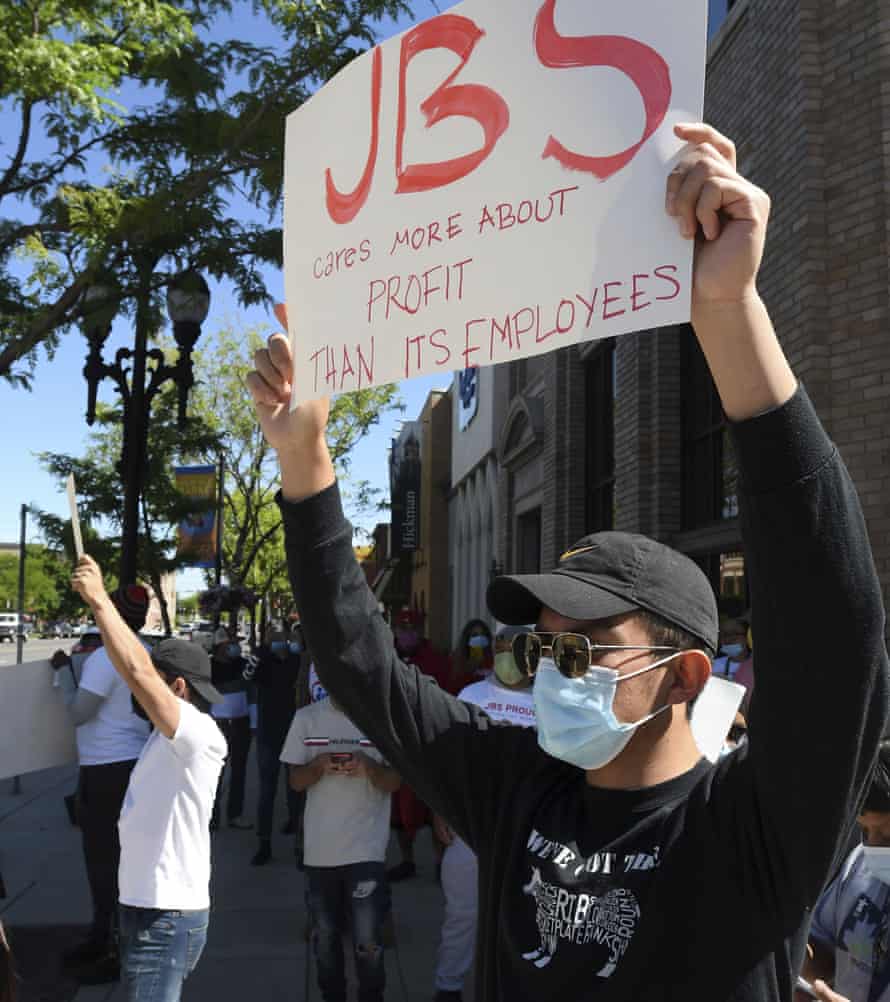 The meat processing industry, which includes slaughterhouses and processing plants, is one of the most profitable and dangerous in United States. it's a monopoly business, with just A handful of powerful multinational corporations dominating the supply chain, which even before Covid was bad news for farmers, workers, consumers and animal welfare.
As Covid spread, the industry was warned of high risk of Transmission in their plants. For example, a doctor near a JBS facility in Cactus, Texas, wrote to the head of the company in April 2020: "100% of all Covid-19 patients we have in hospitals are either direct employees or family member[s] of your employees, warning that "your employees will get sick and may die if this factory continues to operate."
At the end of May 2020 – much later than the importance of preventive measures such as testing, social distancing and personal protection equipment received widespread acclaim, with an executive telling an industry lobbyist that temperature screening is "everything we should make". The lobbyist agreed, replying: "Now get rid of of those pesky health departments!"
Report, now to get rid of of those pesky healthy departments!, shows how Trump-appointed U.S. Department of Agriculture officials bet on the industry in order to carry on with business normally. The report is based on more over 151,000 pages of documents collected from meat processing companies and interest groups, as well as interviews with meatpacking workers, former USDA and CDC officials, and state and local health authorities, among others.
Documentation show that:
In March 2020, the industry actively lobbied USDA officials. who in in turn conveyed their wishes to Vice President Mike Pence. office ensure States were advised to designate meat processing workers as "critical infrastructure workers" who could be released from social distance and stay home orders. This behavior was "particularly egregious, given that the country's meat supply was actually not up to par." risk", subcommittee found.

Mindy Brashears, Deputy Secretary of State of food safety was considered the best helper, who could stop health ministries enforcing Covid safety events at local factories. Brashers 'n't lost battle for us", said one lobbyist.

Careers USDA employees told Congressional subcommittee how they were suspended, and Brashers and her deputies talked with industry representatives on their personal phones in order avoid leaving a paper trail.

Meat processing companies also successfully lobbied USDA officials to advocate for Branch of A labor policy that has deprived its employees of benefits if they missed work or get out while also seeking protection from legal liability if workers subsequently fell ill or died.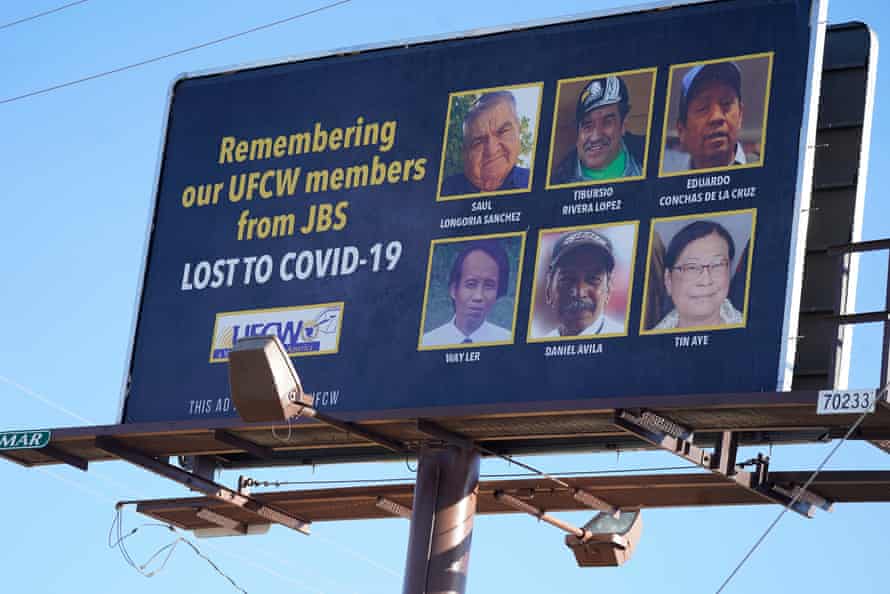 According to of Covid clusters at meatpacking plants have increased, industry officials and the USDA have jointly lobbied the White House to discourage frightened workers from staying. home or quit. for example in April 2020 of JBS, Smithfield and Tyson among other companies asked secretary of agriculture, Sonny Perdue, during call "raise need for importance messages of our workforce remains in work to the POTUS or VP level."
It worked. At a press briefing soon after that, Mike Pence told the meatpacking workers that "we need you continue… to show up and do your job," warning against recent "incidents of workers' walks.
The report concludes: "Meat packing companies knew risk created by the coronavirus for their workers, and knew that it was not risk that the country needed them to take. Nevertheless, they lobbied aggressively – successfully involvement of the USDA as a close collaborator in their efforts to keep workers on Job in unsafe conditions to ensure state and local health authorities were powerless to order otherwise and be protected against statutory liability for harm that would result".
trade association for meat and poultry packers and processors rejected the report's findings and accused the subcommittee of of "sample data".
"The report ignores the strict and comprehensive measures taken by companies to protect employees and support them critical infrastructure workers," said Julie Anna Potts, President and CEO of North American Meat Institute.
In addition, the representative for JBS stated that the company "did everything possible to ensure in safety of our people who saved our critical the food supply chain is working. Cargill said in a statement: "We have worked hard maintain safe and consistent operations to feed families during the pandemic, but we did not hesitate to temporarily down or reduce capacity at processing plants in interest of the well-being of our employees."
representative for Smithfield said: "The concerns we expressed were very real and we are grateful that a food crisis has been averted and that we are beginning to return to normal… Have we made every effort to share with government officials our point of view on pandemic and how it affected food production system? Absolutely."
Tyson said that cooperation with in government is critical to the supply chain and for worker safety: "Above past two years, our company was contacted, received direction from and collaborated with many different federal, state, and local officials, including the Trump and Biden administrations, as we traveled through challenges of pandemic".
Subcommittee launches investigation into meat processing industry's response to pandemic in February 2021 after reports that meat companies refused to accept adequate safety precautions to protect workers during first year of pandemic. Last year subcommittee found that disease and death losses at factories owned by five big meat packers were grossly undervalued and that companies were counting on profits over worker safety.
The Guardian contacted the USDA and former Trump administration officials for comment.