The United Nations Security Council condemned, on Thursday evening, in the strongest terms, the storming of the Houthi militia, the Iranian arm in Yemen, the US Embassy compound in Sana'a, and the arrest of dozens of local employees. , expressed their condemnation in the strongest terms of the recent and ongoing seizure and infiltration of the compound, which was formerly used as the US embassy in Sana'a, by the Houthis, during which dozens of local employees were arrested.
The members of the Security Council called for an immediate withdrawal
They also demanded the immediate and safe release of those who are still in detention.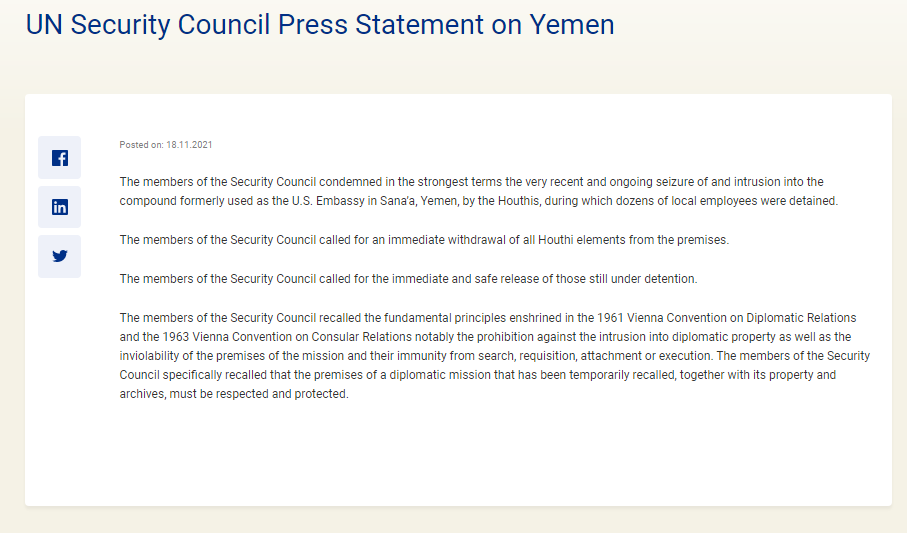 The members of the Security Council recalled the basic principles enshrined in the 1961 Vienna Convention on Diplomatic Relations and the 1963 Vienna Convention on Consular Relations, in particular The prohibition of intrusion into diplomatic property, as well as the inviolability of the premises of the mission and their immunity from search, demand, seizure or execution.
The Houthi militia stormed the US embassy compound on Sheraton Street in the capital, Sana'a, in conjunction with the kidnapping of a number of local employees and embassy guards.
According to local sources, Houthi militia members stormed the US embassy compound in Sanaa, and looted a large amount of equipment and supplies. Three of the embassy's employees, after it kidnapped about 22 others about three weeks ago, most of whom work as part of the security staff that remained guarding the embassy building. Within the Houthi terrorist acts that continue to defy all international laws and norms.