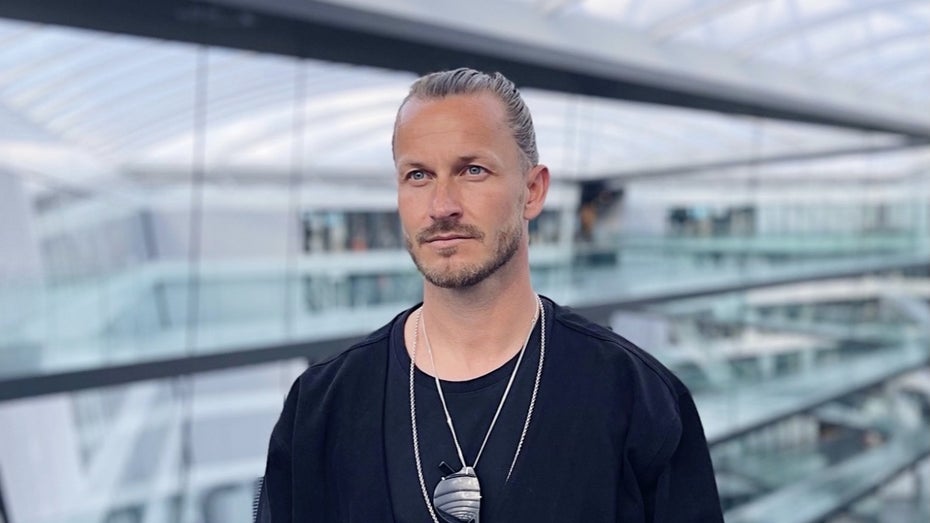 Till Jagla, 41, is one of the most famous minds in the German sneaker scene: seven years at New Balance, then eleven years at Adidas, most recently as "Head of Energy", where he cared about nothing less than making the traditional German brand cool. If anyone has a plan for the scene, it's him. This year, after long planning, Jagla decided to step into self-employment: new brand, new shoe, new place of residence. With "Flowers for Society" Jagla wants to shake up the industry and write sneaker history – stored on the blockchain.
The first product of the young Hamburg-based company is already at the start: a futuristic-looking sneaker that is currently available for pre-order in a limited edition "in the middle four-digit range". The shoe costs 199.99 euros and comes with an NFT that gives the buyer access to the "Garden of Comfort", a closed community made up of fans and collectors.
We talked to Till Jagla about his vision for his new sneaker metaverse spoken.
t3n : Till, you were "Head of Energy" until recently at Adidas. What do you do there and how do you become that?
Till Jagla : Exactly. I started in 2010 in category lead Adidas Originals and was soon responsible for lifestyle, initially for the DACH area and later for Adidas Global. But I always wanted to be more closely involved in the product and the creation process, because I noticed that I could have more impact this way – not just on the products, but on the industry and everything that happens. From then on, in various roles, I dealt more with direct-2-customer and customization issues at Adidas and built up the lifestyle brand Pacemaker at the same time. I see myself as a pacemaker.
I always wanted to challenge the status quo.
t3n : In what way?
I saw back then that we as a company are becoming very static and slow, while the sneaker market has developed in exactly the other direction and has become very dynamic and agile. At that time I pitched the "Energy" concept internally at Adidas, which is a kind of hype unit. It was about building brand strength through "brand heat", that is, brand desirability. We tried to drive this desire through collaborations, licenses, storytelling or limited editions. Everything that can be described as "high interest". I've done that for the past three years.
t3n : Well then the step into self-employment with Flowers for Society. How did you come up with the idea and the concept?
The idea for Flowers for Society has been with me for three to four years. I have increasingly seen the problem in the industry that it has become more and more difficult to get the shoes you want, i.e. the hottest drops. So I started dreaming of a closed ecosystem in which this problem no longer exists.
t3n
: When you say it has become difficult to get sneakers, you mean bots, i.e. programs that can complete a purchase process faster than anyone, right?
Yes, exactly. These sneaker bots mean that coveted shoes end up on the secondary market and then have to be bought by the actual fans for a lot of money. Hence the idea with the closed ecosystem, in which the real fan is in the foreground.
t3n : on November 6th . It all started with the release of your first limited-edition sneaker, the Seed.One. The advance booking window is or was open for twelve days – but it will take another four to six months for the sneaker to come to your home, as the shoe is produced for every customer. A bit like crowdfunding. Why did you choose this model?
In fact, in contrast to America, this advance booking mechanism is still quite unusual in our country. The advantage of pre-orders is that you really only produce what is actually in demand. So you don't have to think about leftovers, you only order the material that is actually needed. That way you are more sustainable in production. In the past I have seen goods being incinerated because they have not found a buyer. We want to do that differently with Flowers for Society, or FFS for short. We believe that our fans understand this and believe in our mission to produce more sustainably so that they are willing to wait a little longer for their sneakers.
t3n : How about returns? So if I wait four months and the shoe doesn't fit me, do I have to wait another four months for my exchange?
Well, we will be a classic return policy not have. But we will make sure that everyone is the size they need at the end of the day. Due to the closed community we are building, swapping shoes will also be an option. I want people to start consuming differently. More conscious.
t3n : In what way?
That big corporations simply said: Order as much as you want and send as much back as you want, that is exactly the wrong thing to do in today's situation . Such a business model is absolutely unsustainable and therefore outdated for me. That has to be overturned. At Flowers for Society, people have to deal a little more with what they are buying and maybe ask a few more times before they order something.
We want to contribute to a rethinking and end the throw-away mentality that the big onliners and corporations have introduced.
t3n
: What did you pay attention to in the design?
The Seed.One is extremely efficient, we basically have no waste, that was very important to me during the planning. Still, the shoe is comfortable and has been designed to look futuristic. We wanted to build the shoe for 2022 and not for 2016 and accordingly entered the race progressively. At the same time, the Seed.One had to be timeless and iconic in a way. I call that Airport Visibility. That means, if you are sitting at the airport and someone is walking 200 meters away with the shoe, you have to be able to recognize them. If that's the case, then you did a good job as a designer.
t3n : In addition to pre- Order relies on vegan and sustainable materials and zero waste. Nevertheless you produce in Asia. How come?
Exactly, we produce in Ho Chi Minh City in Vietnam. Simply because I know that this is where the best quality is produced, and in a global context it makes the most sense for us to produce where it is most effective and best. In the future, we want to make our production processes transparent and meet our social responsibility by giving something back to the local population, for example in the form of educational programs for the families of the workers.
t3n : Together with the sneaker, you invite the buyers of the Seed.One sneakers to your virtual "Garden of Comfort". An NFT, which you get with your shoe, serves as an admission ticket. What can I do with it?
One of our NFTs is an investment in the future, that means this NFT will be will most likely be in greater demand in a few years than it is today. So far, the brand has only been around for a few weeks. In the future there will be an FFS community and fans, not just in Germany, but globally. The people who have this original OG NFT will always have special access rights to everything that happens in the future, i.e. to exclusive collaborations, limited editions, invitations to events or exclusive family and friends clothes. We're thinking a lot about collaboration right now, but it's likely going to be much, much broader.
Do you have an example of that more tangible?
Ours NFTs are like an annual ticket for your favorite club.
With this annual ticket you can go to any game. But if you have something else to do now, for example the anniversary with your girlfriend, then you can also lend your card and give someone else the opportunity to watch this game. Of course, you cannot extend or sell the ticket any further at the end of the year. You can use, collect or trade the FFS-NFTs and earn money with them.
t3n : Wo can you trade your NFTs?
Now at the beginning it will be completely normal tradable on Opensea, the classic NFT trading platform. In the medium term we want to have our own closed digital marketplace.
t3n : Your own little garden.
Exactly, our "Garden of Comfort", like we call it where everything stays with us in the ecosystem. So in principle every transaction. But right now it is of course the case that we first come out of the gates and have to set everything up. The first step is to build the physical experience in the form of the sneaker brand. And then, in a further expansion stage, everything that happens in the metaverse will be dealt with.
t3n : Originally you had the idea to start a grassroots democratic movement and not to found FFS alone, but with 20,000 co-founders. For legal reasons that didn't work.
Actually the concept still democratic, because the community gives us the opportunity to let the fans have a say. We can ask: "Hey, should we collaborate with Brand A? Yes or no? Vote! "Or:" Should we sell digital goods? ", Or:" How do you like the design? "The community will be a huge advantage for us and we believe that we have exactly the right people with us. Namely those who understand our vision and who committed themselves to us with the first purchase. With exactly this community we now want to grow and change the industry together.
t3n : And where does this come from whole botany in your name – Flowers for Society, Garden of Comfort, Seed.One?
That is relatively easy to explain. We first asked ourselves: what is our manifesto? What values ​​do we want to be built on? And it is very important that we have a give-back mentality, that we are very inclusive and that we focus on values ​​such as empathy and hope. Our brand should be like a nice gesture to society. And what's a nice touch? A nice gesture is when you present a flower or receive a flower. Everyone is happy about it. And we see ourselves as a brand that wants to do good, that wants to educate, also beyond our products. We wanted to make this clear in the name as well.
t3n : Who are we? How big is your team
Our core team currently only consists of three people, but we work a lot with freelancers and agencies. About 35 people were involved in the market entry phase. Some more, some less. But of course we want to hire people as soon as possible and build a team so that we can have the expertise in-house.
t3n : Would you call yourself the CEO or rather as a gardener or something?
I actually became a florist on Linkedin for a while called, but then I thought that many don't understand that. That's why I changed it to Founder. Technically, I'm CEO, but that's never what I wanted to be. That said, if there is someone out there who is better at being a CEO, then he or she should be happy to apply. I am more of the good soul. Maybe the florist after all.
t3n : What is your vision? Where do you want to see Flowers for Society in five years?
FFS becomes one of the most interesting, fastest growing major -Sneaker brands in the world. I want to shake up the industry. I want the major brands to start thinking differently too. Of course there are two ways: one time you can of course try to preach this like a prayer wheel, over and over again. I won't do that. I want to show that there is another way: more democratic, more inclusive and more diverse. And of course I hope that FFS is just fun, that it puts a smile on people's faces and that the community just grows exorbitantly. I want to write sneaker history.
t3n : Thank you for the interview, Till.
You might also be interested in