BloodyStealer, a malware sold on darknet forums, steals players' accounts on popular gaming platforms such as Steam, Epic Games Store and EA Origin. BloodyStealer, with its low-subscription fees and interesting capabilities, with anti-analysis and anti-detection features, is a great example of what threats lurk for online gamers. This topic, as well as an overview of stolen gaming-related products sold on the darknet, is covered in Kaspersky's latest report, which examines threats to gaming-related data.
As Kaspersky's latest research shows, the game goods that can be purchased inside and game accounts are highly sought after on the darknet. Login information and passwords for games that can be played on popular platforms (such as Steam, Origin, Ubisoft, or EpicGames) can be purchased in bulk for as little as $ 14.2 / 1000 per account, or 1-30% of the account value if offered individually. for. These stolen accounts are not the result of accidental data leaks, but of deliberate cybercrime campaigns that use various types of malware, such as BloodyStealer.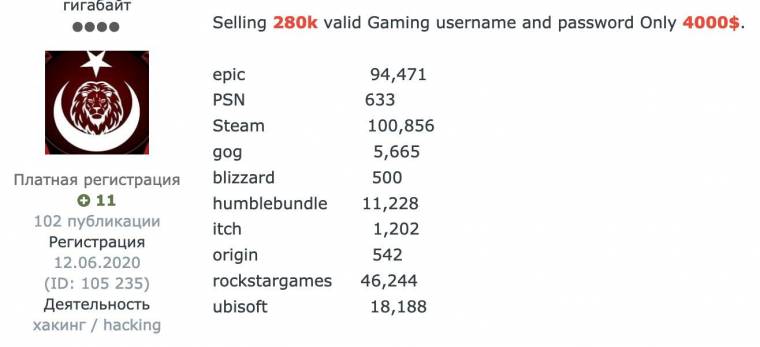 Someone offers 280,000 for just $ 4,000 username and password
BloodyStealer is a Trojan data theft program that can collect and retrieve various cookie, password, form and credit card information from browsers, screenshots, log memory and sessions of various applications. Gaming platforms, in particular EpicGames, Origin and Steam, are no exceptions to this. decryption and so against malware analysis in general. They offer an attractive price in underground forums: they ask for less than $ 10 for a one-month subscription, or $ 40 for a lifetime subscription.
for example, they decompile and analyze it with packaging programs and debugging techniques. The data theft program is sold in underground markets, and customers can protect their copy with a packaging program of their choice or use it as part of another multi-stage infection chain. Kaspersky's experts in Europe, Latin America and the Asia-Pacific region have detected attacks using BloodyStealer. the demand for such data among cybercriminals. Diaries, drawers, in-game items – these game-related products are all offered at attractive prices on the darknet, either in bulk or individually.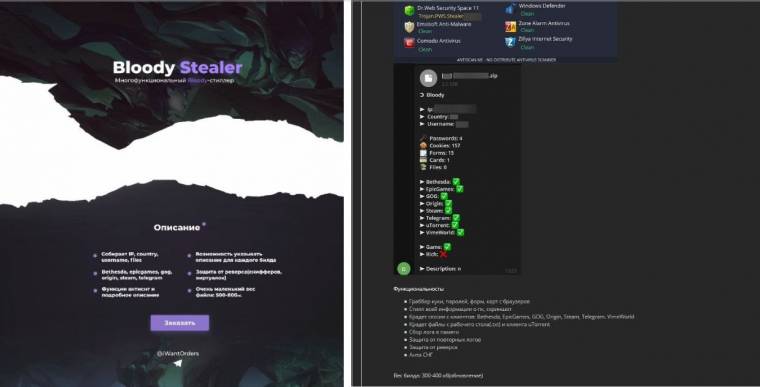 The capabilities of BloodyStealer "Although cybercriminals have countless opportunities to buy or rent anti-theft programs to be used in their chain of attack, BloodyStealer has attracted a great deal of attention from users in one of the underground forums. The anti-theft program has some interesting capabilities, such as being able to retrieve passwords, cookies, and environmental information used in the browser, and developers have added capabilities to the malware's arsenal, such as collecting data related to online gaming platforms. the data can then be sold for online play It specializes in selling access to branches on underground platforms or Telegram channels, "explained Árpád Tóth, Director of Kaspersky in Hungary. "Obviously, cybercriminals are hunting for gaming accounts, so then if we want to play in peace and don't worry about losing our in-game money or account, we should definitely protect the account with two-factor authentication and use a reliable security solution to protect our devices. . "
Kaspersky has been committed to protecting players and making the industry safer for many years. The company launched its "Fearless Gaming" strategy this year to build a closer relationship with players and draw their attention to the importance of safe online habits as well as the role of cybersecurity in e-sports. Watch the video.
Learn more about BloodyStealer and game-related darknet software on the Securelist website. According to Kaspersky experts, this is how we can be safe while playing:
Protect your accounts with two-factor authentication where possible, or review your account settings carefully.

Do not click on links to external sites in the game chat and check all the address of a source that asks us for a username and password, as the page may be fake. Avoid pirated software and other downloading illegal content, even if it has been redirected from a legal website to that site.

Use a strong, reliable security solution, especially one that does not slow down the machine while playing, and also protects against all possible cyber threats. For example, you can use Kaspersky Total Security, which works seamlessly with Steam and other gaming services An effective security solution – e.g. and using Kaspersky Internet Security for Android, we can also protect ourselves from malicious software and its consequences on our mobile phones.

Hardware, software, tests, curiosities and colorful news from the IT world by clicking here!