Although the Turkish government hides the number of its citizens who left the country and arrived in Europe as asylum seekers, statistics issued by the immigration departments in European countries from time to time reveal a significant increase in the number of immigrants coming from Turkey in the last two years.)
The Dutch authorities recently announced that the number of asylum seekers holding Turkish citizenship had increased to 2,250 in the current year 2021 only, which is a large number compared to 1,300 people who had Turkish citizenship and applied for asylum in the Netherlands between 2018 and 2020.
The Dutch Immigration Service considered the increase in the number of asylum seekers holding Turkish citizenship to be "excessive" compared to their numbers in the last two years. And that most of them apply for asylum for both political and economic reasons.
Two deputies in the Turkish parliament revealed the Republican People's Party, which is the main opposition party, and the pro-Kurdish Peoples' Democratic Party, to Al-Arabiya.net. , that Parliament rejected a proposal by both parties to study and discuss the reasons that led to the high number of asylum seekers in Europe holding Turkish citizenship.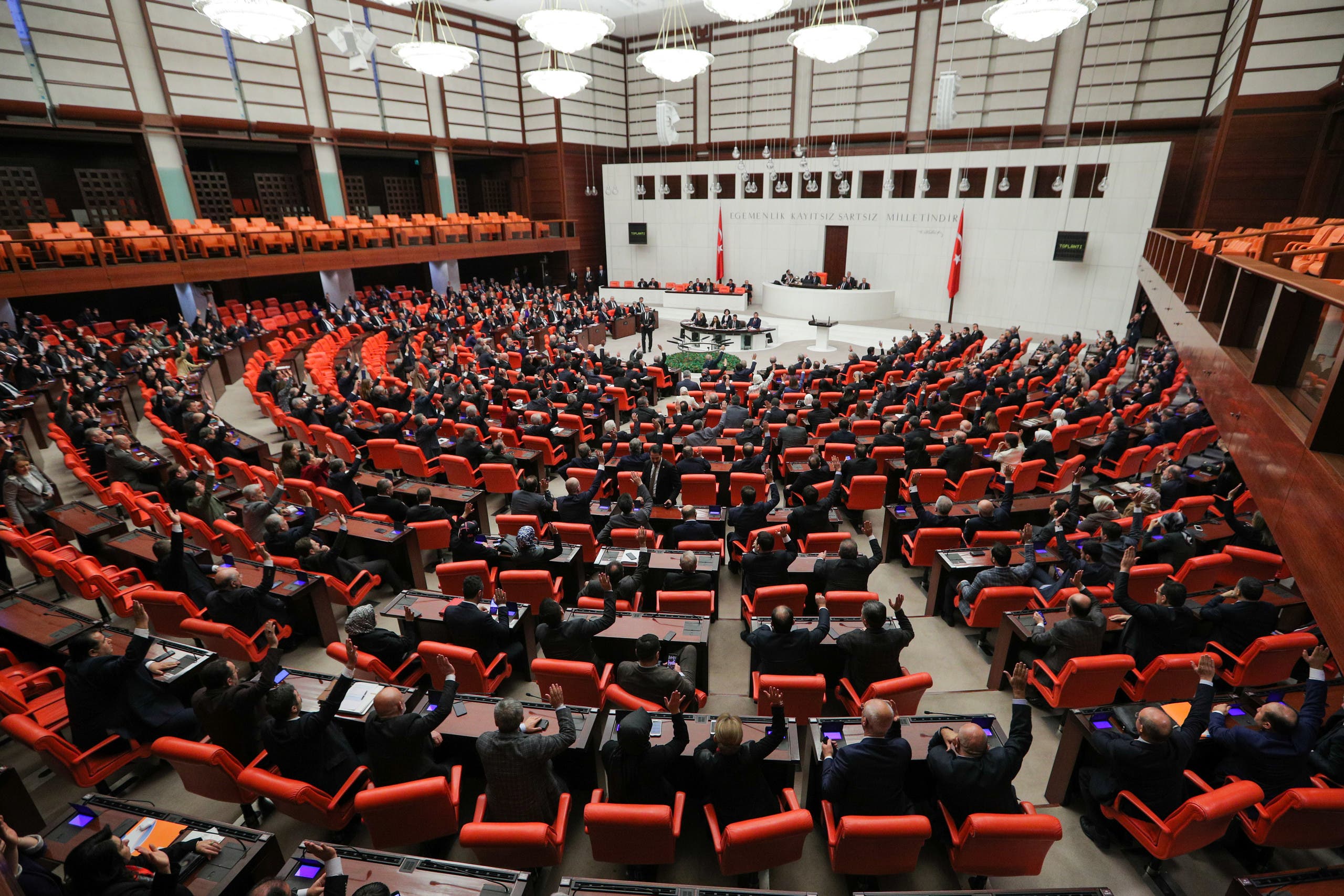 Turkish Parliament
It was Martin van der Linden, from " The Dutch Refugee Council" told local media in his country two days ago, that "asylum applications, which slowed down during the outbreak of the Corona virus, increased again."
Most of the asylum-seekers from Turkey are of origin Kurdish, or Turkish, as those accused by Ankara of participating in the failed coup attempt against the rule of President Recep Tayyip Erdogan, which took place in mid-July 2016, according to what was stated in the statements of the Dutch employee. They hold Turkish citizenship, in the Netherlands, 427,562 and they all live there as refugees. This figure does not include those who obtained Dutch citizenship after obtaining asylum.
The state of emergency declared by the Turkish government after the failed coup attempt against Erdogan's rule, led to thousands of people fleeing the country illegally, fearing the continuation of Security and judicial prosecution.
In several European countries, holders of Turkish citizenship who have sought asylum in several European countries ranked second in the past year, as is the case in Germany, where the largest Turkish community resides, about half of its members are Kurds.
Over the past decades, Kurds, Armenians, Alevis and Syriacs in particular have been accustomed to emigrating from Turkey as a result of government policies against religious and ethnic minorities in the country, but since the failed coup attempt, immigration from Turkey to Europe is no longer the preserve of minorities. They were also joined by the Turks, especially journalists, judges, members of the army and the gendarmerie, whom Ankara expelled from their jobs after accusing them of participating in the coup attempt.