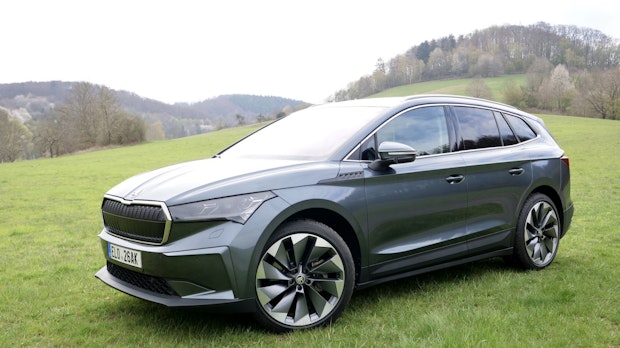 By now, most car manufacturers have understood that the future lies in electromobility. The selection of electric cars is correspondingly large. However, most of them are either small cars (Renault Zoe, VW ID.3, BMW i3 etc.) or in the premium segment (Mercedes-Benz EQC, Audi E-Tron, Porsche Taycan etc.). This makes them uninteresting for the general public and especially for families.
And this is exactly where Skoda starts with the Enyaq iV. The first model based on the modular electrification kit of the Czechs officially runs under the name SUV, but sometimes has the appearance of a station wagon. This is intentional, because Skoda would like to pick up the owners of the Kodiaq, which is popular with families, as well as the Octavias or Superb with its electric flagship.
The entry-level version of the Skoda Enyaq iV with a range of 362 kilometers (WLTP) and 148 hp is available from 33,800 euros. If you subtract the environmental bonus and innovation bonus, you end up with just under 24,000 euros. For an electric car that is 4.65 meters long, 1.88 meters wide and 1.61 meters high and whose trunk holds 585 liters (1,710 liters with the rear seat folded down), that's almost a bargain.
Time for a first test drive.
Skoda Enyaq iV: Spacious electric car for families
In addition to the entry-level model mentioned (Enyaq iV 50), Skoda also offers its electric SUV in two other variants (Enyaq iV 60 and 80) that have more power and, above all, more range. The Enyaq iV 80 is available for our first test drive.
The current top model has an output of 204 hp and a range of 520 kilometers (WLTP). The base price is 43,950 euros. If you configure a little extra equipment, you can also raise the price to 50,000 euros – however, this also includes the environmental bonus and innovation bonus. Depending on the model, you end up with a Skoda Enyaq iV, even with a lot of equipment, somewhere between 28,000 and 40,000 euros. And for that you get a first-class electric car.
As soon as you step in, you will notice the spacious interior with lounge character , which consists largely of sustainable or recycled materials. The interior is dominated by a 13-inch touch display that serves as a control center. Thankfully, the most important functions can still be controlled using buttons in the center console and on the steering wheel. Behind this is the digital cockpit, which is, admittedly, quite small at 5.3 inches. Nevertheless, the most important information on speed, driving data, navigation and assistance systems can be found in it. Precisely because the digital cockpit is so small, Skoda optionally offers a head-up display with augmented reality. This makes the journey much more comfortable and is part of the special equipment that you should definitely treat yourself to.
The Enyaq iV is very pleasant to drive, which is partly due to the fact that, unlike other manufacturers, Skoda does without superlatives when it comes to acceleration. The "sprint" from 0 to 100 kilometers per hour takes 8.5 seconds. This fits in with the approach of the pragmatic electric SUV for families – and also has a positive effect on range and consumption. Despite outside temperatures between four and six degrees, the average consumption on our test route (autobahn, country road, in town) levels off at around 20 kilowatt hours per 100 kilometers. Considering the size of the Enyaq iV, this is a very good value. This results in a real range of around 400 kilometers. Whether the 500 kilometers can be cracked with a little practice and warmer temperatures remains to be seen.
Classic one-pedal driving, as you would expect from BMW i3 or Volvo XC40 Recharge Pure Electric does not exist with the Enyaq iV. Although the vehicle has three levels of recuperation, none of them are so powerful that real one-pedal driving is possible. If you operate the brake, the recuperation is of course primarily used for deceleration and the brake system is only switched on as required.
Skoda Enyaq iV: Inexpensive electric SUV with lots of features
Despite the comparatively low price, drivers of the Skoda Enyaq iV do not have to forego anything in terms of comfort and assistance – for example compared to the models of the premium manufacturers: full LED Matrix headlights, augmented reality, over-the-air updates, adaptive chassis control, electrically operated tailgate, adaptive distance and lane assistant, parking assistant, pedestrians and cyclists protection – almost everything that is technically possible is built into the Enyaq iV (partly optional).
This is well received by customers: More than Skoda has already registered 5,000 orders for the Enyaq iV in Germany – even though it is not even available from dealers. After the market launch in spring 2021, other variants of the electric SUV will follow, such as the top model Enyaq RS iV, which accelerates from 0 to 100 kilometers per hour in just 6.2 seconds and has a top speed of 180 kilometers per hour. With all other models, the limit is already 160 kilometers per hour.
Also worth mentioning: Enyaq iV 80x and Enyaq RS iV are allowed up to 1,200 kilograms Pull heavy trailers (with a maximum of twelve percent incline). For the variants Enyaq iV 60 and Enyaq iV 80 it is 1,000 kilograms.
You might also be interested in